Celebrate summer and family time with an outdoor ice cream cookie sundae party! Peanut butter cookies, ice cream, and all the fixins' to create delicious peanut butter cookie sundaes. This shop has been compensated by Collective Bias, Inc. and its advertiser.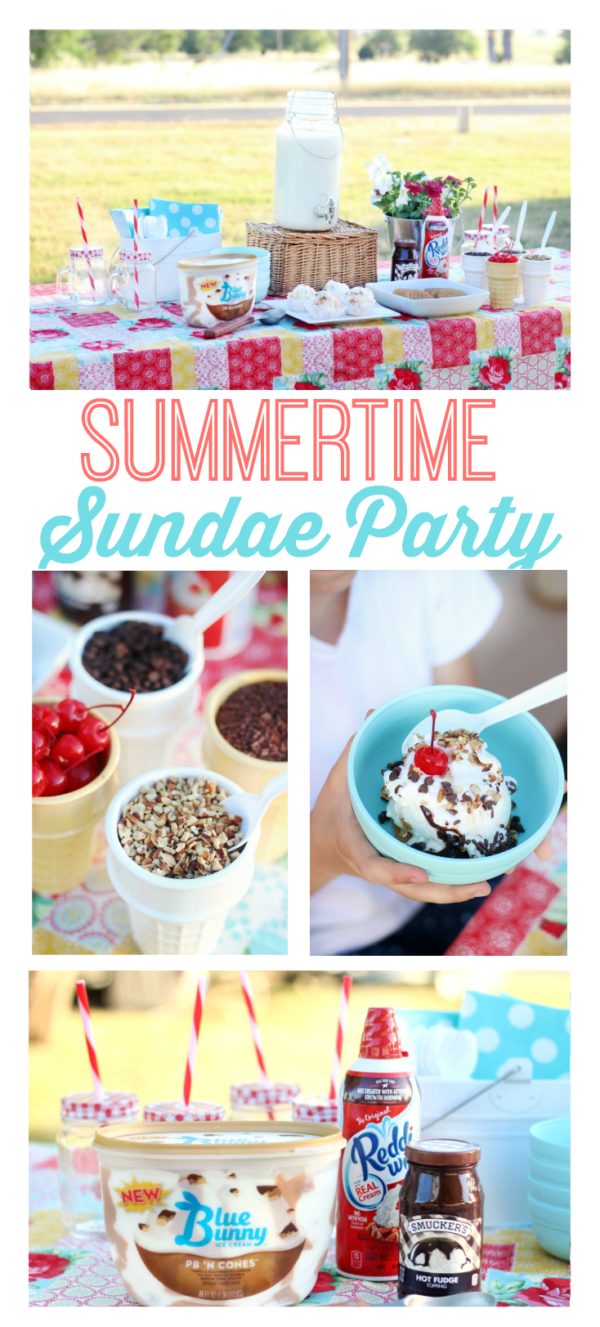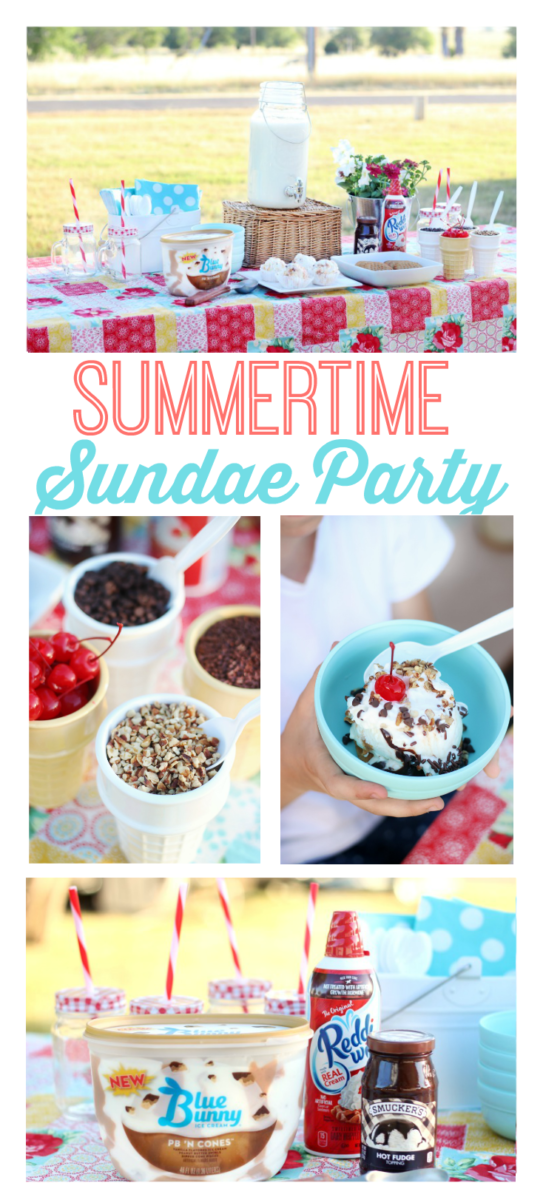 Now that school is coming to a close for the year I feel like I can finally breathe! This last month has been so crazy. For those who haven't been following along with our adventure, we are living as a family of seven in our travel trailer until we make our big move from California to Virginia at the end of the month. Since our home sold very quickly, we've been staying on the Air Force Base Family Camp in our travel trailer!
It's such a cozy place to come home to every night, and now that our schedules are opening up, we've had a lot more time to hang out as a family and enjoy the simple life. One thing I've noticed about those who live in their RVs, more than just on the weekends, is that they really bring the comforts of home with them. On one side of us there is an older couple who spend their days in the shade watching shows together on their outdoor TV and playing with their two dogs who have a really nice outdoor enclosure. On the other side of us is a couple who have potted flowers, wind chimes, and other cute details decorating their camp site. Other families have tire swings, comfortable outdoor chairs, bikes, and sprinklers and kiddie pools.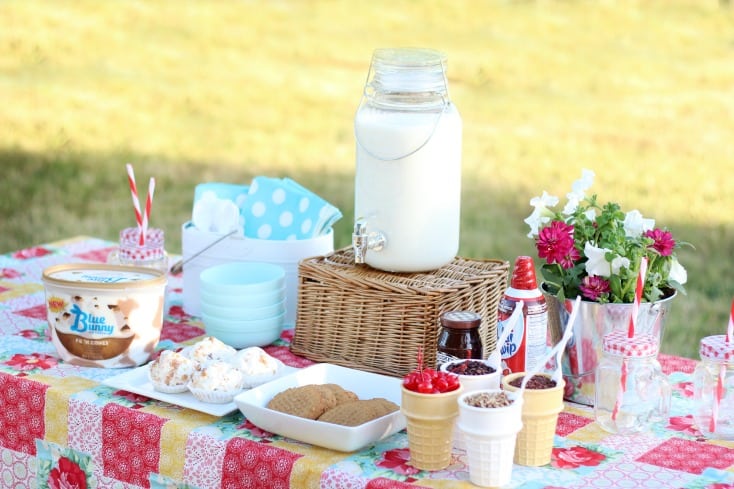 Seeing these touches of home inspired me to dress up our site a bit more as well. After all, it's going to be our home for 3 months by the time everything is all said and done. I stopped by Walmart and picked up this darling table cloth and bucket to plant flowers in. I also found a gallon size beverage dispenser to use for ice water and other drinks. It's big enough to hold enough for our family, and small enough to keep in my pantry when not in use. These little touches really make it feel more like home. When I packed out trailer for the summer, I actually brought a lot of my baskets, buckets, and serving plates with us.  The baskets and buckets work great in my pantry to store snacks and it's nice to serve food on real dishes instead of paper plates every night.
Summertime Cookie Sundae Party
I pulled together a fun summer ice cream cookie sundae party for our family last weekend to celebrate the end of the school year and we couldn't have asked for a more beautiful evening outside!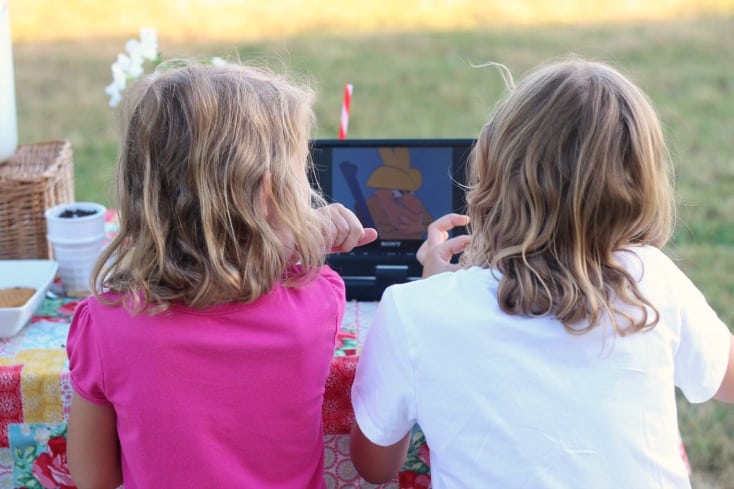 The girls even brought out their DVD player for an outdoor movie while they ate their sundaes.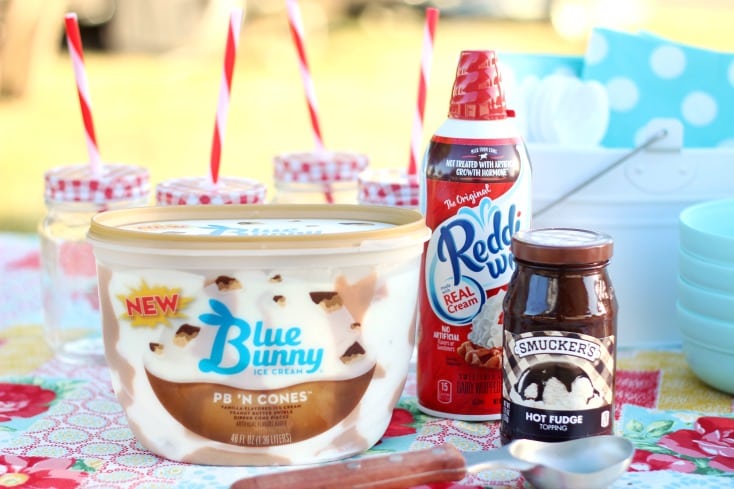 I worked at a restaurant while I was going to college, and one of the desserts they served were chocolate chip cookie sundaes. They were really good so we decided to make them too—only with peanut butter cookies! You can also use the cookies that we make for
homemade ice cream sandwiches
. They are super yummy.
Coconut cookies
are delicious and hold up well too!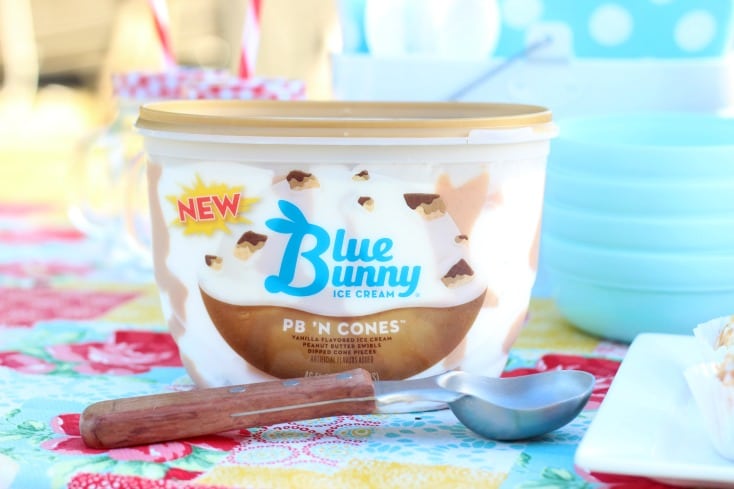 Blue Bunny® PB 'N Cones™ is a family favorite and was perfect for our
peanut butter cookie
sundae party with its vanilla ice cream, peanut butter swirls, and dipped cone pieces.
Cookie Sundae Fixins'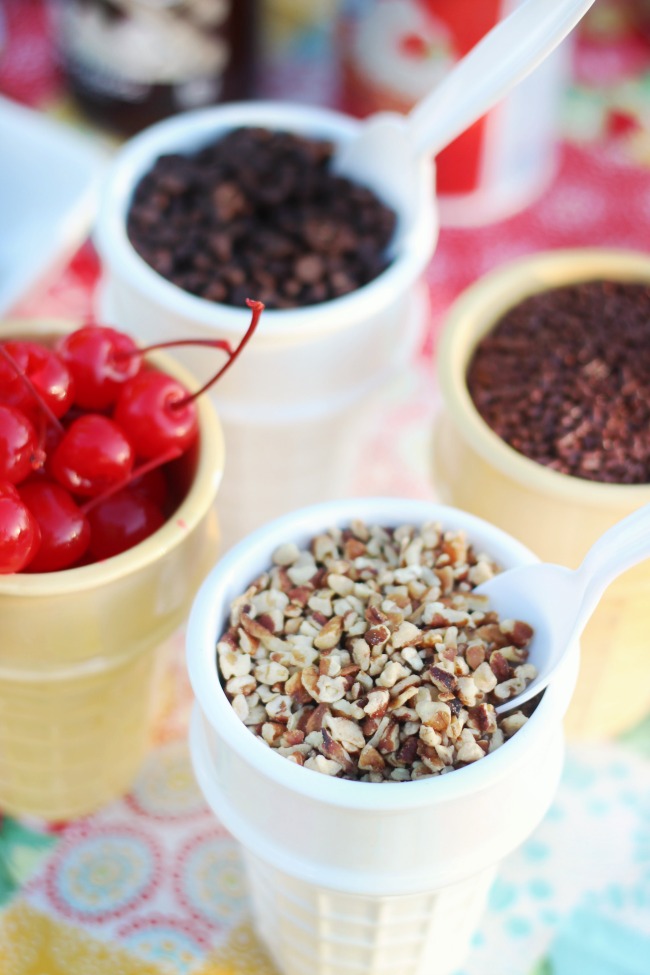 I found these darling ice cream cone cups for $1 each to use for toppings. The kids loved them and they'll work great throughout the summer as ice cream bowls too.
3 more ice cream recipes to try!
No Churn Cake Batter Ice Cream
Copycat It's its Ice Cream Sandwich Recipe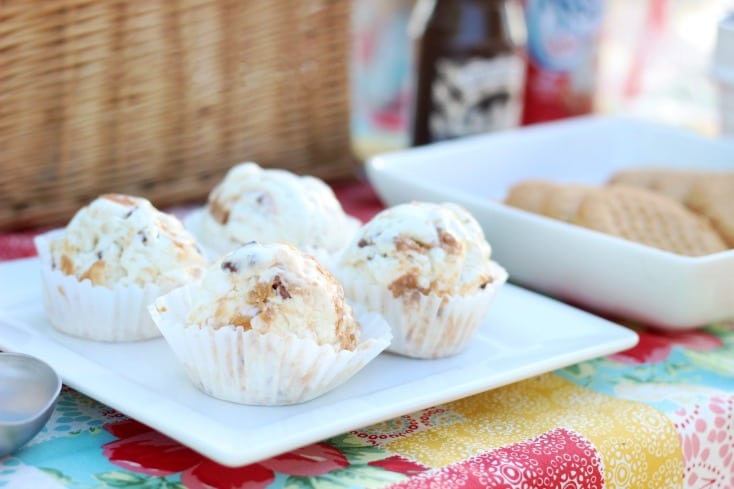 A tip I learned years ago is to
pre-scoop ice cream
into muffin cups and freeze when getting ready to serve ice cream to a crowd. This also helps with portion control for kids, and saves time when the weather is warm and you want to serve the ice cream quickly! We did this once when having an ice cream sundae party with 50 kids at church—and it was such a time saver in the end!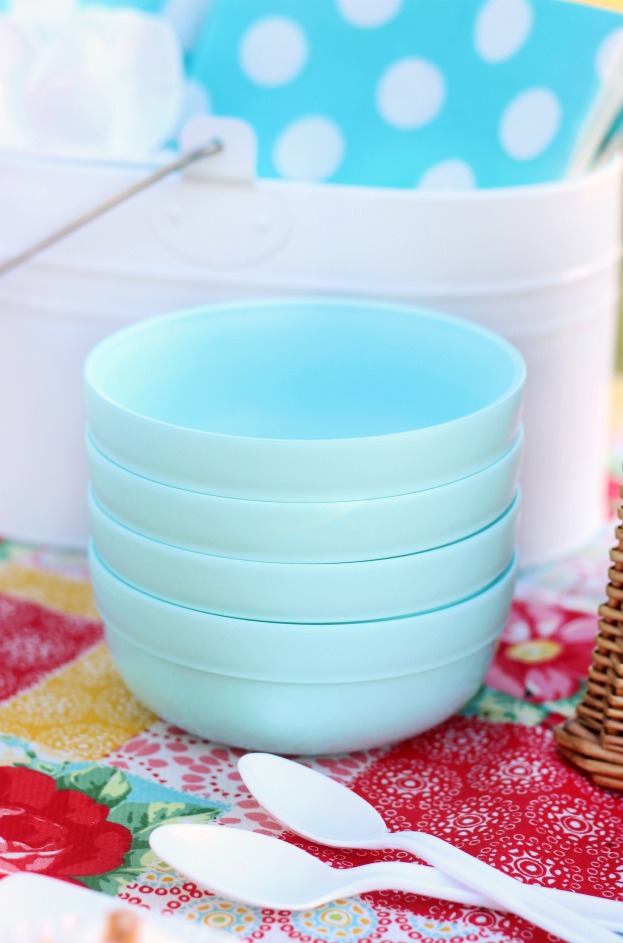 These small cereal bowls that we had in the trailer worked great for our sundaes, and we kept it simple with plastic spoons. A nice combination of reusable and disposable, ha! Did I mention that I don't have access to a dishwasher? The struggle is real, folks!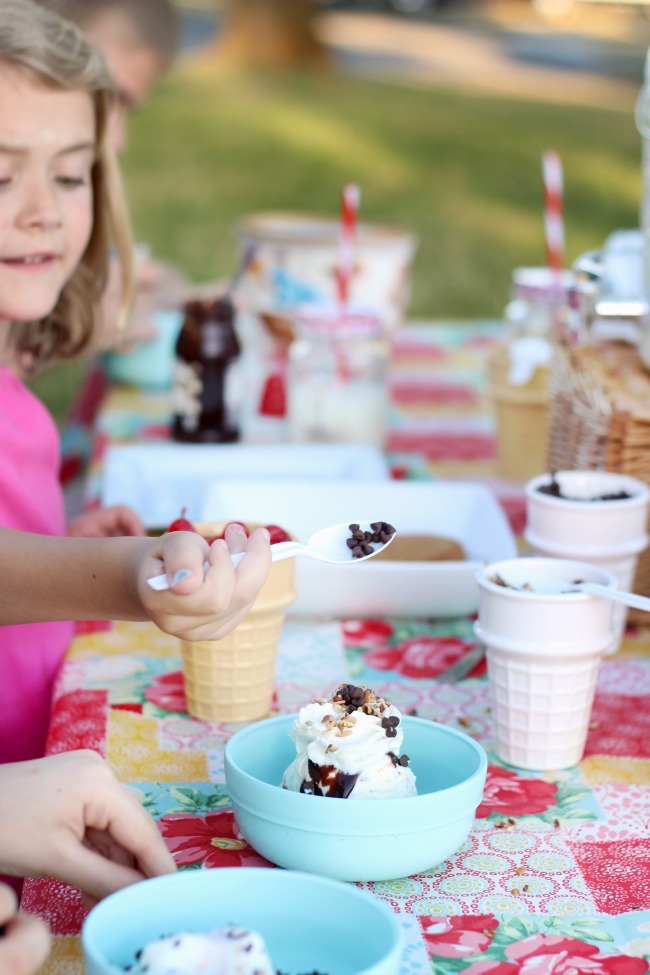 There's no wrong way to build a sundae and I love how different they all turned out.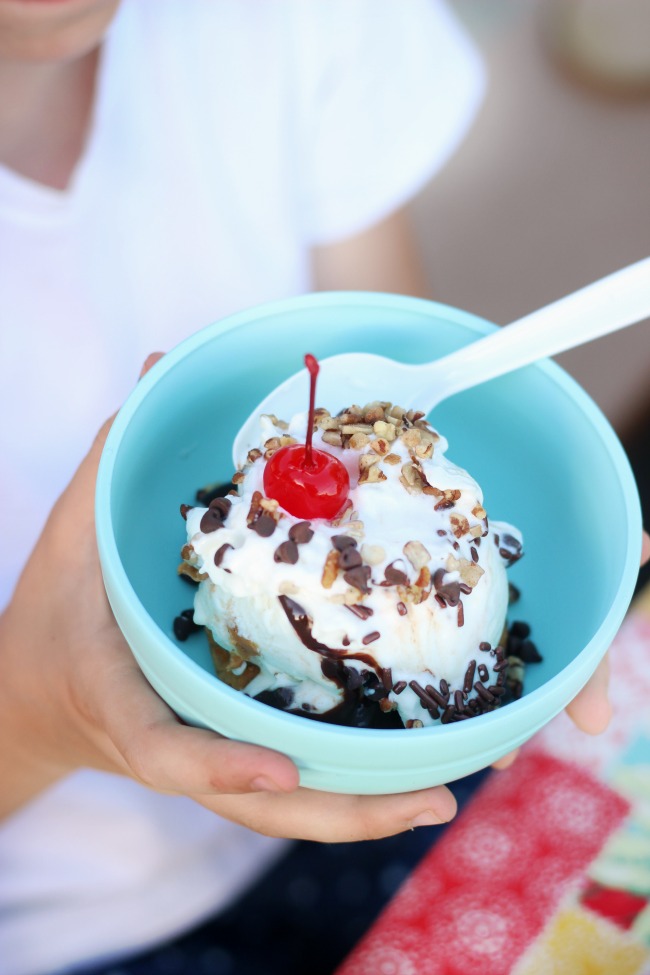 Perfect, right?
It just didn't seem right to serve any other beverage than ice cold milk with our chocolate/peanut butter combination of flavors. So the kids used their Mason jars (they each have their own) for their milk.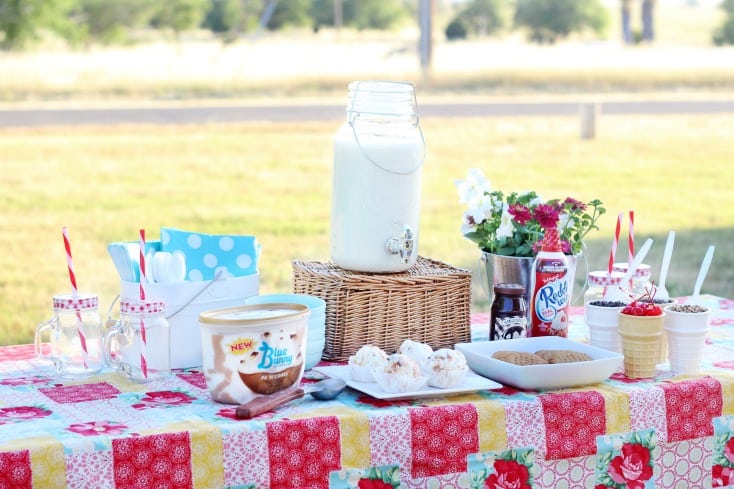 We could have had our party without this cute set up, but if I've learned anything from living here the past two months it's that the little things make even the tiniest space feel like home.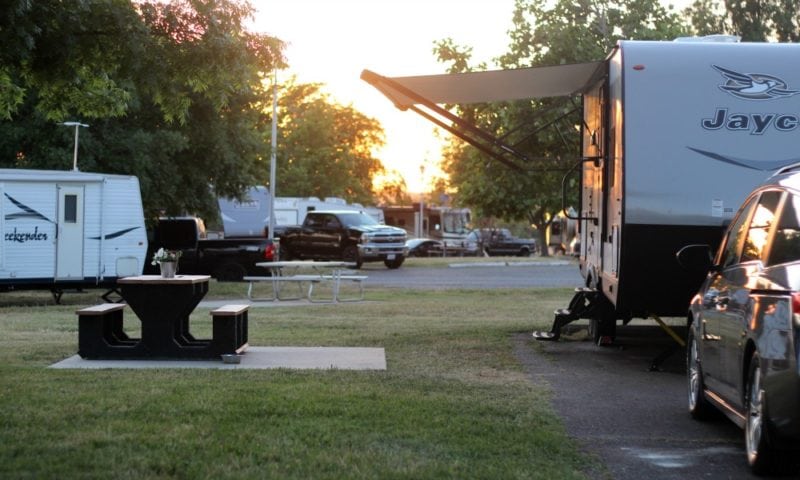 And we truly feel at home in our little house on wheels. Everything we need is right here!