This darling girls peasant dress pattern is so versatile and can be made with long sleeves, 3/4 sleeves or short sleeves. You can also make a top or a dress for toddlers all the way up to big girls! I'll share 4 variations: a dress, a nightgown, a princess dress and a pioneer dress with an apron and a bonnet. This peasant dress pattern is the ultimate in girls dress patterns. One pattern to create dresses and costumes for all occasions.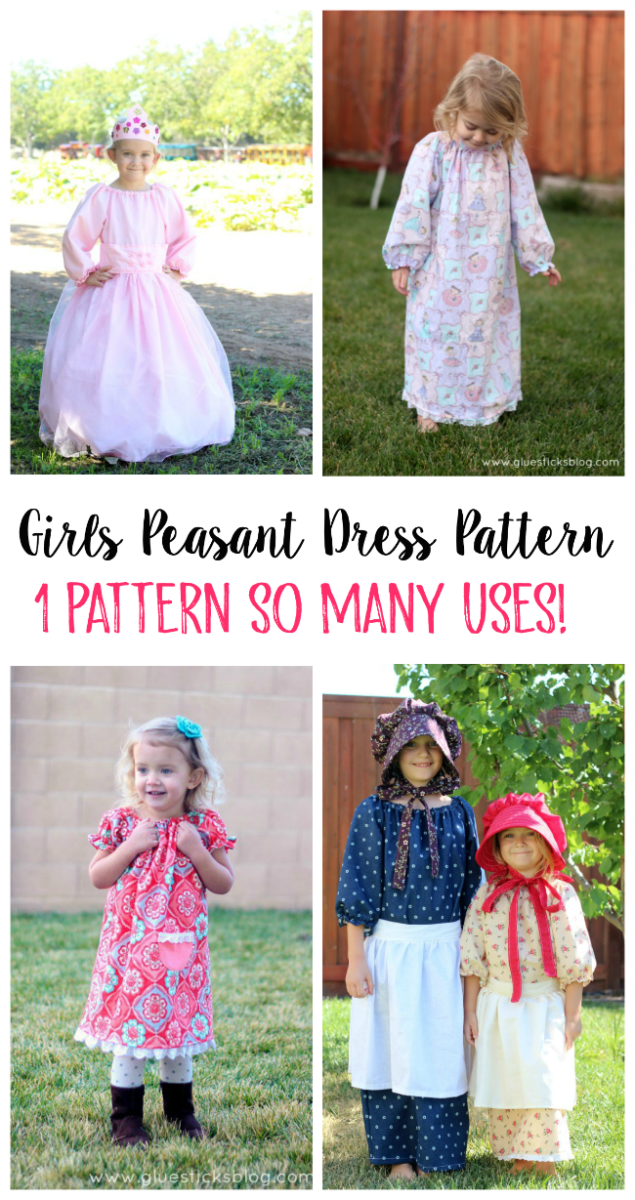 I love sewing for my kids (no surprise there, right?). Most of my sewing projects on Gluesticks are kid related! So I am thrilled to share with you my latest pattern crush.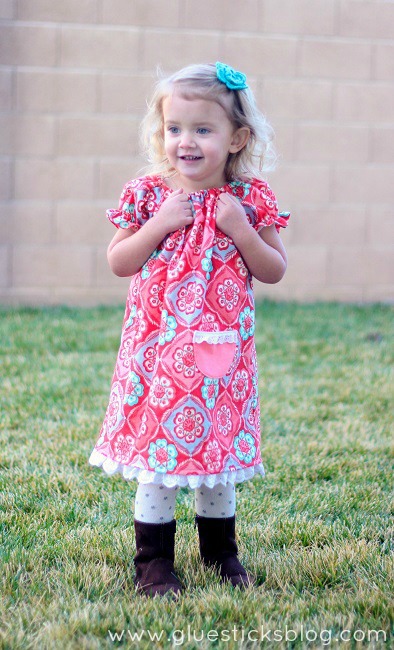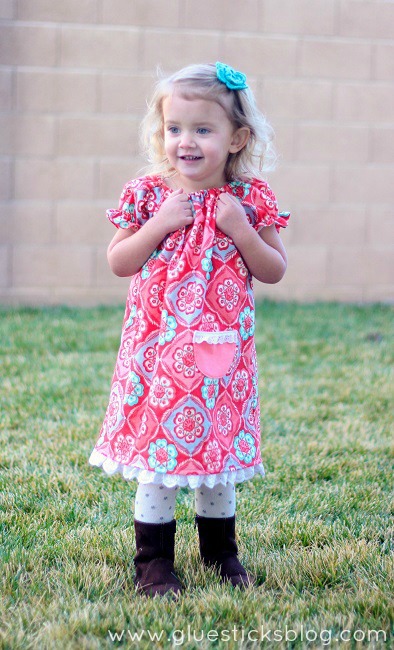 This darling dress took about an hour. Start to finish. I love projects like that. No buttons, zipper, or seam ripper required! It was such a simple dress, but turned out absolutely darling. I even added a bit of lace detailing (not in pattern instructions). She took one look at it and said, "I wear this all the time," and immediately asked to put it on. This peasant pocket dress  only had 2 pattern pieces: A pocket and arm hole curve. I think I will make several more for the girls. I am not affiliated with Whimsy Couture in any way. I simply found a pattern that is super simple and perfect for so many variations and uses.
Here are some of the ways that I have modified this girls peasant dress to create nightgowns, pioneer dresses and princess dresses, but this is just scratching the surface. What else should I make using this pattern?
Girls Peasant Dress Pattern for Pioneer Costumes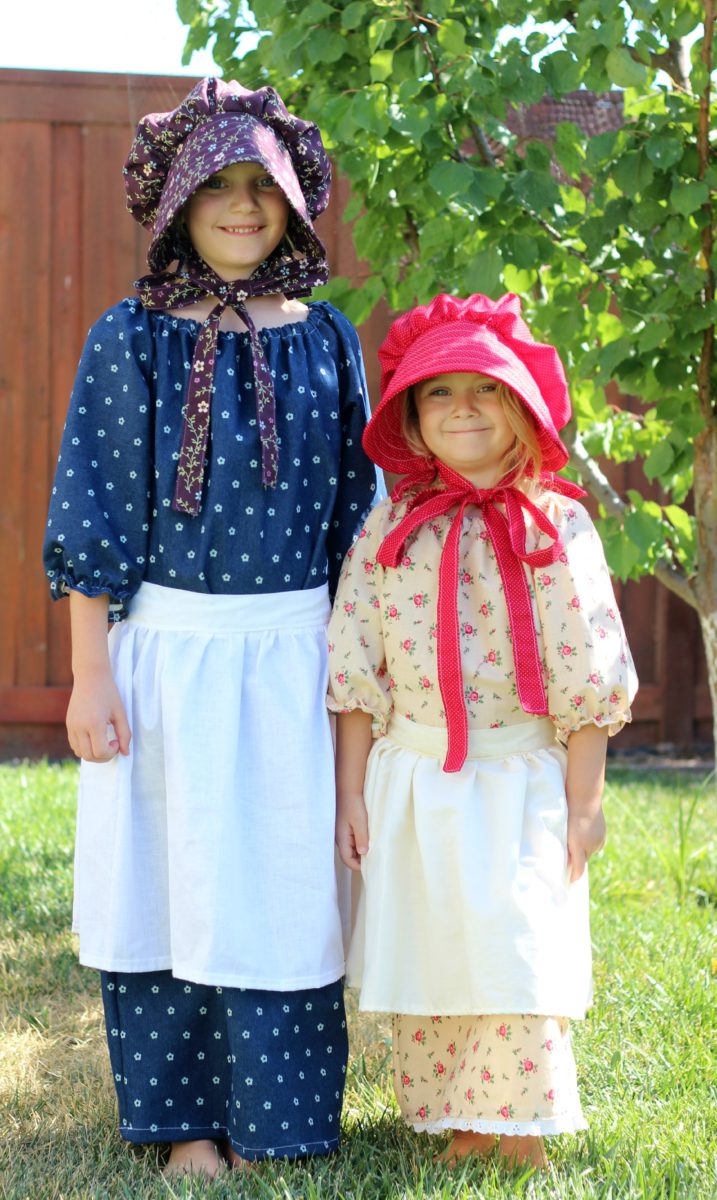 Lengthen the dress and add 3/4 sleeves to create a darling pioneer dress without buttons or a zipper. I love the pull on style. Check out our DIY Pioneer Costumes for coordinating apron and bonnet tutorials. They wore these dresses to Gold Rush Days when we lived in California and got so many compliments. Are they authentic? No. Did I use period fabric? No. Actually, the beige and rose fabric was from a box that I inherited from my Grandma's sewing room which makes me love it even more.
Peasant Dress Pattern for a Princess Halloween Costume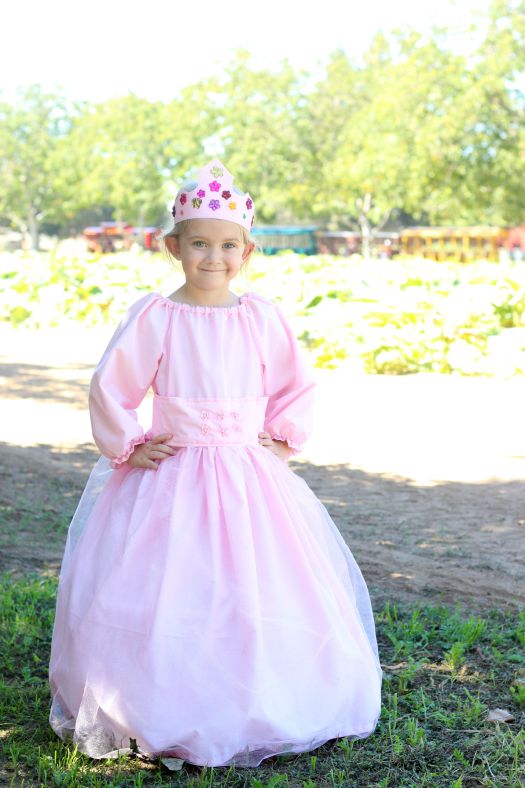 Make a princess dress
using the same pattern by making a double skirt, wearing a hoop skirt underneath for added fluff and making a cute DIY princess tiara. You'll find the list of modifications here. She was able to wear this dress as a dress-up for a couple of years because it was so roomy and long.
Make a Girls Peasant Dress Nightgown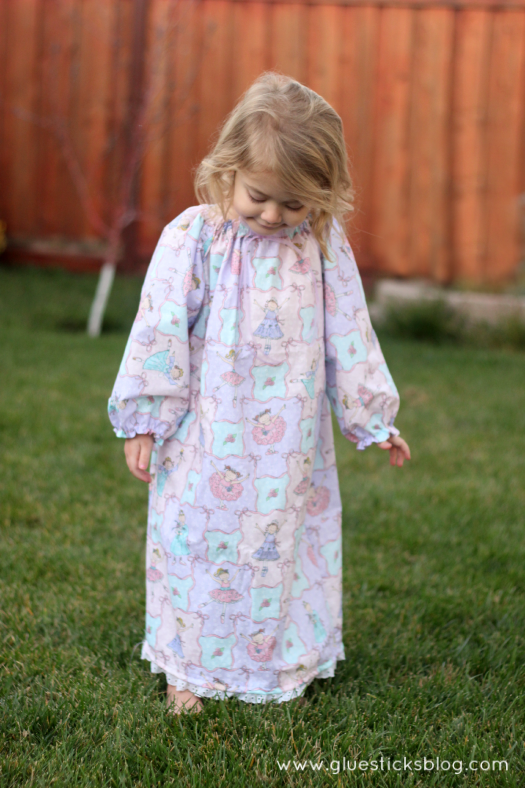 And last, but not least—nightgowns. I've made these many times for my girls. A peasant nightgown in under an hour? Perfect to make for Christmas! Make them out of flannel or cotton for soft and cozy pajamas.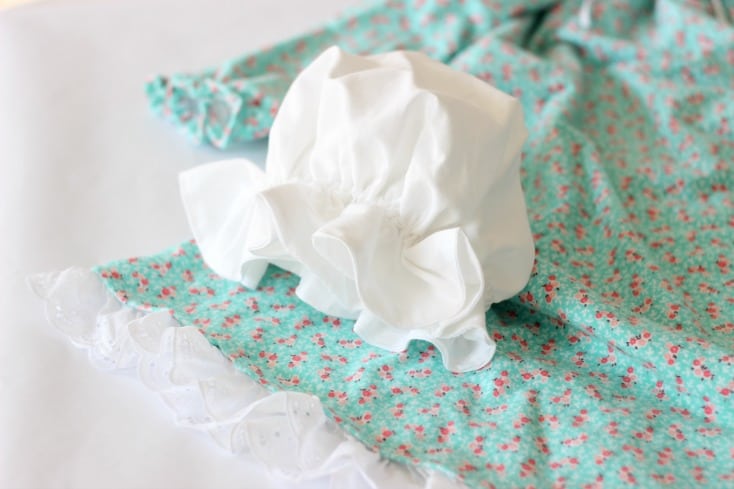 Speaking of Christmas, check out this post where I gave my girls a Little House on the Prairie Christmas complete with nightgowns (yes, using this pattern!), homemade night caps, a tin cup, peppermint sticks and more. It was a huge hit and so easy to put together.
More Simple Sewing Projects
10 Minute Wired Headband TutorialKids Bedroom Laundry Bag TutorialMake A Teddy Bear In Under 30 Minutes