Make a bandanna picnic blanket! So easy and quick and perfect for picnics, the beach, or keeping cozy on a cold day! To simplify it even more, tie the blanket instead of quilting it! This is a great sewing project for beginners.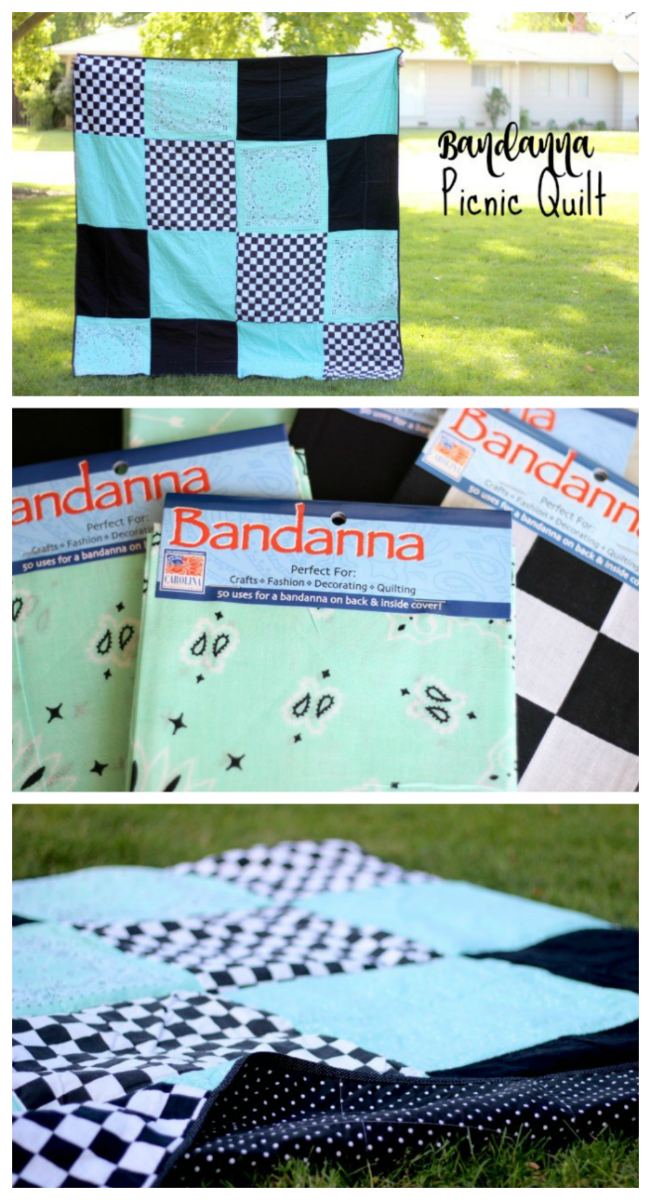 As the kids get older and our schedules get more and more hectic, spending time as a family in the evenings is something that we cherish. Sometimes we eat dinner around the table, sometimes we gather in front of the TV to watch an episode of a show together, sometimes we eat on the go, and sometimes I pick up dinner and we head to the park for a picnic. That is always a favorite for the kids. It is especially a great option if we are all in town running errands. We'll sometimes grab a pizza and stop to eat before we head home.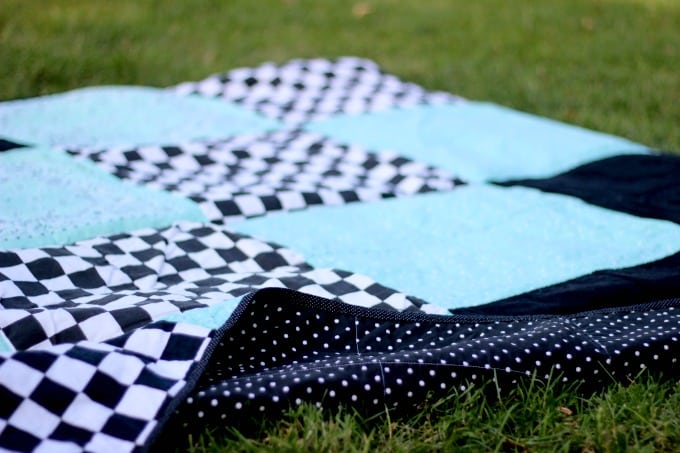 Since we spend a lot of time outside in the spring and summer a picnic blanket big enough for our whole family has been on my sewing to do list. The problem is that I don't have a lot of time to dedicate to quilting lately.  Cue bandannas! I found these darling bandannas at my local fabric store and thought they would make a really fun and QUICK bandanna quilt top! Most of my quilts use 6-8″ squares.
These bandannas are 22″
so sewing them together was quick and easy and my quilt top came together in less than an hour. AWESOME. I added batting and fabric for the backing and bound it together. I love how it turned out and it is plenty big for our family. We store it in the back of the van for park days or impromptu picnics.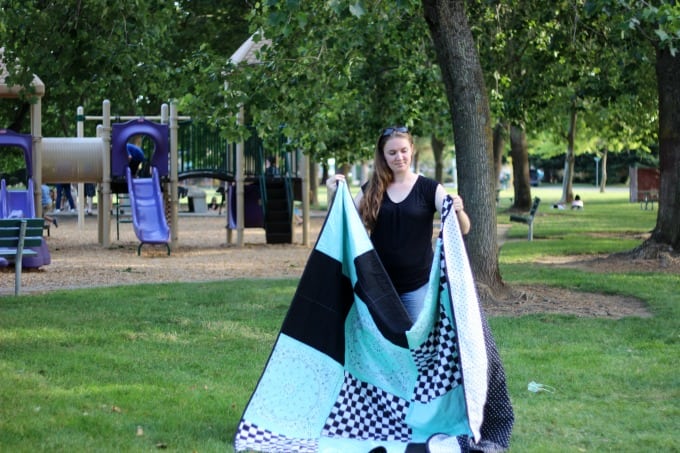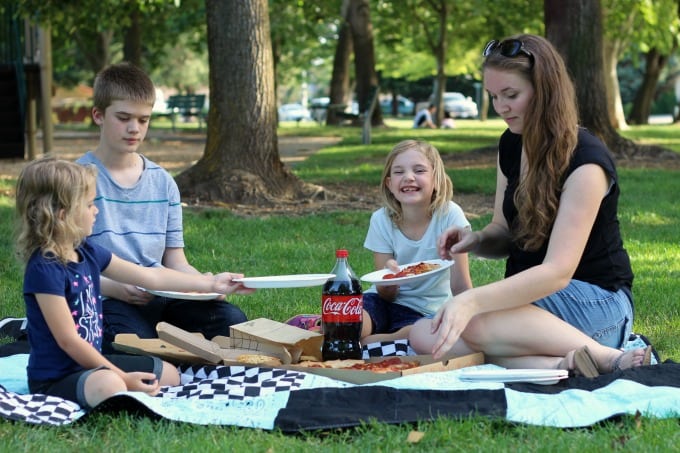 I'm looking forward to absolutely wearing this bandanna quilt out until it is thread bare. Would you like to make one for your family? Today I'll show you how to make your own bandanna quilt to keep in your car for these impromptu moments.
More easy blankets and quilt projects you'll want to check out: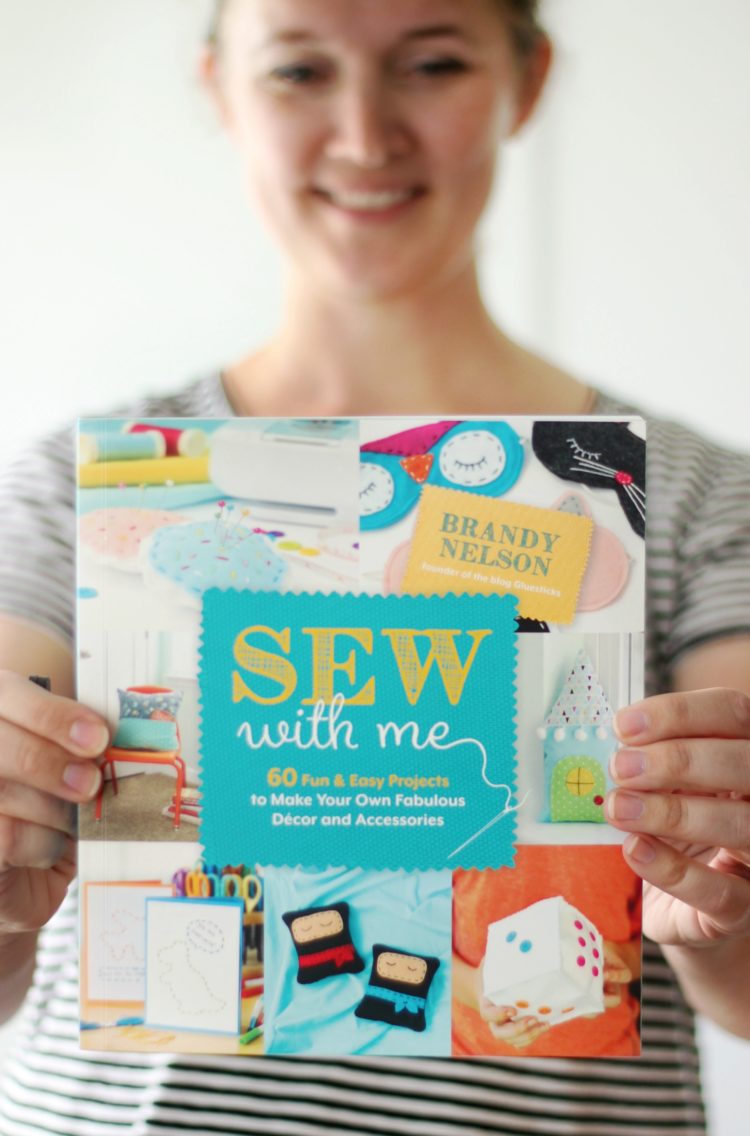 For 60 more sewing projects, check out my sewing book for kids!
Don't worry, if you don't know how to quilt or don't feel like attempting it this time I have another easy option for finishing your bandanna picnic blanket!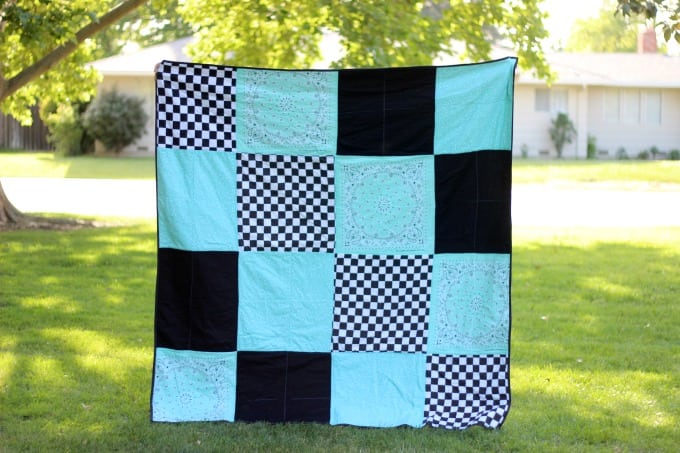 Bandanna Picnic Blanket Tutorial
I'm not a master quilter, in fact, I'm self taught. Or Pinterest taught? 😉 Those who have been quilting for decades would probably cringe on how I make my quilts, but that's ok. They come together fairly quickly and I think I do ok with my little sewing machine instead of investing in a fancy quilting machine.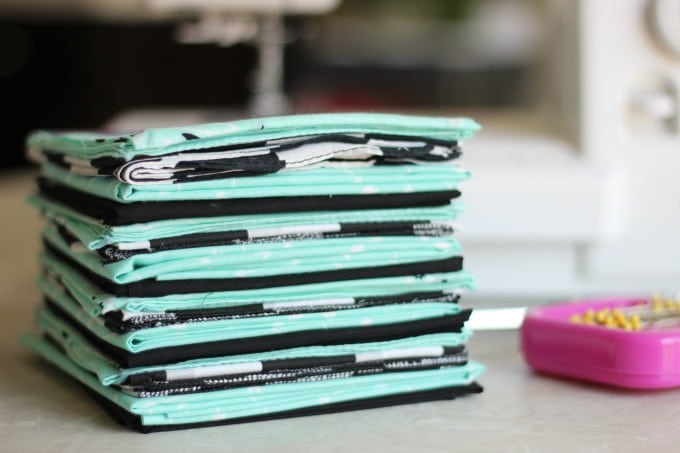 Determining the size of your bandanna blanket:
There are several sizes that you can make your quilt. You can use 9 bandannas (3×3), 12 bandannas (3×4), or 16 bandannas (4×4). Since we have 6 in our family, I made a GIANT 16 bandanna quilt. If you have 4 in your family, a 12 bandanna quilt would be plenty big. A 9 bandanna quilt would be a great play mat at the park for a baby or a picnic for 2!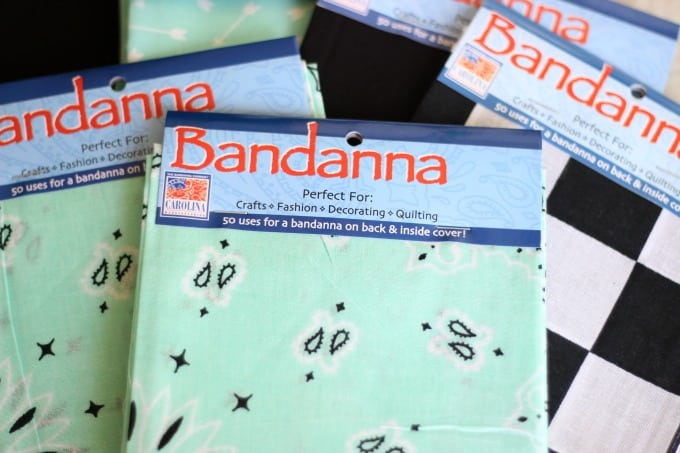 To keep things simple I will be referring to the measurements that I used for our 16 bandanna quilt. 
For beginners: If you don't want to tackle a quilt, just sew your bandannas together and press the back seams open. You have an instant picnic tablecloth or light blanket to use on the grass! This takes about an hour.
 For those a bit more adventurous:  Grab 5 yards of fabric or a queen size sheet, OR sew more bandannas together to create a backing for your quilt! Sandwich batting in between, add a few quilting lines, and bind the edges. I'll show you how! Since you are using 22″ bandannas for your quilt top you don't have to cut or measure squares. This cuts out so much time and makes this a project that you can complete in a day. Mine was finished in 3 1/2 hours. If you tie your quilt instead of quilting it you can finish it in about 2 hours.
Supplies for a 16 bandanna picnic blanket:
Fabric for quilt backing (about 5 yards)
1 yard coordinating fabric for quilt binding
pins
How to make a Bandanna Picnic Blanket
Step 1. Iron each bandanna open so that all of the folds are smooth.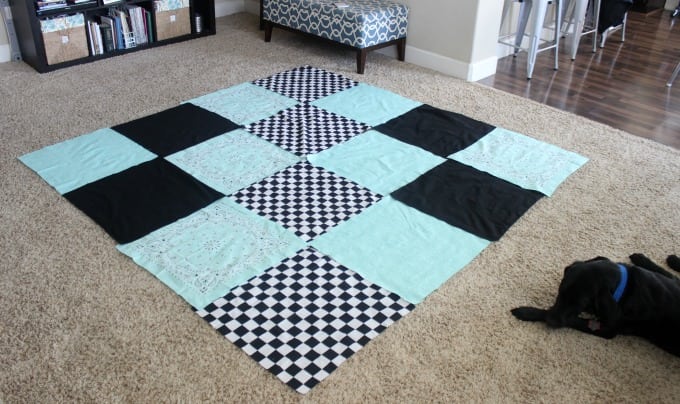 Step 2. Arrange bandannas in any pattern you'd like. Some bananas are irregular and may not line up perfectly. That's ok, just do your best to align everything together.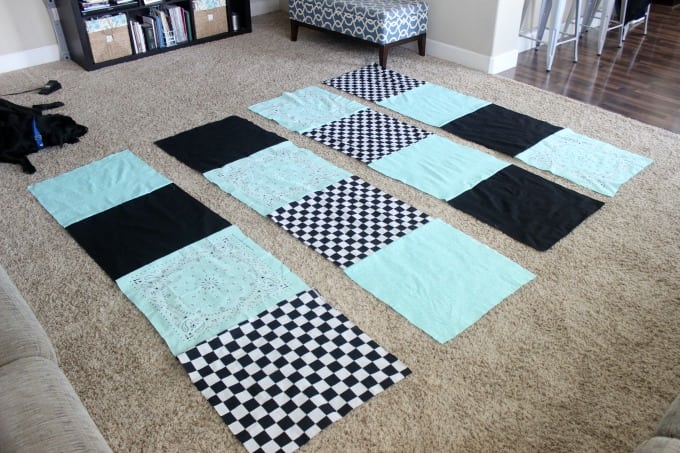 Step 3. Sew bandannas together using a 3/8″ seam allowance. Just do one row at a time. Iron seams open.
Step 4. Sew all 4 rows together. Iron seams open.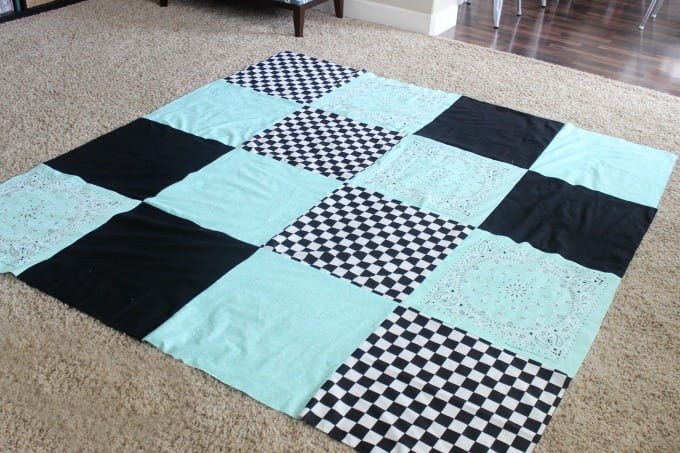 —If you want to stop here you totally can. Picnic tablecloth or light blanket = DONE! Since you used bandannas, the edges are already hemmed! To add batting and a backing, continue reading.
Step 5. Cut out a piece of batting the same size as your quilt top.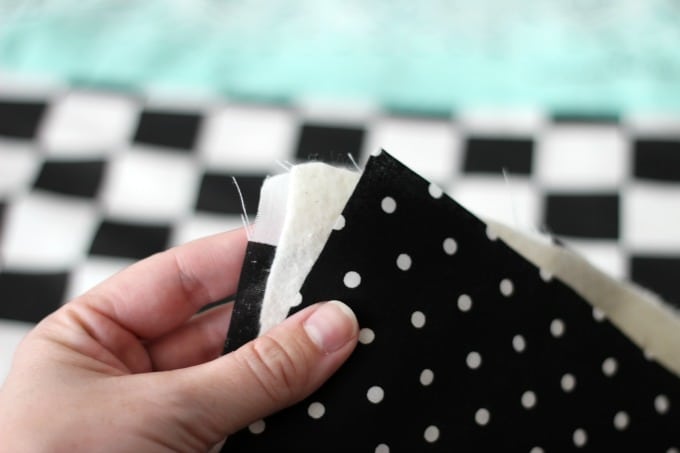 Step 6. Cut out a piece of fabric/sheet, slightly larger than your quilt top for the backing. If you use 5 yards of fabric for the backing, you will need to cut it in to 2 (2 1/2 yard) sections and sew a seam up the center to create a backing wide enough, and it will still be tight.  Finding an inexpensive queen sized sheet would be a great solution. If you use a queen size sheet it will be wide enough to not have to sew a center seam.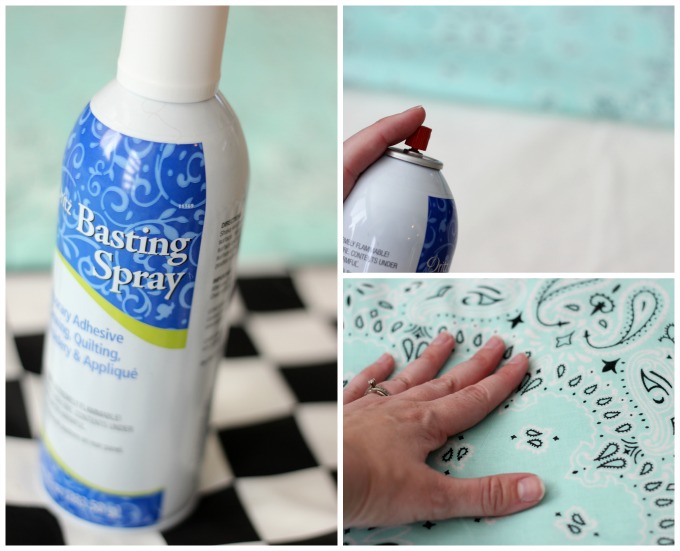 Step 7. To keep the fabric flat for quilting I like using
basting spray
. I simply spray it on my batting in small sections and smooth my quilt top over it, smoothing out all of the creases with my hands. Then I repeat for the quilt back. The traditional way is to use safety pins every couple of inches over your ENTIRE quilt. This will keep it from moving and slipping, and puckering while quilting too.
Step 8. Quilting can be as easy or complicated as you want it to be. If you don't want to quilt at all, you can tie your quilt with small knots of yarn in the center and corner of each square. This would take about 30 minutes. You can find a great tutorial for how to do that here.
To quilt your squares: I use my sewing machine and my a walking foot attachment that feeds the fabric into the machine evenly. I also keep to simple quilt designs.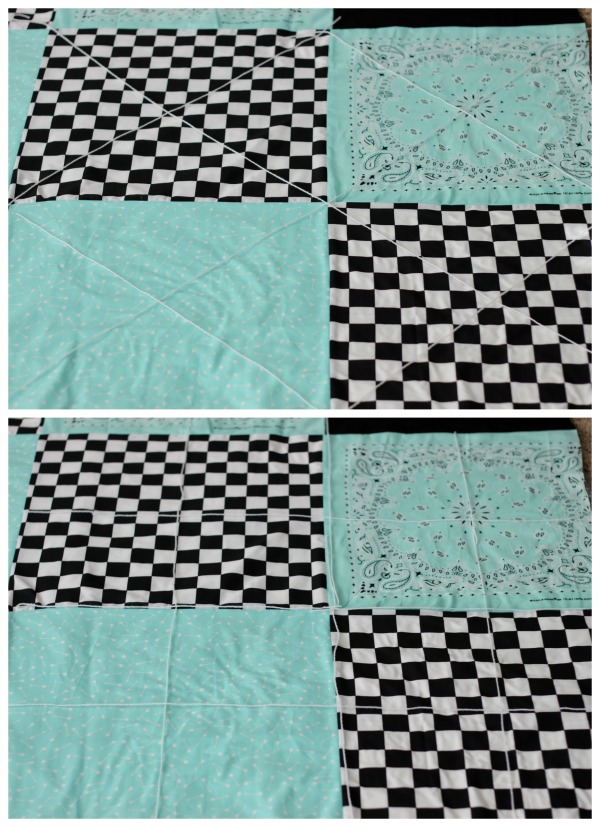 Here are two easy ones that you could try for this quilt!
(Shown with yarn for a visual before I spray basted my quilt)
A simple "x" through each square by sewing diagonal lines, or squares by sewing lines through each square, then rotating the quilt and sewing them again. The second is the design I chose, but the "x" design would be the quickest.
The more quilting your quilt has, the flatter it will be, but it also takes time to free motion quilt a quilt this size or to quilt any sort of pattern. I just wanted something to keep the batting secure, so quick and easy was the route I picked.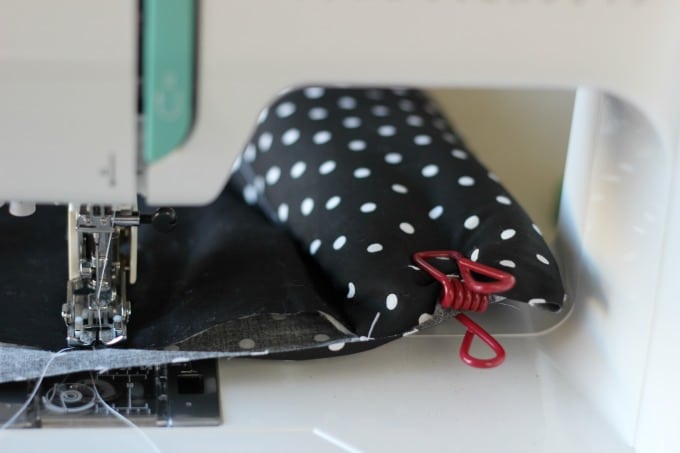 Step 9. Quilt your design onto your quilt. Roll up the sides of your quilt and secure with chip clips to keep it smooth and easy to feed through the machine. No matter what, it will seem bulky and awkward. Rolling your quilt up nice and tight will help keep it tight and not so heavy.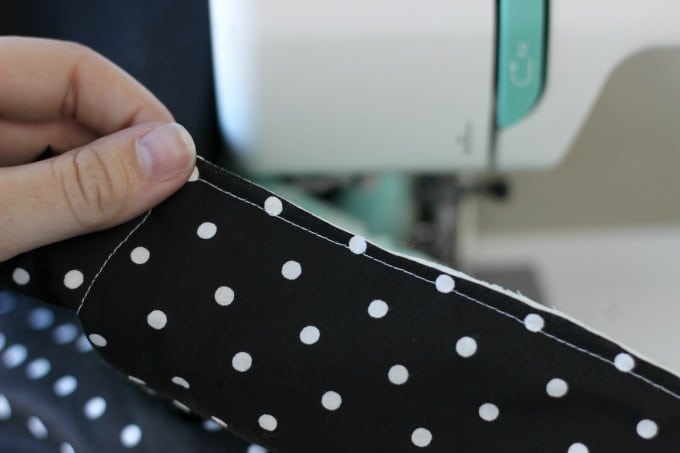 Step 10. When you finish quilting, Sew a 3/8 top stitch around the edge of the entire blanket. Trim close to the seam. This will create a nice neat edge.
Almost done!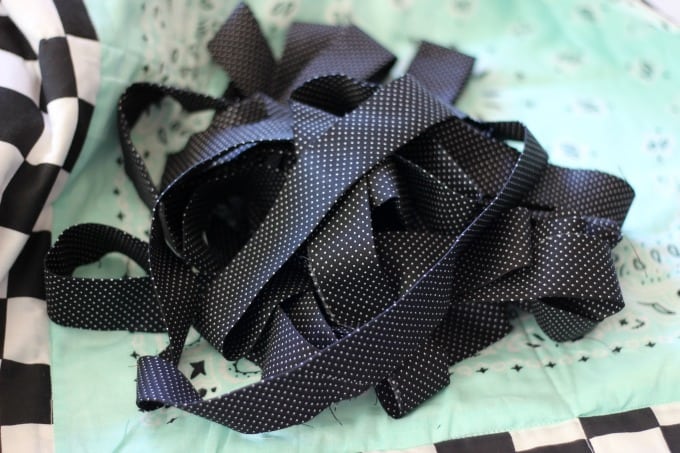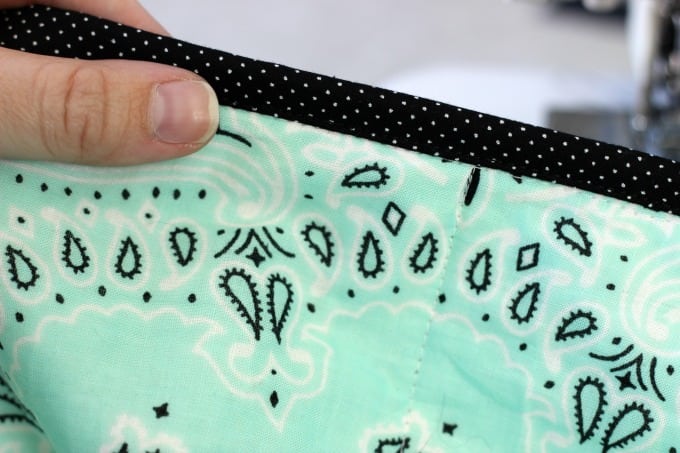 Step 11. Binding. I make my own quilt binding with 2.5″ strips.
Here is a FANTASTIC tutorial
to show you how to make binding as well as bind your quilt. You could also use bias tape, but I find that binding it with this tutorial is the simplest way.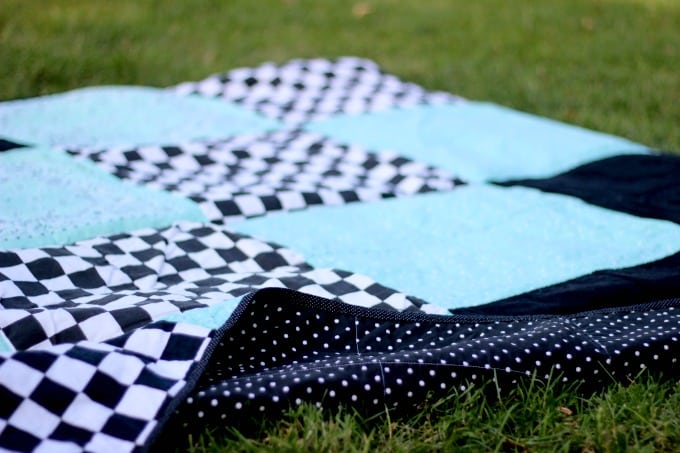 Step 12. When you've finished sewing on the binding, wash and dry your quilt. This is my FAVORITE step. There is nothing better than a fresh, crinkly, quilt straight from the dryer!
You might like…