This chocolate strawberries teacher gift is simple and sweet. Use the strawberry basket that the berries came in and wrap with a piece of decorative paper and ribbon.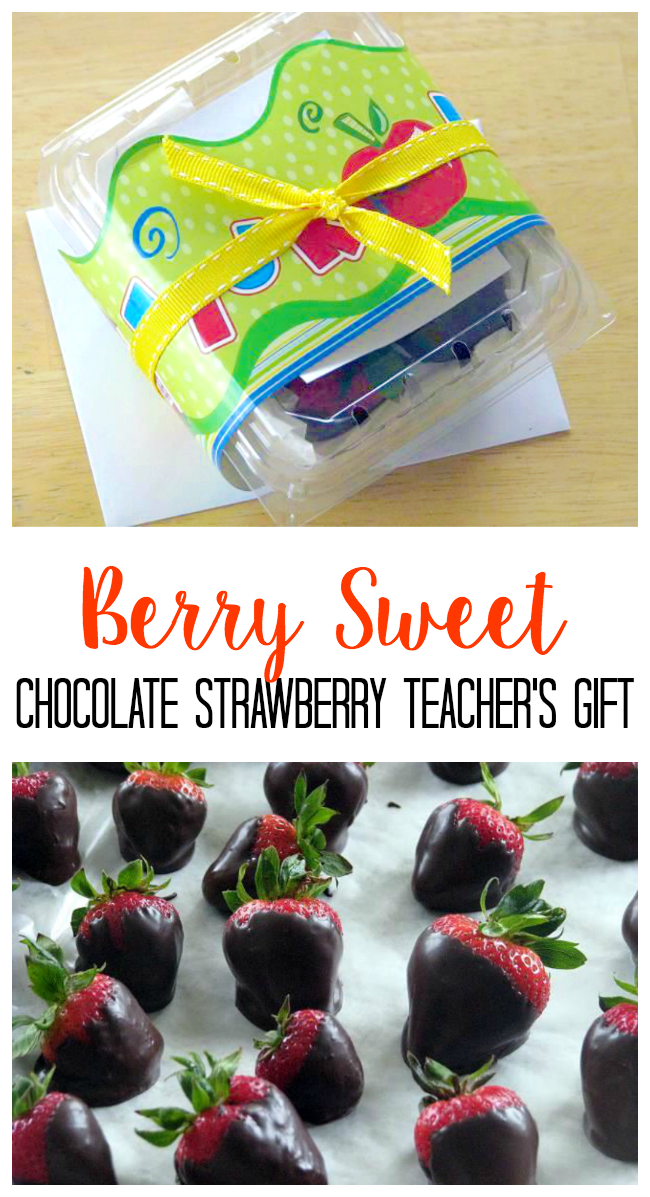 I kept things simple for Teacher's Appreciation Day this year. NICE AND SIMPLE. I've had teachers say that their favorite gifts are cards from their students, and I totally get that! My favorite gifts are homemade cards from my kids. The boys each made a card for their teacher in their cute little handwriting and I made them each a basket of chocolate covered strawberries.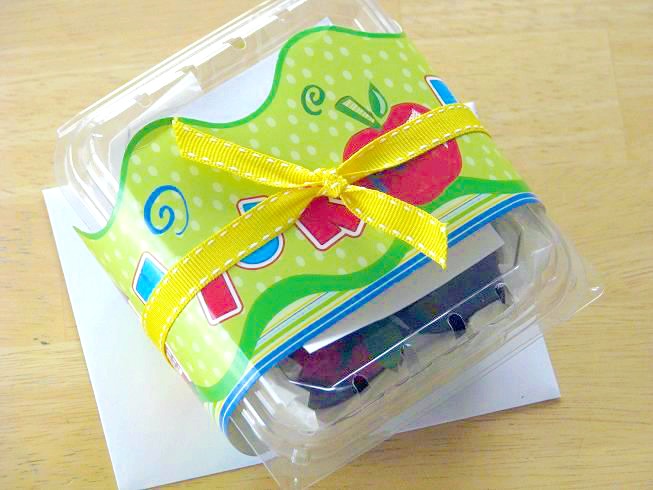 Chocolate Strawberries Teacher Gift Idea
I was trying to think of a cute and creative way to package them when it dawned on me to just use the basket that they came in! Usually strawberry baskets are 1 lb. sized, but these one were smaller so they worked our great! Each teacher received 8 berries. I had some extra bulletin border from teaching preschool to Aaron last year and wrapped each basket in that and tied a ribbon around it. A piece of scrapbook paper would have worked out just fine if I didn't have the bulletin border.
Here is a cute printable tag from Sweet Rose Studio that would be darling attached to this chocolate strawberries teacher gift. Looking for creative gift wrapping ideas for the holidays? I had so much fun making these Christmas inspired gifts using jars, ornaments, and to-go cups as my packaging!
5 More Simple Gift Ideas for Teachers
Apple with Packaged Caramel Sauce Gift Idea
Hand Sanitizer Teacher Gift Idea
Fruit and Chocolate Gift Basket Teacher Gift
Double Sided Tissue Pouch Gift Idea
I Carrot Lot About You Gift Idea 
How to Make Chocolate Strawberries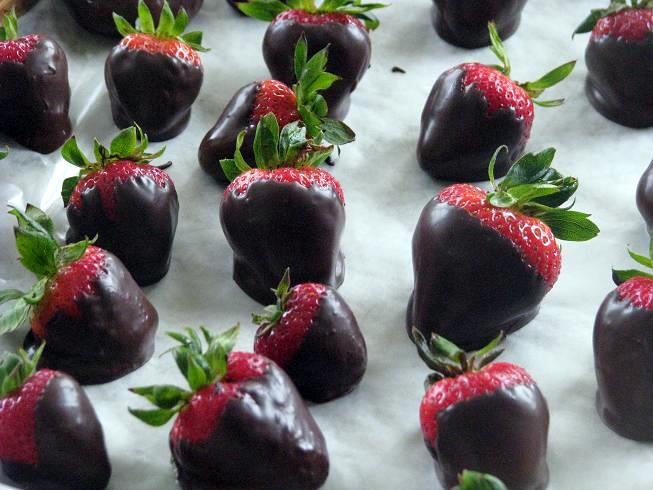 Making chocolate strawberries seems pretty self explanatory, but there are a few tips that I think would come in handy for first-timers.
Use dry strawberries.
This doesn't mean that you can't wash the berries. By all means, wash them! Just make sure they have a chance to dry completely so that the chocolate sticks to them better.
Use room temperature strawberries.
Cold strawberries will begin to sweat after they've been dipped in chocolate and will leak juice faster than room temperature strawberries.
Use melting chocolate.
I've made strawberries with both melted chocolate chips and melting chocolate and prefer melting chocolate. Ghirardelli meting wafers are my favorite and are delicious! Much better than chocolate flavored almond bark. You can also buy melting chocolate cups like I did in this post which are super easy to use. When you are done, just toss the cup. No clean up involved.
Eat within a day or 2.
Using room temperature strawberries only helps so much. After a day, the berries will begin to get juicy so make these the day you'd like to eat them, or the night before.
Steps for Making Chocolate Strawberries
Melt Chocolate
Dip each strawberry into chocolate, letting excess drip off.
Place each strawberry on to a wax paper or parchment paper lined baking sheet.
Allow to set until chocolate has hardened. On the counter is best, but the refrigerator works in a pinch.