Kids love creating projects together! This year, throw a creepy and crafty Halloween party for kids with fun craft kits to put together, an interactive coloring table, yummy treats and more! This post contains affiliate links.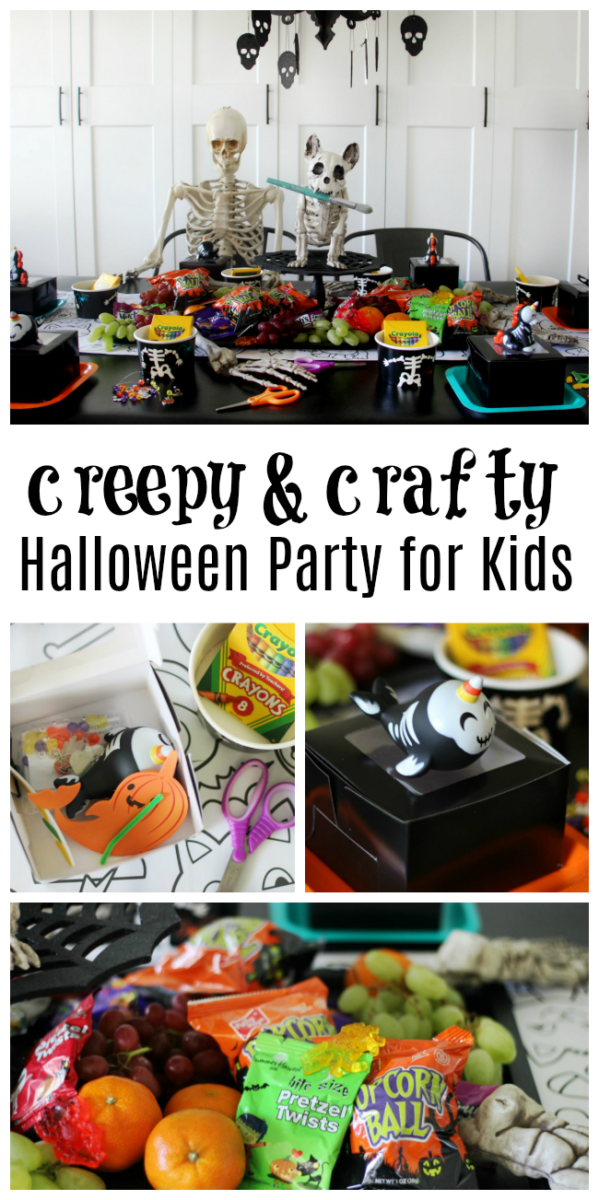 When it comes to Halloween do you like cute decor or spooky decor? I'm ALL about the cute decor, but my kids like to be spooked. Our home is a compromise between the two, and over the years, I've come around to liking more of their skeleton friends. This cute and crafty Halloween party is designed just for kids! My kids love making things to take home when they go to parties and this party is chalk full of them! Are ready for a visual tour? Let's go!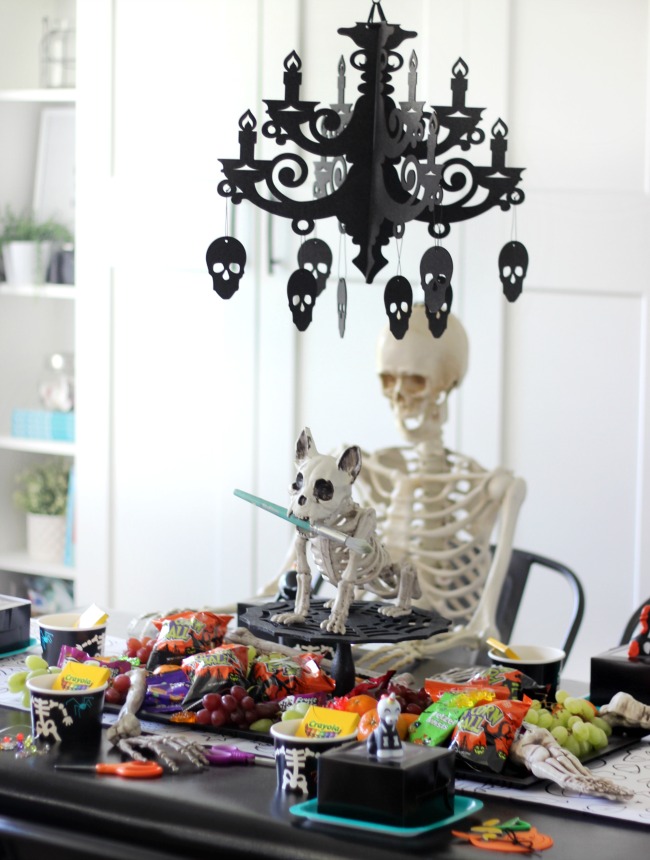 More Halloween ideas for kids!
Boo Bags: a 5 minute sewing project for kids!
Not so Creepy Halloween Treats and Games for Kids
Rice Krispies Halloween Pops (Mummies and Frankenstein)
Mad Scientist Elixir Party Favors 
Creepy and Crafty Halloween Party for Kids: Activities
(See links at end of post for all of the products used for this party!) Use SQUAD19 – to get Free Shipping right now on Oriental Trading!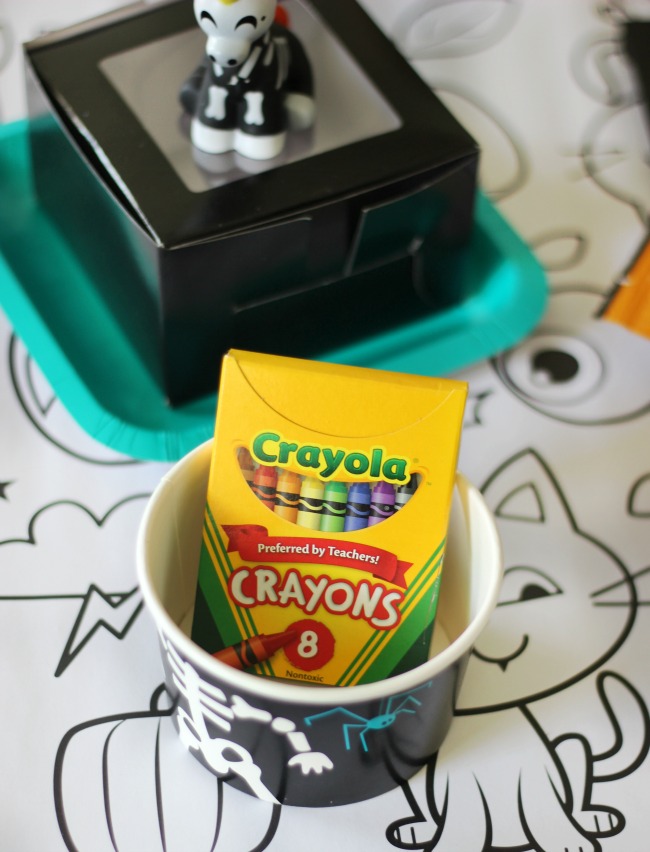 It's always a good idea to have an activity for kids to do while all of the guests are arriving to avoid having them running around your house. As soon as they start to arrive, guide them to the table and they can start coloring the Halloween table runner or begin one of the cute craft projects!
I LOVE the coloring page table runners from Oriental Trading. They are so fun, inexpensive, and the perfect way to bring everything together.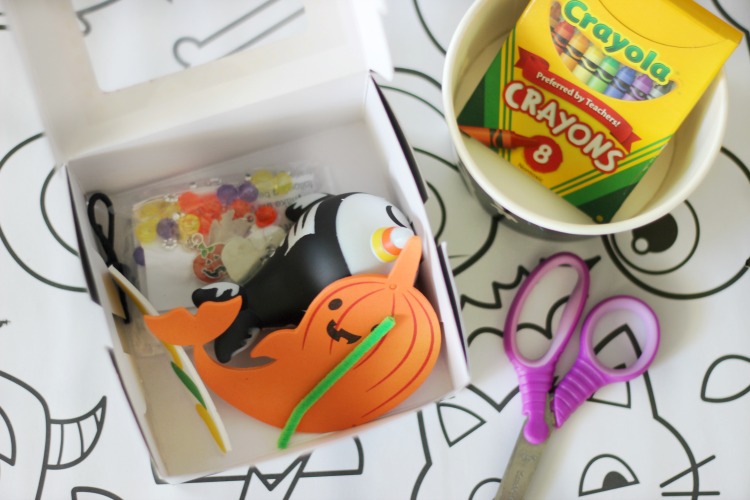 To keep the craft kits in one place, I tucked them into these black treat boxes. They are cupcake boxes, but work for so many other things.
I put a Halloween foamie kit and a charm bracelet kit inside each box.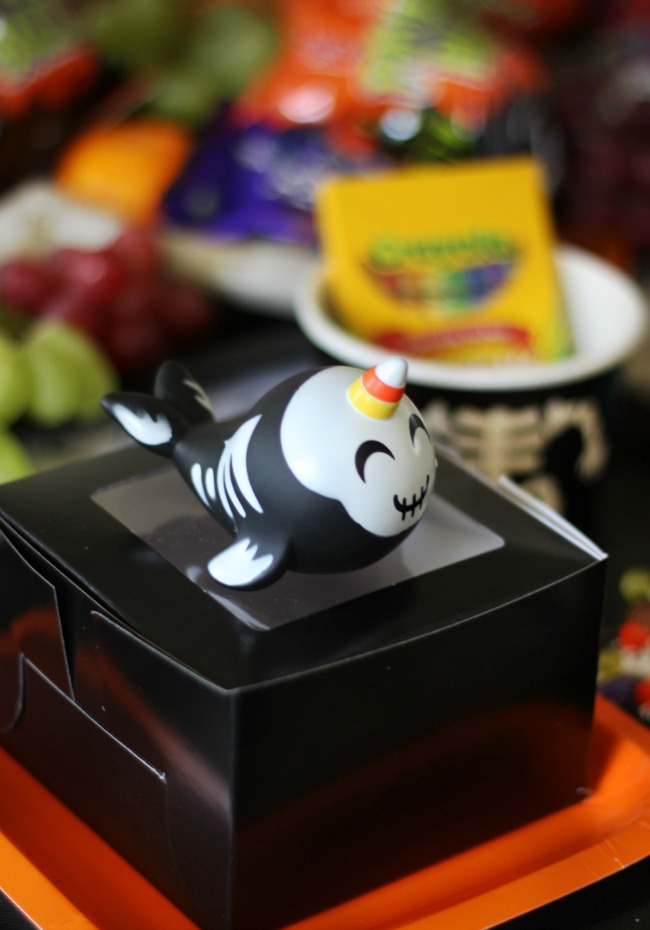 Halloween mermaids, unicorns and narwhals—THEY ARE A THING. Who knew?
I bought a bag of bones to randomly place on the table. Creepy, but also kind of cute the way it is holding scissors, and the fun bull dog is holding an artist's brush!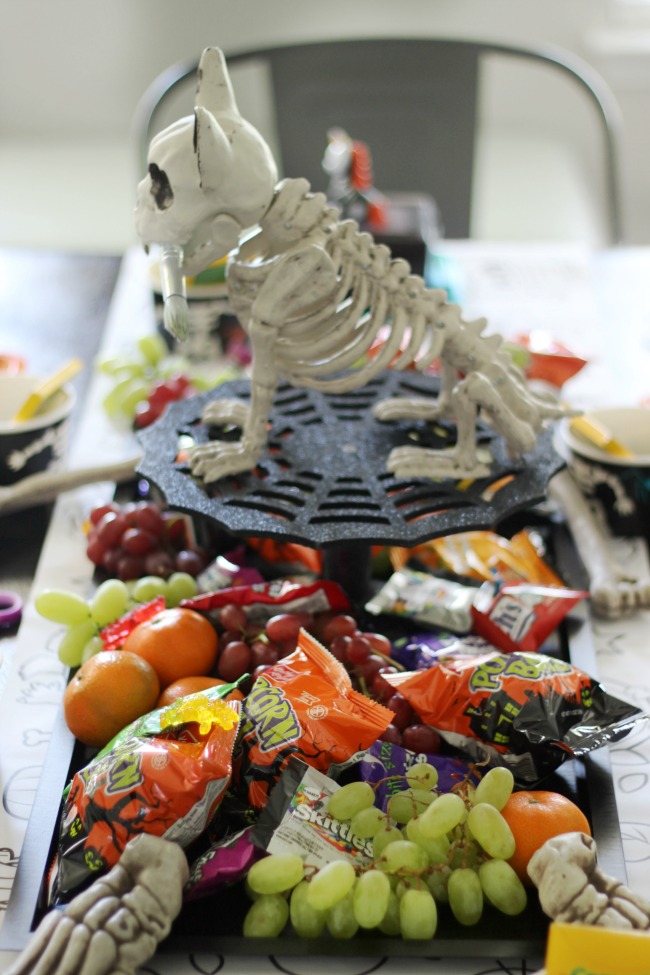 After the crafts have been made (or while the crafts are being made—because let's be real here. Those kiddos are going to want to sneak a treat or two) they can enjoy the treat spread!
Creepy and Crafty Halloween Party for Kids: Party Foods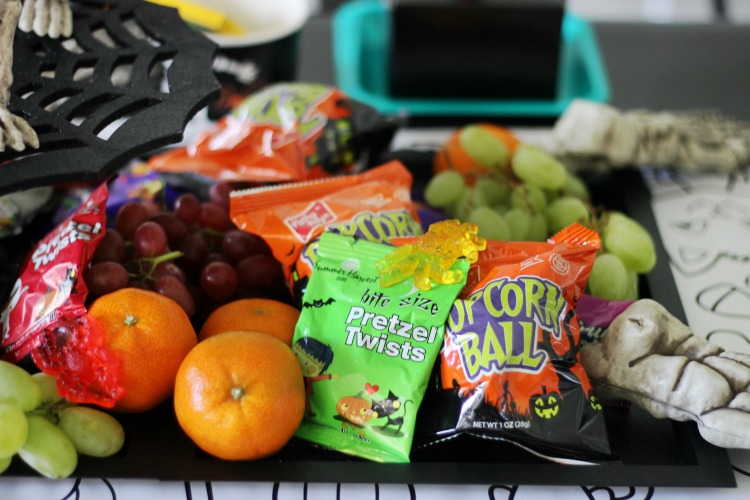 Oriental Trading had SO many fun party foods for kids! I used slate platters for the food and placed mandarin oranges and clusters of grapes all around. Then I tucked in some creepy foods like gummy spiders, Halloween pretzels, Halloween fruit roll ups and Halloween popcorn balls.
These popcorn balls are delicious and also make a great take-home favor!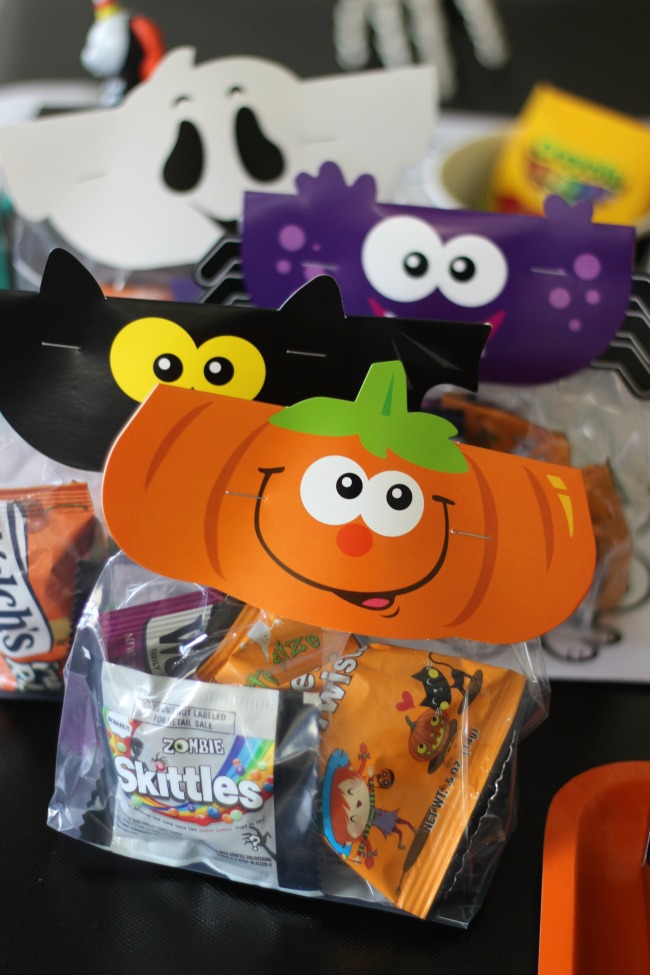 Creepy and Crafty Halloween Party for Kids: Party Favors
Speaking of take home favors, how fun are these treat bags with toppers? Each pack comes with pumpkins, ghosts, bats and spiders. Just fold down the treat bag (they are really long!) to the desired height and staple the topper across!
Have you ever tried the Zombie Skittles? They are basically Bertie Botts in Skittle Form. Most taste great, but then you get a nasty mystery flavor and all bets are off.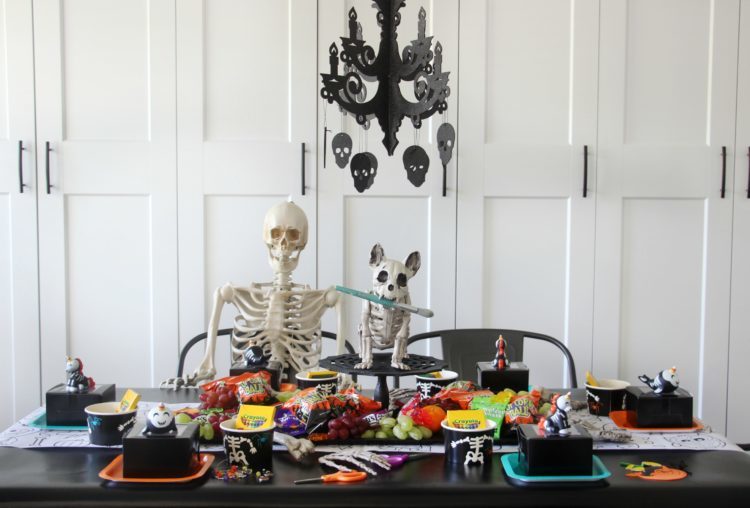 Links to supplies:
Everything is from Oriental Trading. Use code: SQUAD19 – to get Free Shipping!
Take Home Halloween Treat Bags and Toppers
Narwhal, Unicorn and Mermaid Toys
Halloween Coloring Table Runner
Halloween Cardboard Chandelier
Welcome! I'm Brandy, mother to 5 darling kiddos and a cute black lab named Toby. My husband is in the Coast Guard so we've lived all over the place, turning each house into a home. I love baking, sewing, making cute things with my kids, and sharing what I've learned with all of you!