These fabric treat bags are easy to make and fun to fill with candy. Use them as mini BOO kits and doorbell ditch on Halloween! This post contains Amazon affiliate links.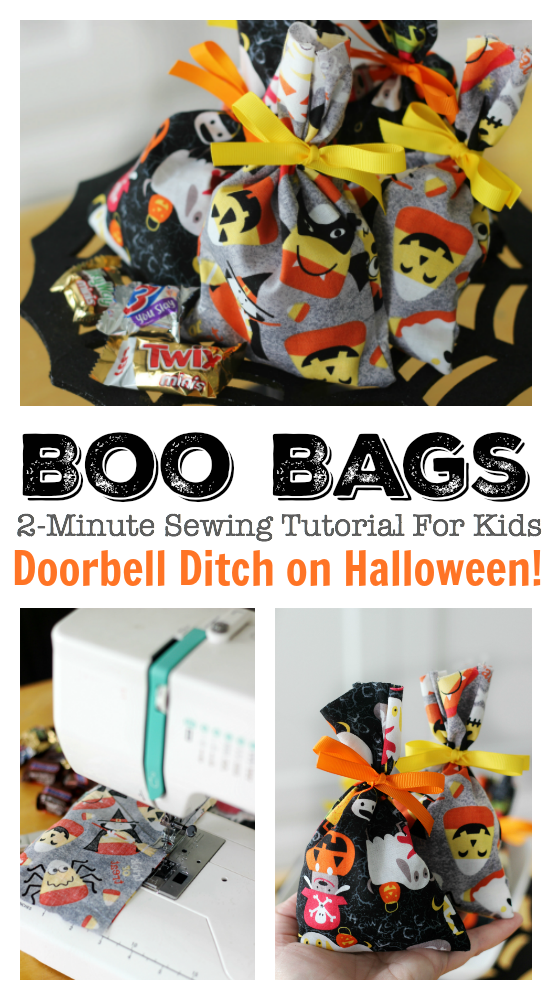 Boo kits are so much fun to make (you can see the one we made a couple of years ago for Ruby's teacher here!), but they can be a bit pricey. Especially if you have a house full of children like we do, and they all want to BOO a friend or two!
These mini fabric treat bags are SO easy to make. A great beginning sewing project for kids. You can find one similar in my kids' sewing book that is coming out this fall! Make a dozen and fill them with candy. It'll set you back a bag of Halloween candy and about 1-2 minutes of sewing for each bag!
You don't have to limit these to only being used as BOO bags either, they would be perfect for treat bags any time of year! A great way to use up scrap fabric and a perfect first-time sewing project for kids. If you don't have ribbon on hand you can tie them with a twist tie, string, or yarn!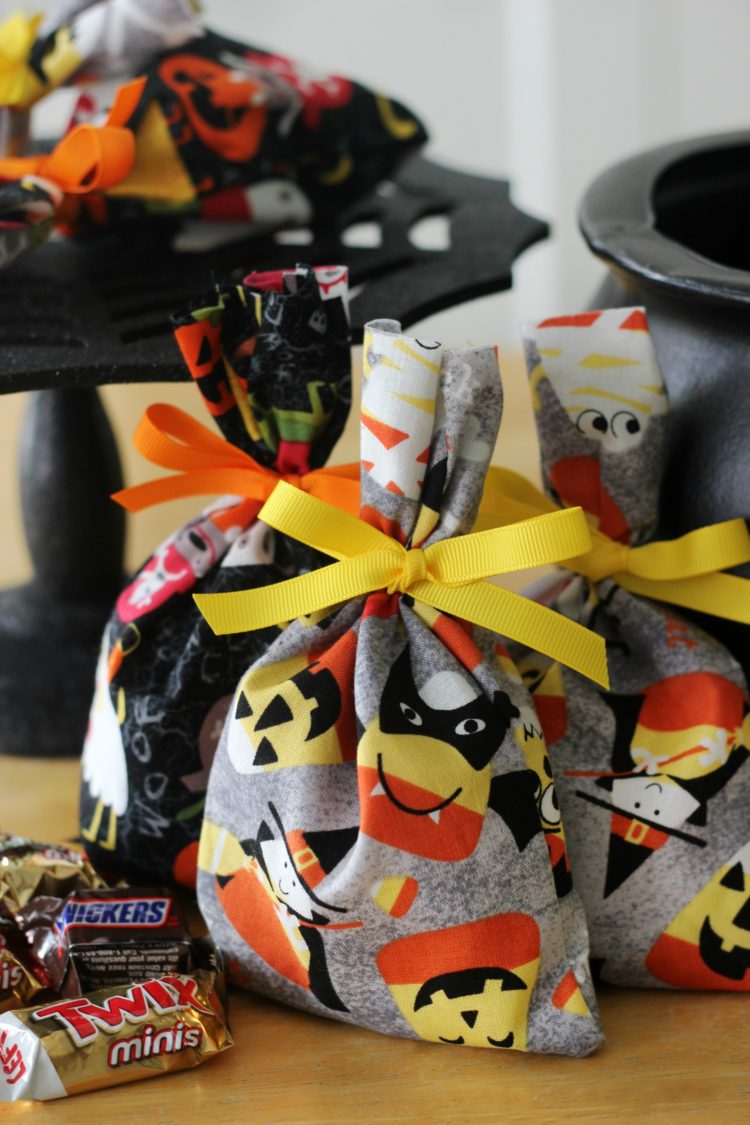 No hemming the edge or ironing involved! The tops of the bags are unfinished, and that's okay! You can even use pinking shears to cut across the top for a decorative edge. This will also prevent the fabric from ever fraying. Ready to make some darling treat bags? Grab some scrap fabric and let's get started!
Fabric Treat Bags Sewing Tutorial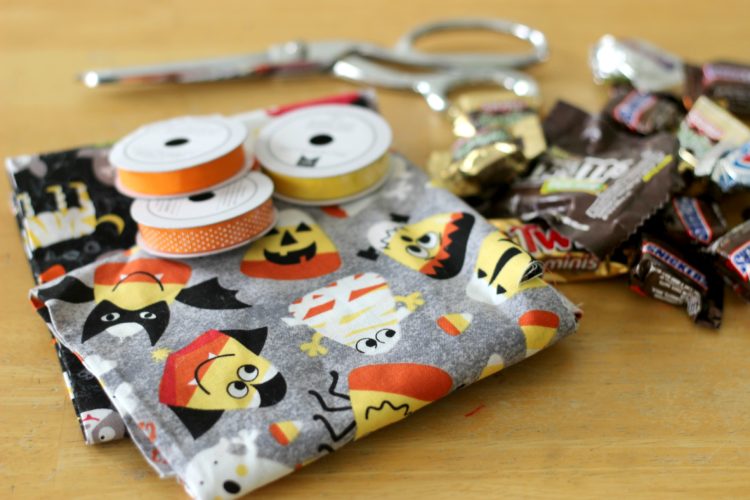 Supplies
Halloween fabric (mine was left over from this fun project!)
scissors (pinking shears, optional)
pins
sewing machine
ribbon
candy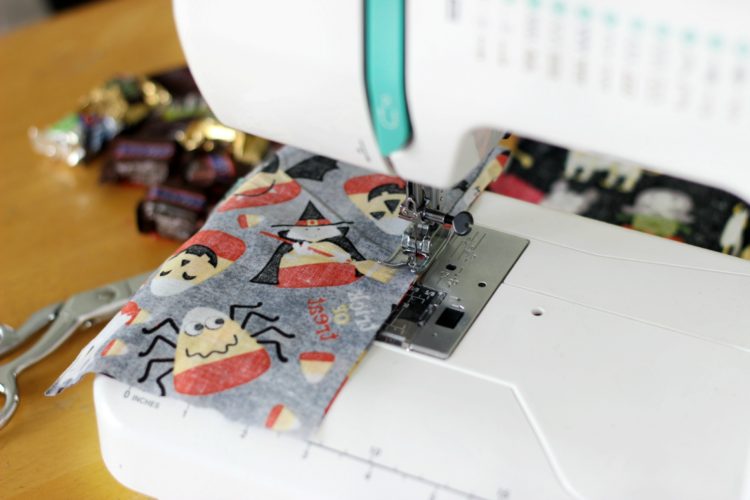 Instructions:
Cut out 2 (5×7″) rectangles of Halloween fabric. Sew the sides and bottom, leaving the top open.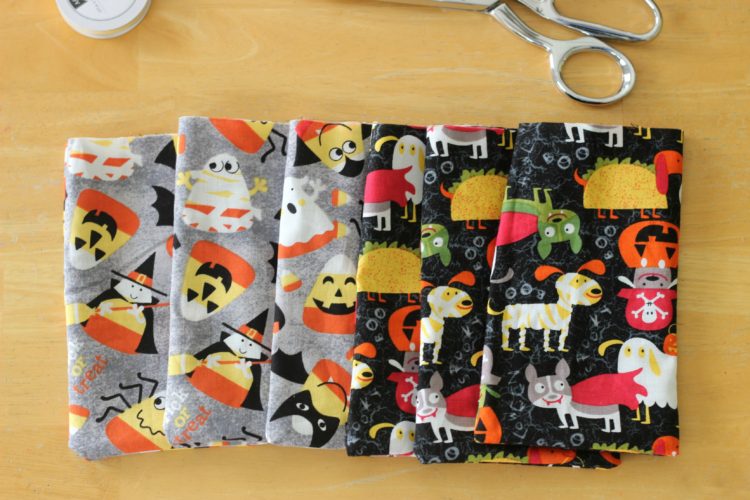 Turn right side out, fill with candy, and tie off the top with a ribbon.
Note: If you'd like a decorative edge that won't fray you can trim across the top with pinking shears.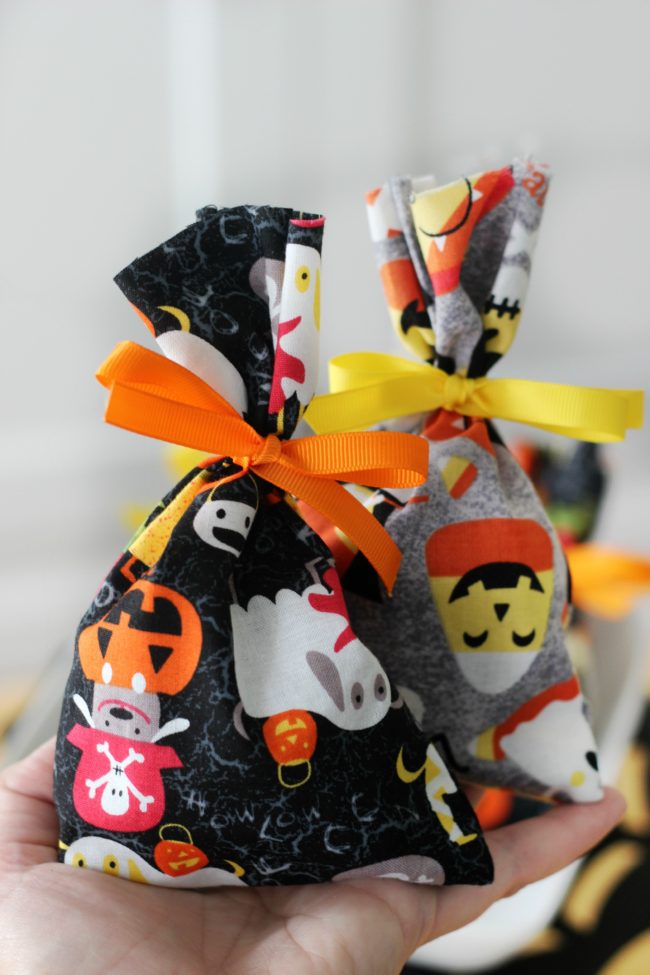 Then, all that's left to do is pile everyone into the car and start delivering them! These Boo bags literally take under 2 minutes to make using a sewing machine.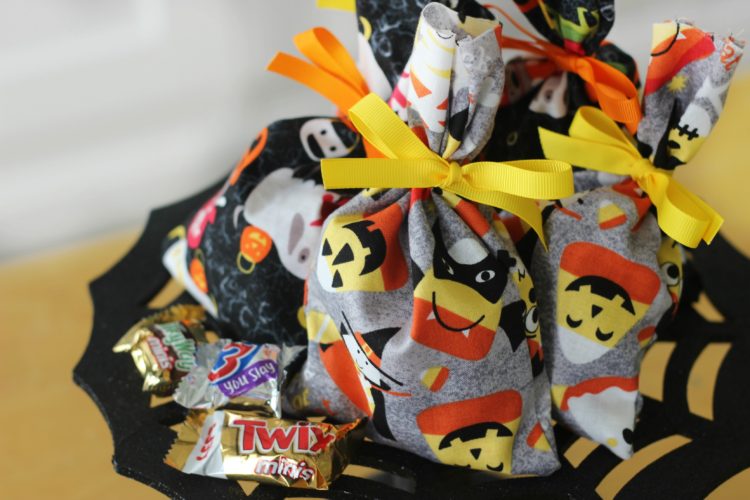 You Might Also Like these Halloween Projects
How To Make Your Own Drawstring Trick or Treat Bags: Bigger than a plastic pumpkin, smaller than a pillowcase, and the top cinches closed. The perfect trick or treat bag for Halloween night!
Homemade Minnie Mouse Costume: A darling DIY Minnie Mouse costume that doubles as a play dress! Long, twirly, stretchy, and easy to make.
Easy Homemade Halloween Costumes to Sew For Kids: A collection of simple diy costumes for kids. Easy ideas to add to a dress up box for imaginative play or Halloween! Butterfly, Gru (Despicable Me) Mermaid tails, Poodle Skirts, Doc Mc Stuffins and MORE!
Vampire Donuts: Are you ready to make the SILLIEST not-so-spooky Halloween treats? These vampire donuts come together in about 30 seconds. So easy and fun!
For 60 more sewing projects just like this one, check out my sewing book for kids!