It doesn't get any cuter or easier than these Halloween donut cups! Perfect for Halloween parties, classroom parties, or gifts. Make all 3 varieties! This post contains Amazon affiliate links.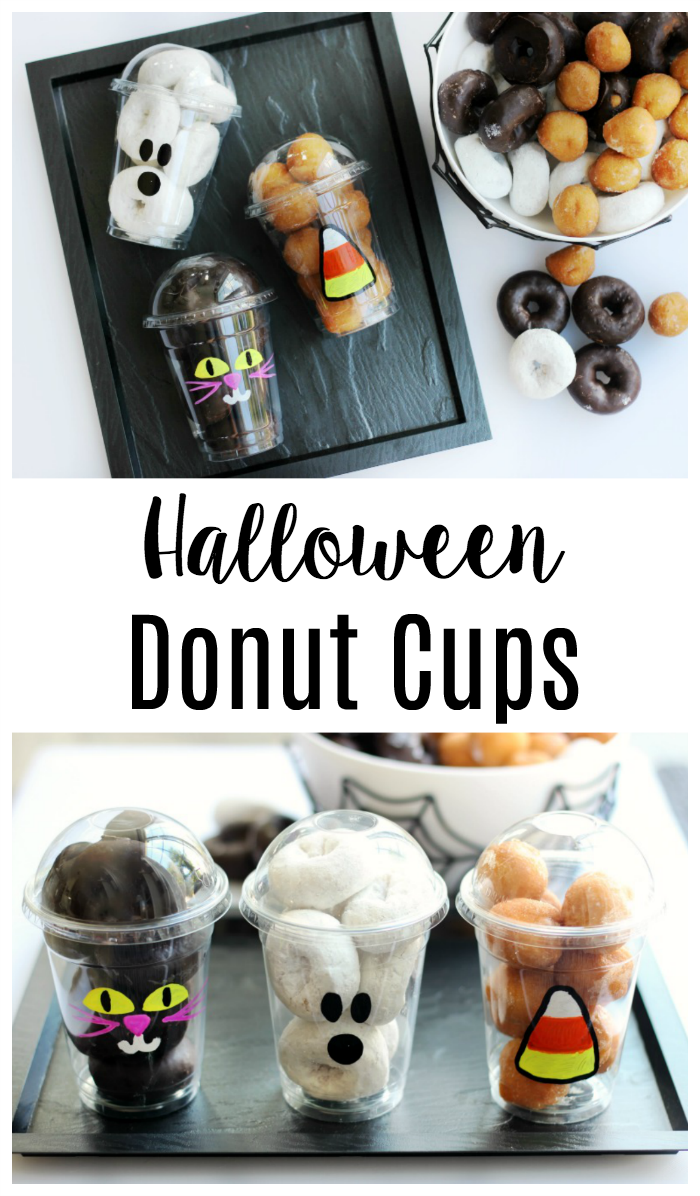 I know what you're thinking. Does she really have another disposable cup project to share? Yes, friends. Yes I do.
If you are new here you should know that I have a weakness for these disposable cups with dome lids. I use them ALL. THE. TIME.
More Posts Using My Favorite Disposable Cups
Bunny Treat Cups: These bunny treat cups are made out of to go cups! Decorate with felt and paint pens then fill with mini donuts or popcorn! Perfect for parties!
Holiday Treat Cups: Fill these to-go cups with mini donuts and decorate the front for the most darling holiday party treat cups around! Great for class parties!
Fruit on the Go Cups: A quick and healthy breakfast, snack, or lunch idea! These to go cups are perfect for salads and fresh fruit.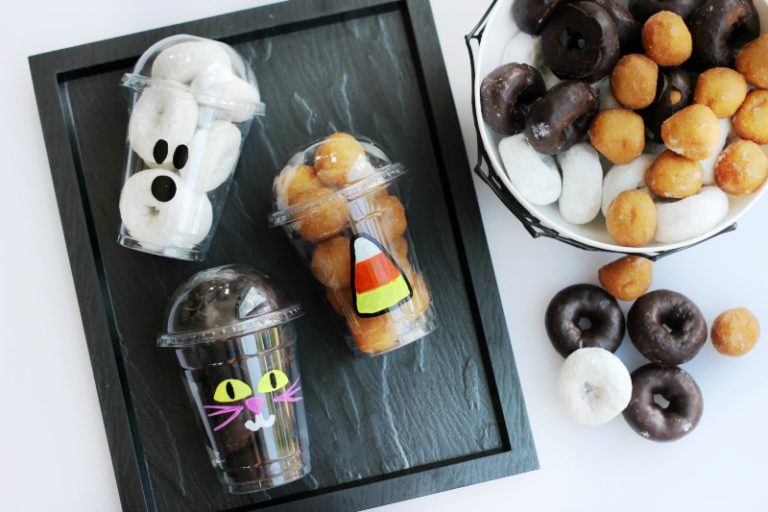 The dome lid doesn't have a hole so it keeps food fresh. The ones with a hole would work well for smoothies and other drinks, but these are perfect for snacks, fruit and DONUTS.
These Halloween cups would be so fun to make at a kids Halloween Party. Or how about treats to leave when you BOO someone this Halloween?
Every party that I've ever thrown has had some sort of DIY element for kids. Nothing builds confidence in kids like learning how to make something new, or creating something on their own!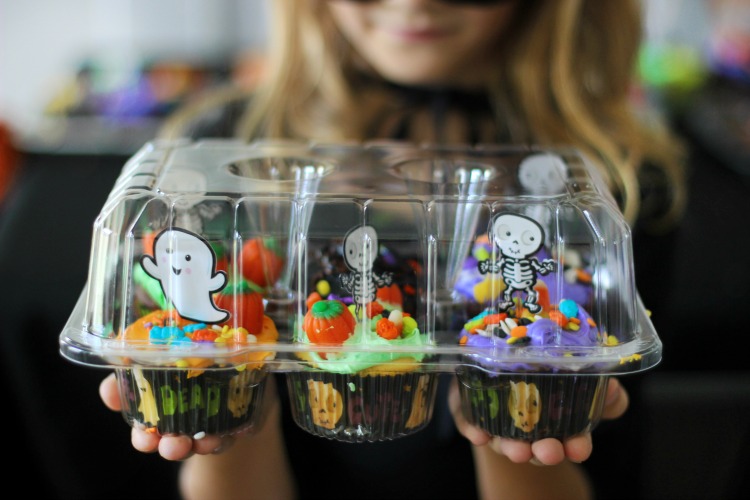 One of the easiest parties that I ever hosted was for Ruby's 7th birthday. She invited all of her friends over for a Halloween cupcake decorating party. Her birthday is in October so it was an absolute breeze! The kids LOVED dressing up and coming over to make their own tray of cupcakes. And these to-go cupcake containers were an absolute hit with parents. "Thank you for not sending us home with 6 cupcakes on a paper plate!" Haha. Can you imagine how that'd go, trying to balance them in the car?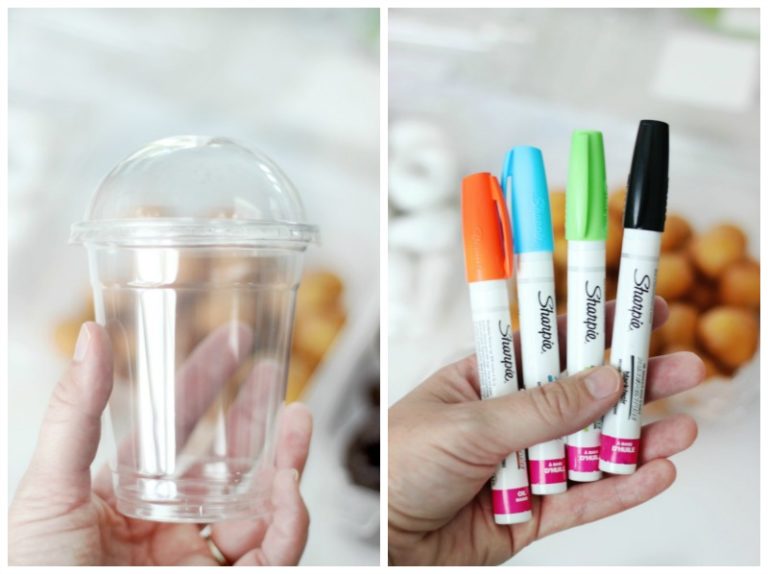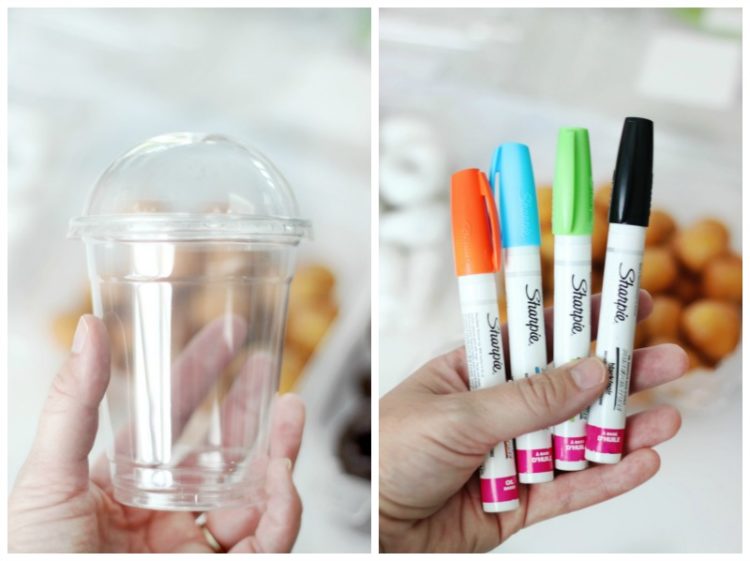 Halloween Donut Cups
Supplies:
Mini donuts (I buy mine at Walmart in the bakery section for about $2.50/container)
Disposable Drink Cups with Dome Lids (no hole)
Sharpie Oil Based Paint Pens (fashion pack, basic pack)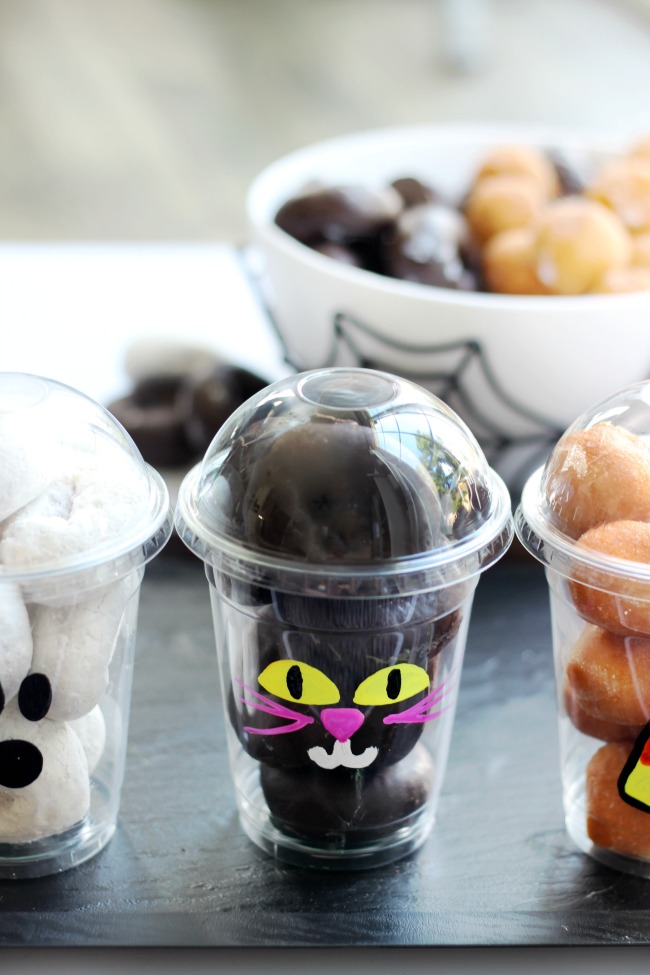 Halloween Donut Cups Instructions
Step 1: Shake pen thoroughly and test on a scrap piece of paper to make sure that the paint comes out evenly.
Step 2: Draw your Halloween design onto your to go cup.
Step 3: Let Dry
Step 4: Fill with donuts, in any variety you'd like!
I wasn't sure how this black cat would turn out, but I kind of adore her! The other two are cute too, especially that ghost.
Talk about EASY. Just 3 black ovals and…done.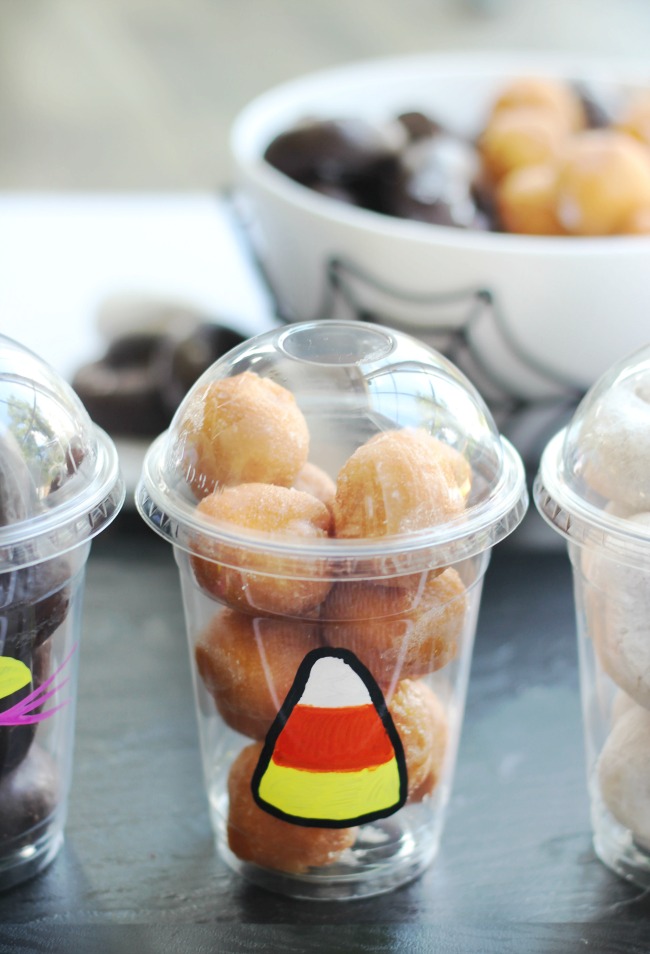 I wasn't sure what design went with plain donut holes. Just anything Halloween related, I guess. I thought about making a Jack-O-Lantern as well. We'll pretend those donut holes are orange, not tan. Any other ideas for what to put on this cup?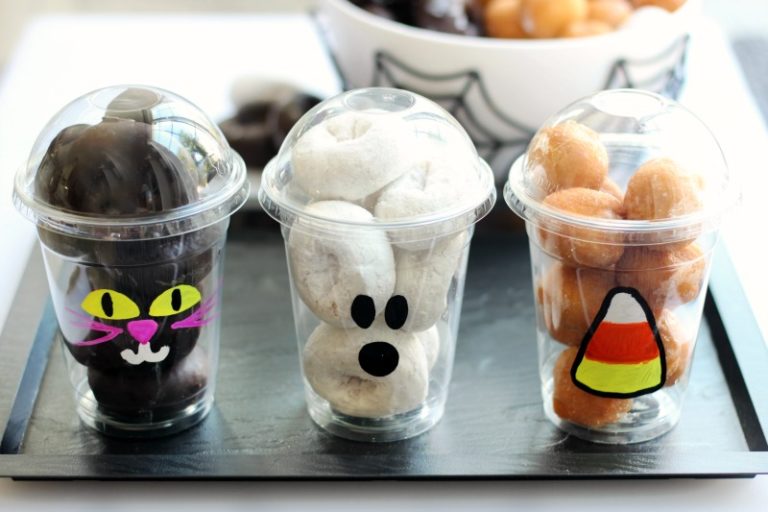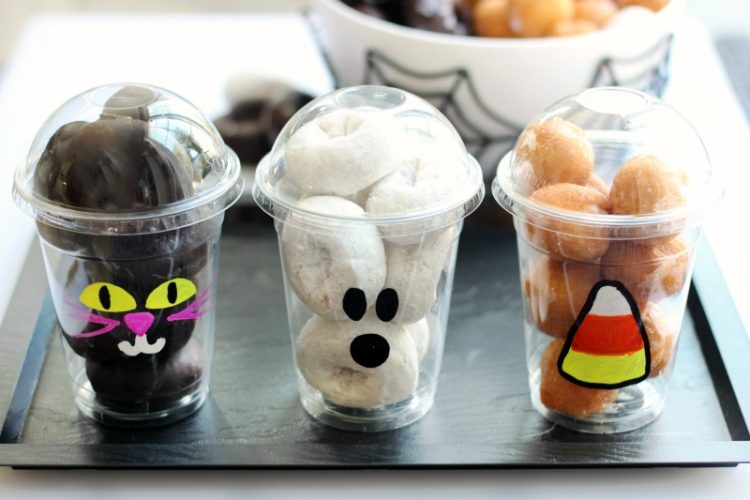 Here are more fun treat ideas for Halloween parties from Kitchen Fun With My 3 Sons. Looking for healthier ideas? How about these ghost bananas? Kids would love putting them together. So quick and easy!