A DIY pop up book made out of paper and stickers! Add a pop up feature to any card or art project using this easy technique.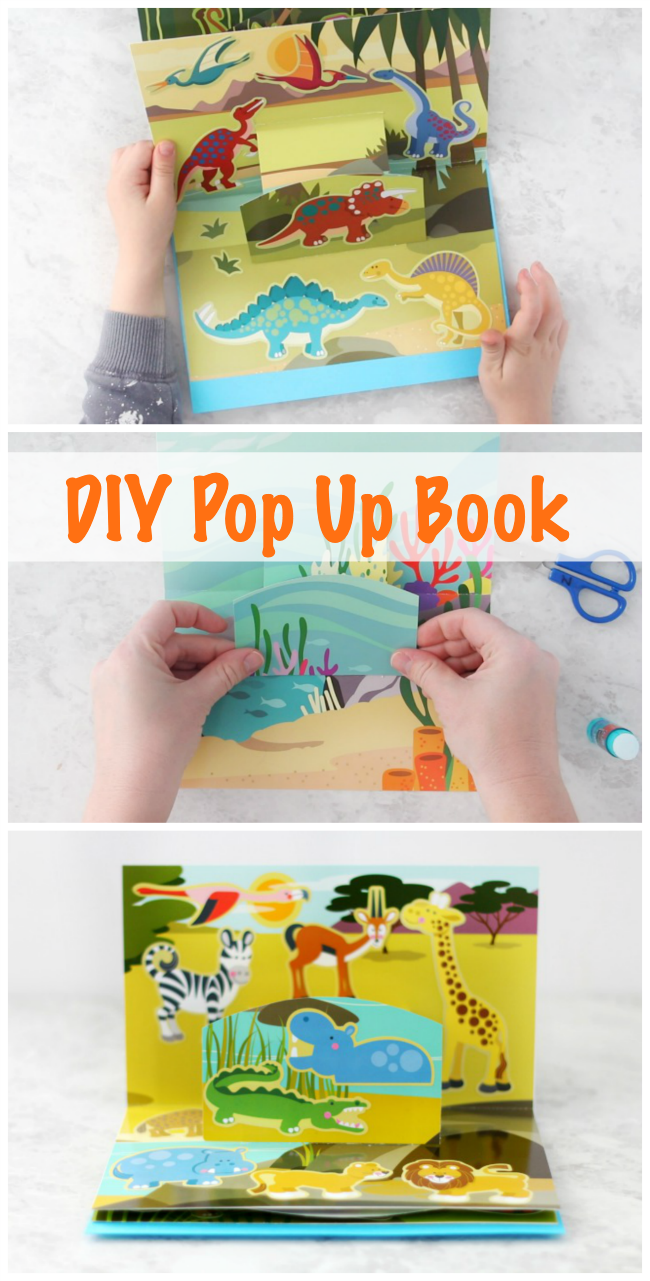 Watch our step by step video!
DIY Pop Up Book: Animals Themed
When I was 5 years old, my mom helped me make a pop up book to give to my grandparents for Christmas. It was "The Twelve Days of Christmas" themed. I remember being so exited to give it to them. My grandma saved it in her cedar chest and pulled it out after I was married and had kids of my own. I couldn't believe that she had kept it all those years!
I showed my kids how to make their own pop up feature to add to a homemade card or book and they've had so much fun making little 3-D projects!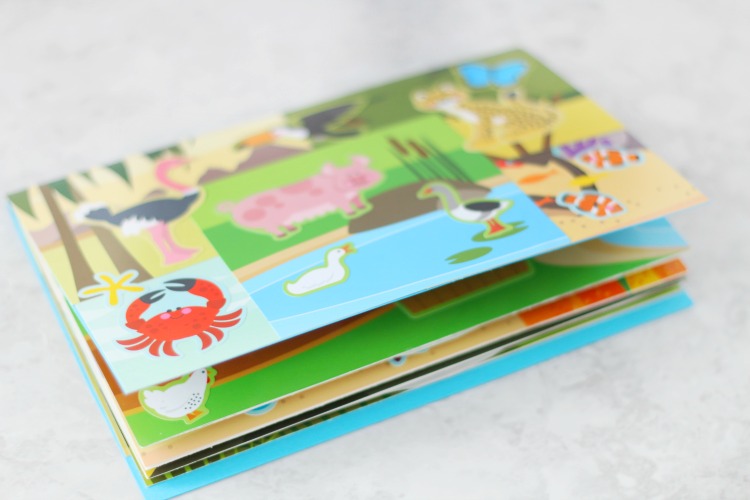 Mac loved animals, and stickers, and doing projects together. It only made sense to help him make a pop up book of his own.
What kind of paper works best for pop up books?
Card stock is the best kind of paper to use, but if you don't have any that's ok! Because you are gluing multiple pages together, even something as thin as copy paper can be used. I used the card stock pages that came with this sticker pad, and cut them down to size. The paper was so colorful and bright and I loved the 5 animal habit scenes.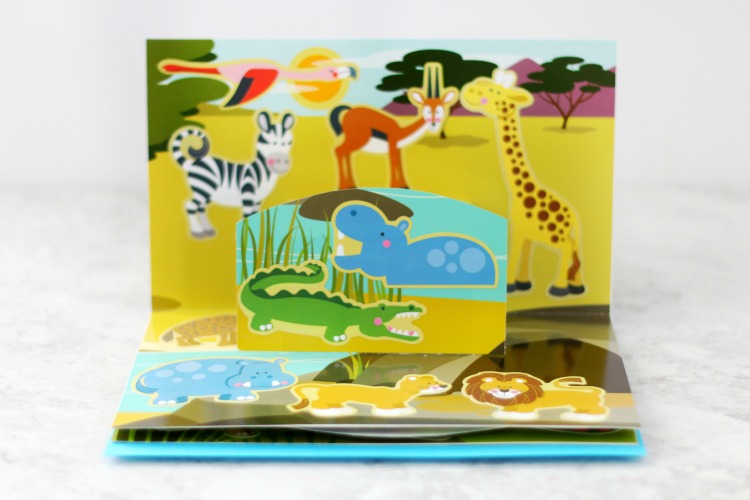 Because our stickers were reposition-able it is an interactive little book that can be changed up over and over.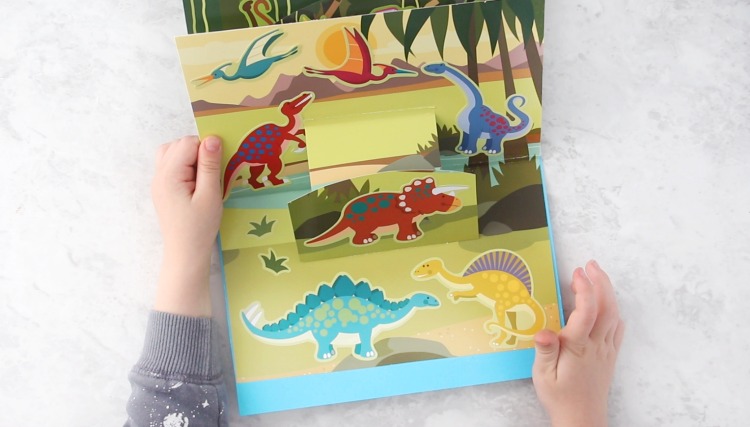 Decorating Your Pop Up Book
There are so many ways that you can decorate and customize your pop up book. Add stickers, write a story using markers, color fun designs using crayons or paint it! You can experiment with the size of the pop up feature, making it larger or smaller.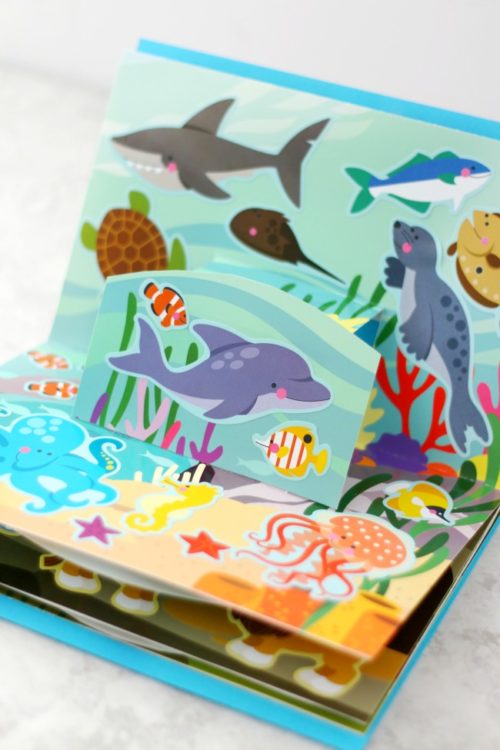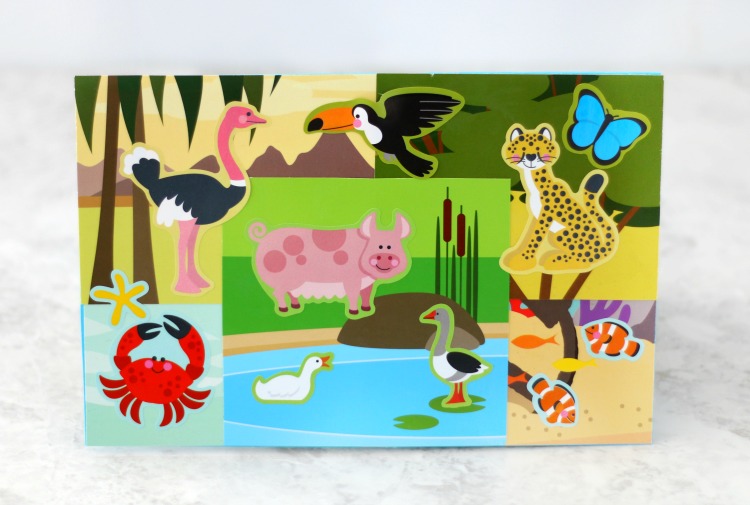 We use some of the leftover scraps paper to make a cover for our book.
Ready To Make Your Own Book? Let's Get Started!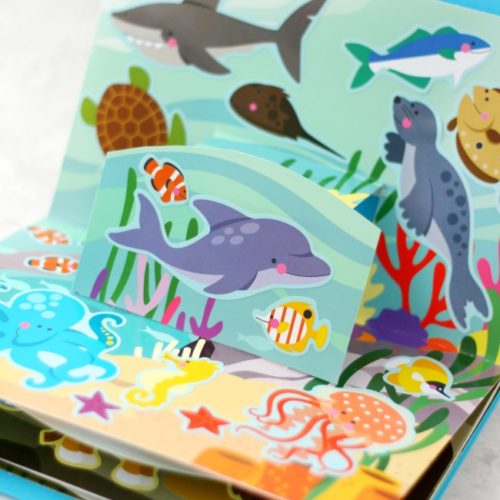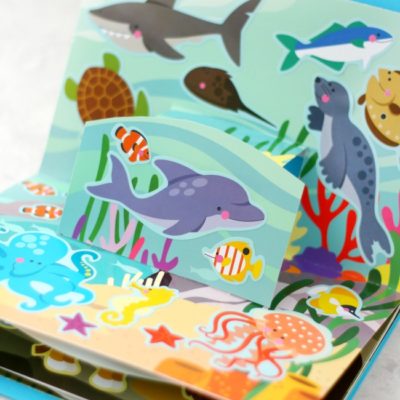 DIY Pop Up Book (Animal Themed)
A DIY pop up book made out of paper and stickers! Add a pop up feature to any card or art project using this easy technique.
Print
Pin
Rate
Equipment
scissors

paper cutter

pencil
Materials
paper

card stock

glue stick
Instructions
Making Pop Up Pages
Fold a piece of paper in half. Use a pencil to make two marks on the fold, a few inches from each end. Make two more marks above each mark that was made on the fold.

Make two cuts, starting at the pencil marks on the fold and cutting to the second mark that you made 2" above.

Open the paper. Press out the center of the pop up and pinch to fold. Fold the card once again on the fold, presssing firmly. Open your card and you'll have a pop up box in the center!

Glue a piece of card stock paper on top of the pop up box.

Continue making pop up pages until you have as many as you need for your book.

Glue pages together by attaching the bottom of one page to the top of the other. Use a glue stick to spread glue evenly across the entire surface. Press firmly.
Making a Cover
Cut a piece of card stock the same width as your book, but 1" taller. This will be the cover. Glue your pop up pages to the cover on the front and the back.

Trim excess paper from the cover, close to the edge of the book.
Notes
You can use any kind of paper that you'd like to make a pop up book. Card stock works best because it is nice and sturdy, but construction paper and copy paper work as well! You can add a pop up feature to homemade cards, too!
5 More Paper Projects for Kids
A sweet little refresh of a post originally shared in 2013.