This is the easiest peach freezer jam recipe! No cooking, just stirring! Peach jam in under 30 minutes. Peaches, sugar, instant pectin, and lemon juice. Makes 4 (8 oz.) jars.
This peach freezer jam is delicious spread on honey wheat bread or English muffin bread.
Watch our step by step video!
Fruit season here in Virginia continues on. First we went strawberry picking, and made loads of strawberry freezer jam and fresh strawberry pies.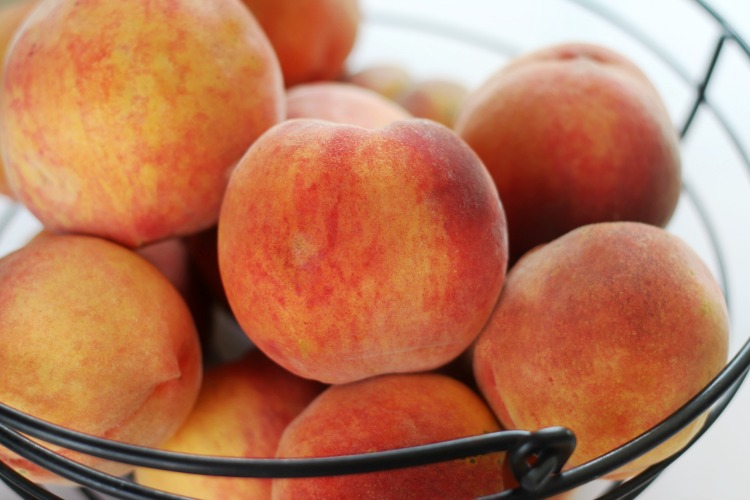 Then we went blueberry picking and made our favorite blueberry lemon cobbler. Now it's peach season. Local fruit farmers—go ahead and take all my money. There is simply no such thing as too much summer fruit!
Easy Peach Freezer Jam
If you've ever been intimidated by jam making you've come to the right place. This peach freezer jam recipe is about as easy as it comes. No cooking, no heating, just peaches, sugar, lemon juice, and instant freezer pectin. I love the fresh fruit taste that only freezer jam can make. Cooked jam just isn't the same!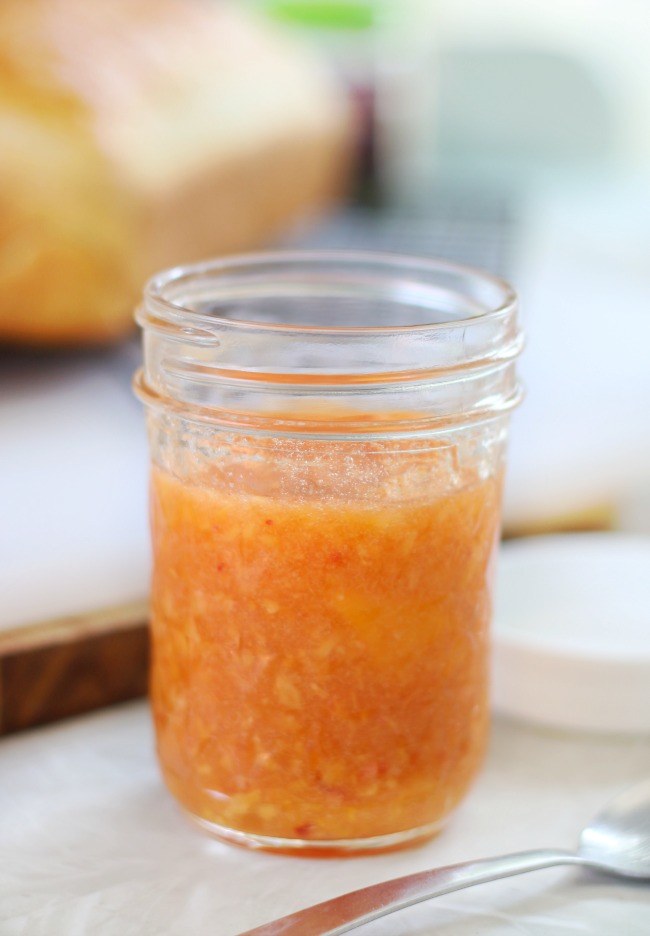 THE DIFFERENCE BETWEEN COOKED JAM AND FREEZER JAM
Freezer jam must be stored in the freezer or refrigerator (once opened). It does not have a shelf life. The only downside is that you need freezer space if you make a giant batch.
Cooked jams taste delicious, but they do not taste like fresh fruit because they've gone through the canning process. They have a great shelf like. You can make a batch and have it last a couple of years on the shelf (unopened).
I've made both many times, and always go back to freezer jam. You can make a batch start to finish in about 30 minutes with only a few ingredients and supplies.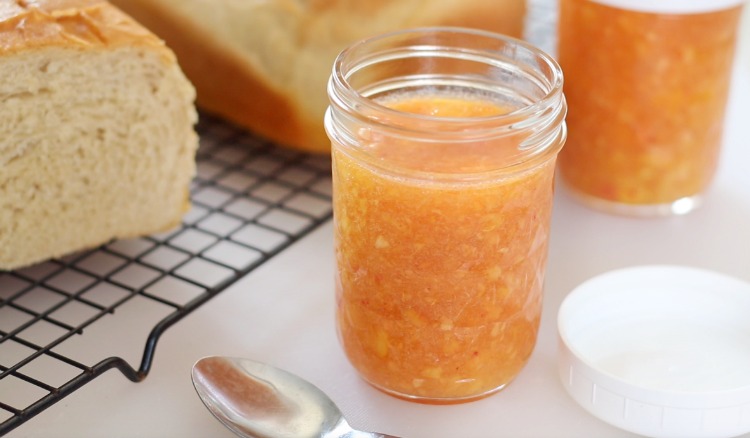 IS FREEZER JAM SUPPOSED TO BE RUNNY?
Freezer jam, by nature, has a much softer consistency than cooked jam. It also tastes like fresh fruit. It may not seem like your jam is setting up, but don't worry, it will thicken as it chills in the refrigerator. Any bottles that come from the freezer and thaw in the refrigerator will thicken as well.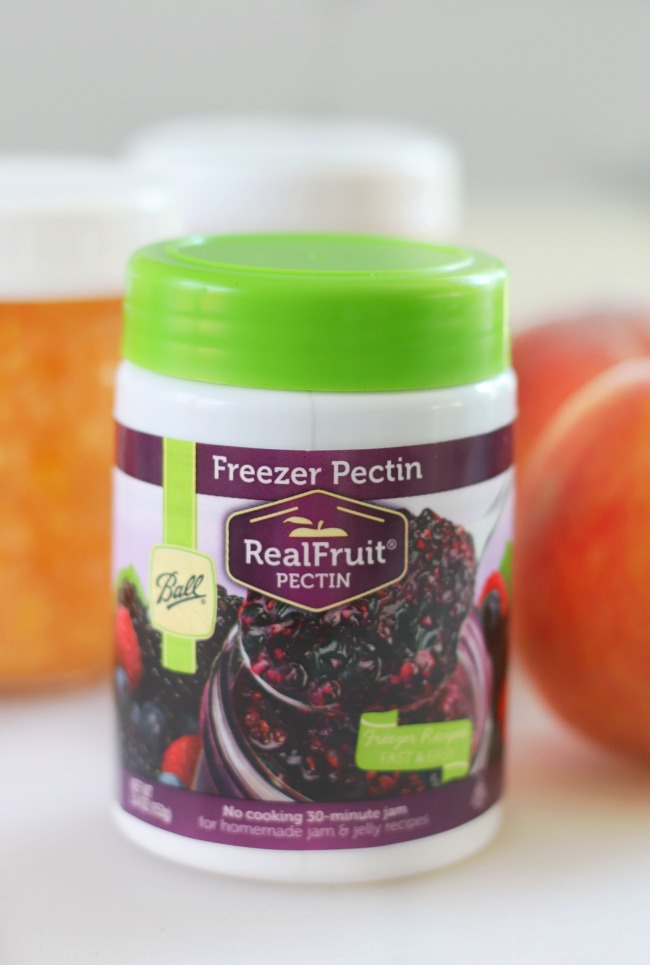 WHAT PECTIN TO USE TO MAKE FREEZER JAM
I've used several different kinds of pectin products over the years and really like the RealFruit Instant Pectin by Ball. You simply mix it with sugar then add peaches. Most of the other kinds require you to heat with water over the stove. I've used the Ball Instant Pectin and the Ball Freezer Pectin. One has a green label and the other has a purple lable. They are the same product. They both say that they create delicious freezer jams in 30 minutes.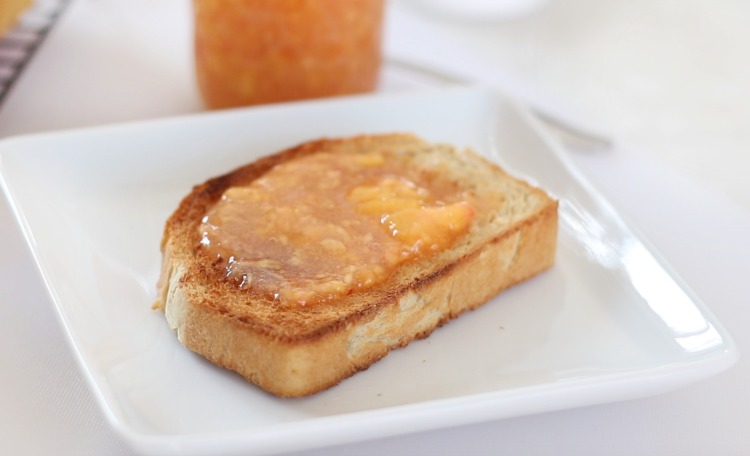 HOW MANY JARS WILL ONE BATCH OF FREEZER JAM MAKE?
You can make a single batch, double batch, or a triple batch it's up to you. It is recommended to not make more than 6 jars at a time or you run the risk of the pectin not setting up right. One batch will make about 2 cups of jam, or 1 pint. The measurements that I'm sharing today are for a double recipe that yields 4 (8 oz.) jars or 4 cups of jam.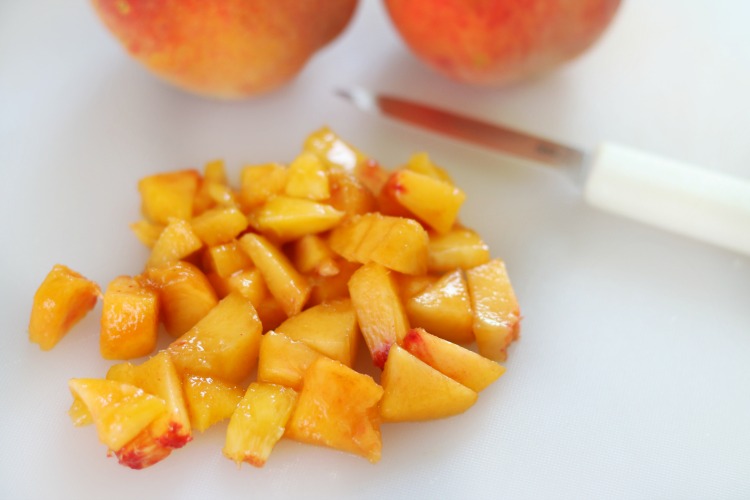 HOW TO PREPARE Peaches TO MAKE FREEZER JAM
Wash and dice peaches. You'll need 3 1/3 cups of diced peaches to make this recipe. Place them in a blender and pulse until they are the consistency that you are looking for. I make sure not to puree them completely, always leaving some chunks.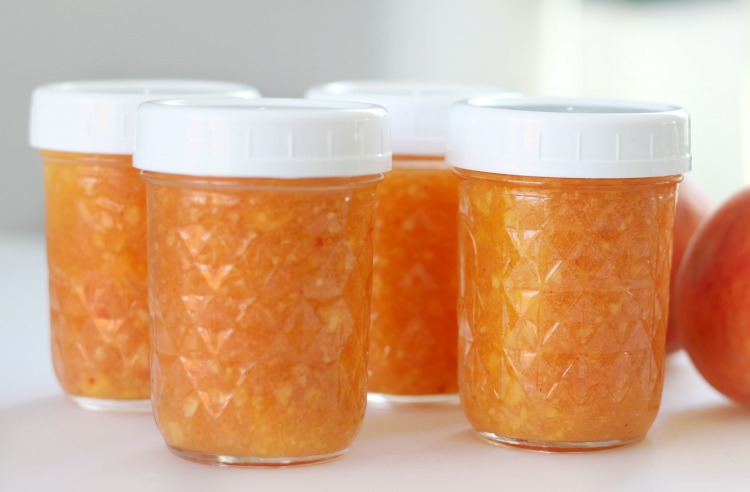 WHAT JARS OR CONTAINERS TO USE TO MAKE FREEZER JAM
Plastic or glass? You can use either one! I always have jars on hand so I usually use those and a few plastic freezer jam containers. Whatever you choose, make sure they are okay to put in the freezer.
THE EASIEST Peach FREEZER JAM RECIPE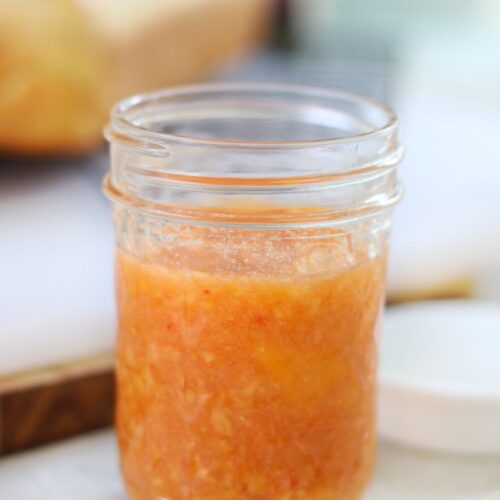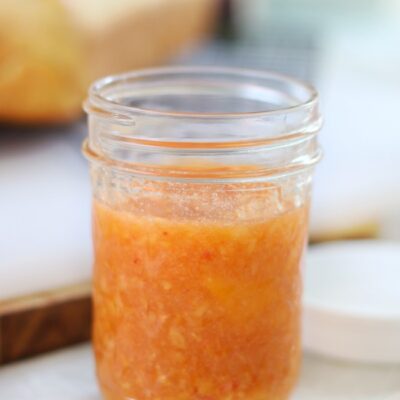 The EASIEST Peach Freezer Jam Recipe
This is the easiest peach freezer jam recipe! No cooking, just stirring! Peach jam in under 30 minutes. Peaches, sugar, instant pectin, and lemon juice.
Print
Pin
Rate
Equipment
blender

freezer safe jars with lids

bowl

knife

cutting board

spoon
Instructions
Prepare Peaches
Peel and dice peaches. Place peaches in blender and pulse a few times.
Mix Peaches with Sugar and Pectin
Mix sugar and pectin together in a bowl. Pour peaches over sugar and pectin. Add lemon juice.

Stir for 3-5 minutes. This may seem excessive, but is essential to make sure that the sugar is evenly distributed and reacting with the peach juice. You don't want gritty jam.
Freezing
Pour into clean, sterile, containers. Add lids.

Let sit on the counter for 30 minutes. Store in the freezer for up to a year, and in the refrigerator up to 4 weeks.
Notes
 To thaw a frozen jar simply place the jar in the refrigerator for 24 hours.
Nutrition
Serving:
1
Tbsp
|
Calories:
54
kcal