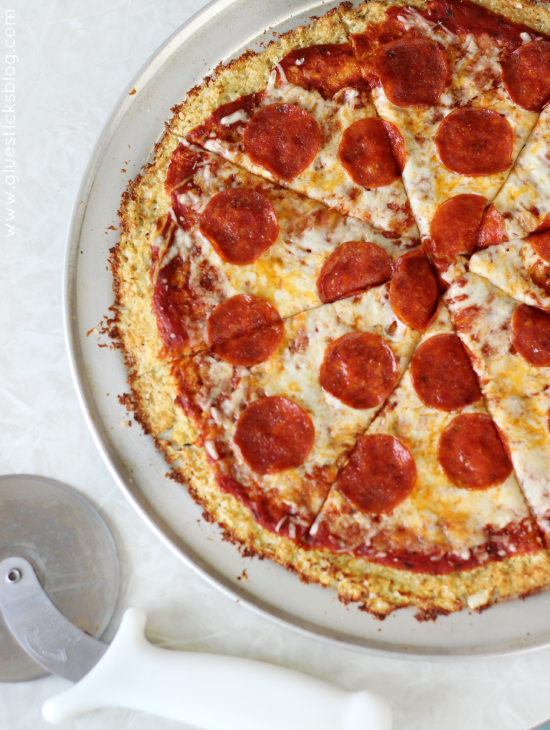 I am going to preface this by saying that I LOVE BREAD and WHEAT and SUGAR and have not jumped on board with the trend of cutting it out of everything, but I am watching and cutting my caloric intake. I've actually lost 5 lbs in the last 3 weeks by doing so and making more conscious choices in the foods that I eat. My cousin recently pinned a recipe for cauliflower crust pizza and I was really curious to see what she thought of it. After hearing her review I decided to try it out! I absolutely love roasted cauliflower and thought this pizza was delicious! If you go into it expecting it to taste like bread, it won't. It has a faint taste of roasted cauliflower but it is really good mixed with the parmesan cheese and pizza toppings.
It was simple to make and a slice (with pepperoni, cheese, and sauce) came to 116 calories. That's doable!
The crust consists of cauliflower (the texture of rice after being pulsed in the food processor), roasted, and then mixed with parmesan cheese, salt, pepper, and egg, and Italian seasonings.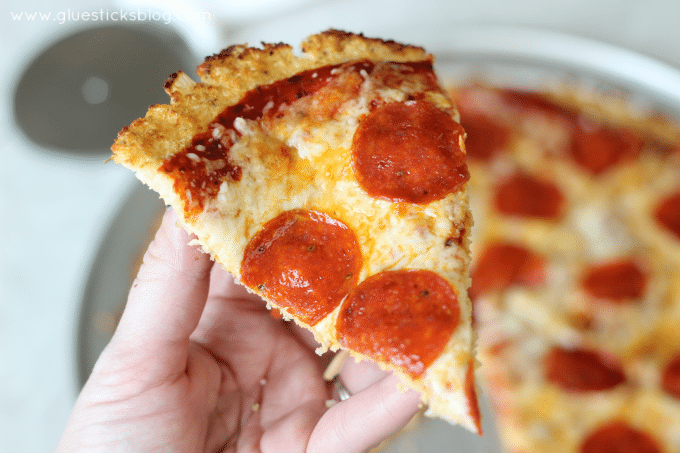 I will definitely be making this again. I've also seen recipes for cauliflower "bread" sticks and may have to try those too.
I followed this recipe for my crust from iFoodreal. I'm glad she took the guess work right out of trying to figure this out on my own because that never would have happened!
As a reference I used:
1 recipe of crust (enough for 8 slices)
1/2 c. pizza sauce
1 c. shredded cheese (pizza shredded cheese mixed with skim-mozzarella)
21 slices pepperoni
I also used non stick cooking spray instead of parchment paper.