This darling Santa Christmas Countdown is the perfect activity for kids! Trim Santa's beard a little bit every day until Christmas Day!
Simple truly is best. If you like the simplicity of this Santa Christmas countdown you will love our paper plate snowman Christmas countdown or footprint reindeer craft, too!

Today I am sharing a fun advent that my children made last week! It was so fun to make and SIMPLE! Christmas countdown and advents can get complicated and expensive. Not this one. Â Our Santa Christmas countdown is perfect for kids! The best part is that is is made out of paper. You can use copy paper or construction paper, it's up to you. If you don't have beige paper, you can color white paper with a flesh colored crayon!
More Simple Christmas Countdown Ideas
Tissue Paper Advent Calendar:
A simple DIY advent calendar made from paper cups and tissue paper. Kids can break open the tissue each day to find the surprise inside!
Gum Advent Packs
: A fun advent for tweens and teens! Enjoy a piece every day until Christmas.
Paper Plate Snowman Christmas Countdown
: This snowman Christmas countdown is made out of a paper plate! Countdown the days by turning the snowman's nose. Simple for kids to make and so inexpensive. A great school craft idea to make after Thanksgiving break.
Santa Christmas Countdown
Supplies
card stock or construction paper
glue stick
scissors
pen
ruler or straight edge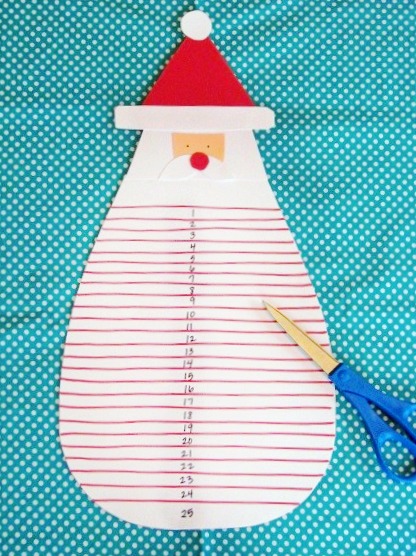 How to assemble your Santa Christmas Countdown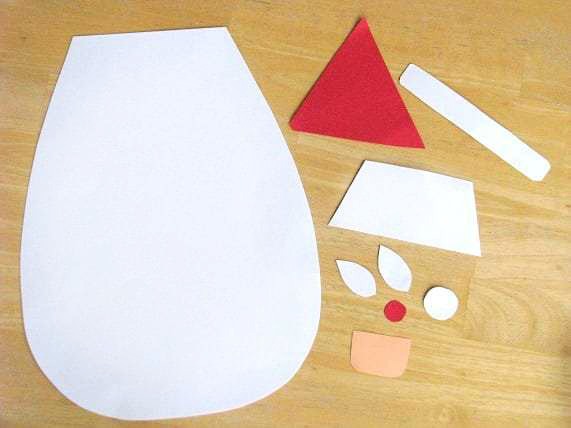 Step 1: Cut out a beard from a piece of 8.5 x 11″ cardstock. You can let the kids create their own shapes by drawing on the paper with a pencil if you'd like, but I found it easier (for my age group) to have everything cut ahead of time.
Step 2: Cut out whiskers, a pom pom for the hat, the hat trim and a trapezoid for Santa's head.
Step 3: Cut out a red triangle for the hat and a small circle for the nose.
Step 4: Cut a face out of peach/beige paper.
Step 5: Glue the pieces together using a glue stick.
Step 6: Add eyes using a black marker.
I let the kids assemble them by themselves. I love how different they turned out even though they had the same assembly pieces!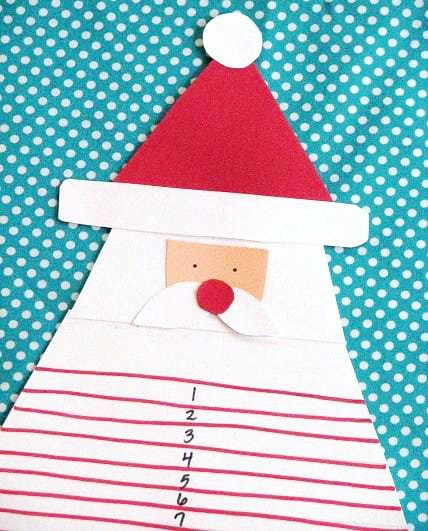 Step 6: Draw lines across Santa's beard and number them, one for each day until Christmas.
Step 7: Hand Santa on the refrigerator and trim a slice from his beard every day!
Here are some fun variation ideas! Use google eyes for the eyes or add a pom pom for the hat. You could also add some cotton ball trim to the brim of Santa's hat.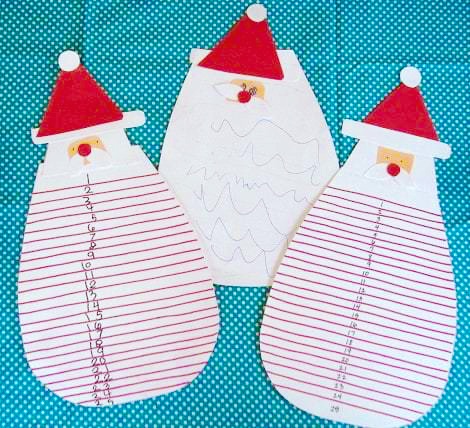 Note:
if your child is too small to use scissors, or even understand the concept, they may have fun glueing a
cotton ball to Santa's beard
each day instead. My daughter was only 3 when we made these so she colored on Santa's beard instead.