This snowman Christmas countdown is made out of a paper plate! Countdown the days by turning the snowman's nose. Simple for kids to make and so inexpensive. A great school craft idea to make after Thanksgiving break.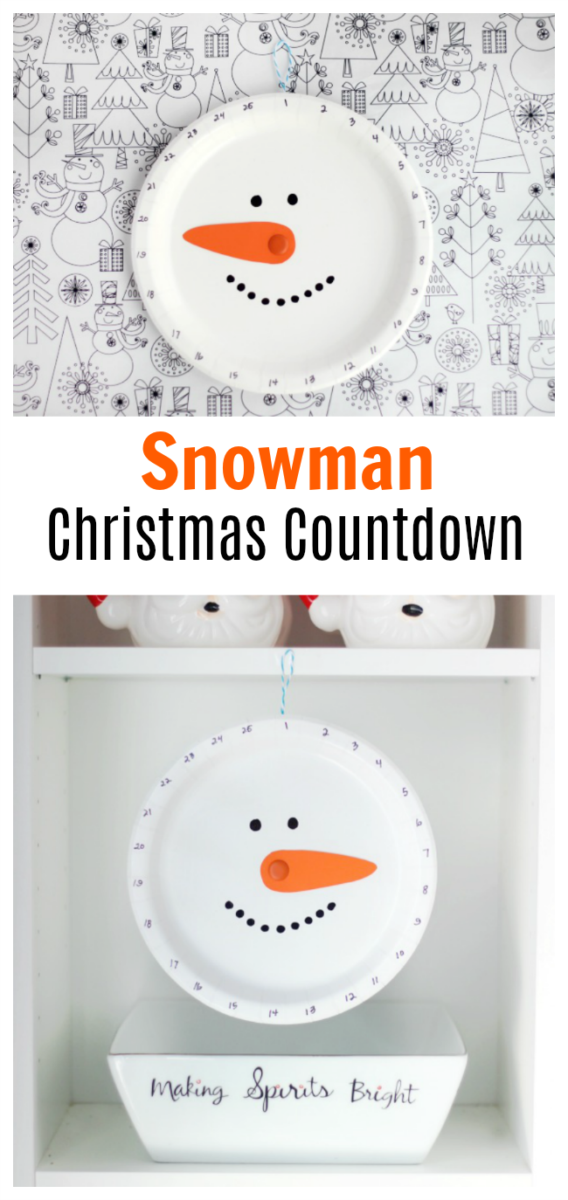 I know, I know. ANOTHER Christmas countdown? I share at least one idea (if not, 2 ideas) every year but I just couldn't help myself. This paper plate snowman came together in under 5 minutes and is perfect for KIDS to make! It's cheap, it's easy, it doesn't require 24 pieces of candy or toys and it takes up very little space just like our Santa's beard countdown to Christmas. You can even add a magnet and hang it on the refrigerator! If you're looking for another inexpensive idea check out our tissue paper punch advent.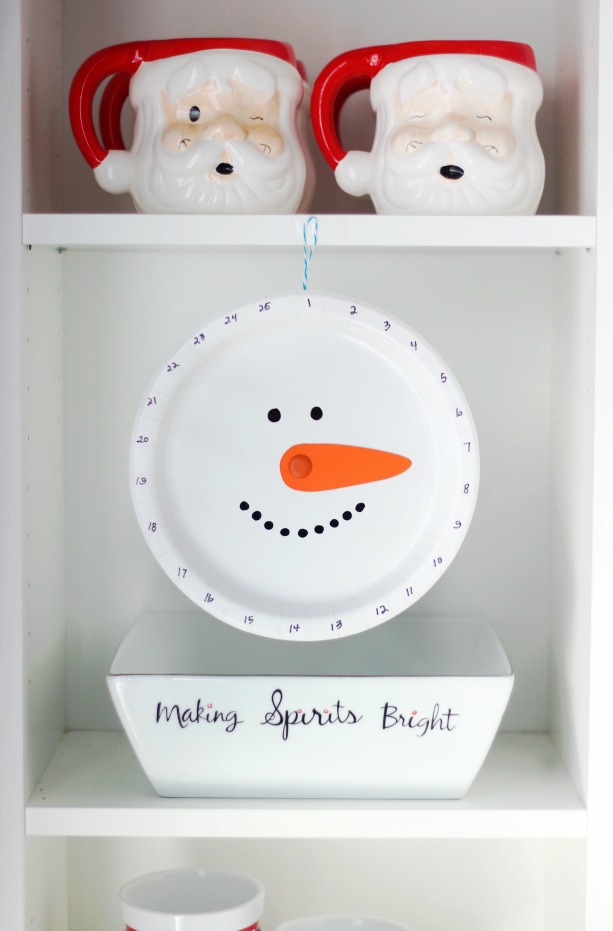 I was asked to make a Christmas craft with the 3rd graders this year for their holiday party and WISH the holiday party wasn't on December 19th! A bit too late in the year to make these, but this is something that teachers can easily set out and let the kids make on their own right after Thanksgiving!
5 More Christmas Crafts for Kids!
Paper Cone Santa
Thumbprint Reindeer Ornament
Penguin Ornament Craft
Snowboarding Polar Bears
Snowman Christmas Countdown from a Paper Plate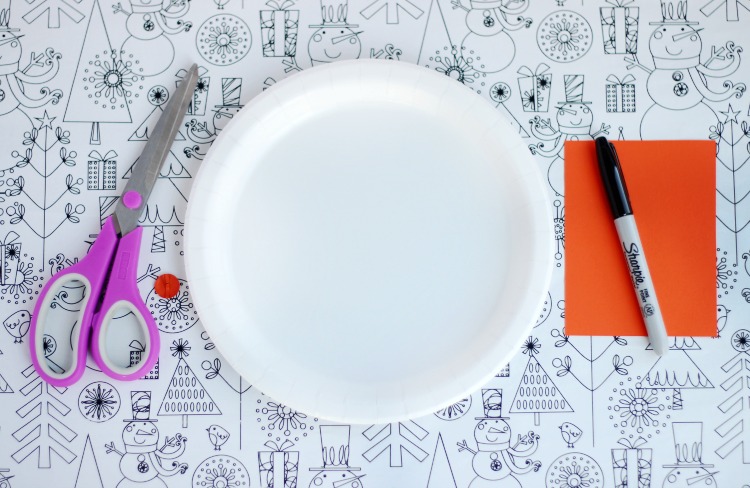 Supplies:
1 paper plate
Orange paper
Scissors
Permanent Marker
Scrapbooking brad
Toothpick
Magnet or string for hanging

Step 1: Write the numbers 1-25 even spaced around the edge of the paper plate.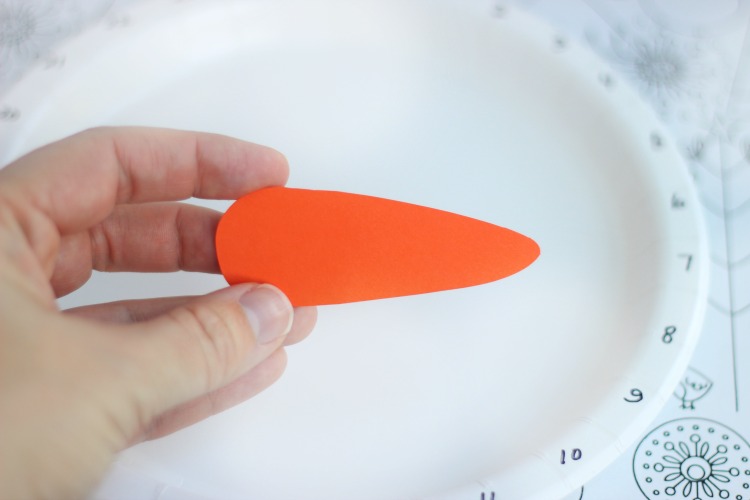 Step 2: Cut out an orange carrot nose from a piece of card stock.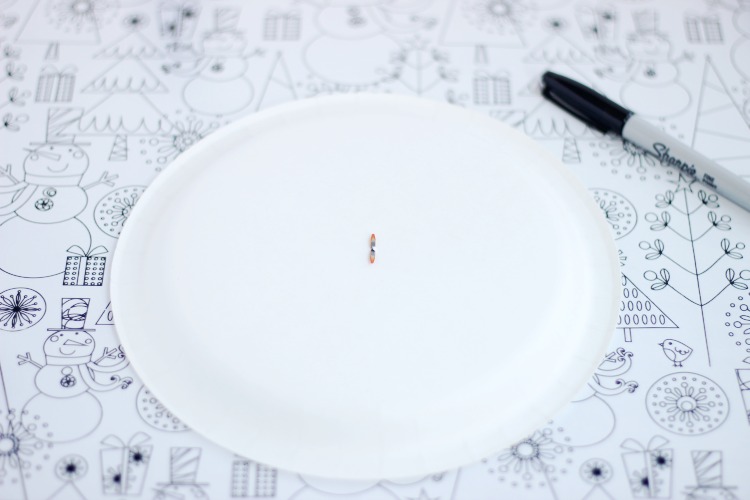 Step 3: Poke a hole through the nose and a hole through the paper plate using a toothpick.
Step 4: Press brad through nose and plate and spread fasteners open in the back.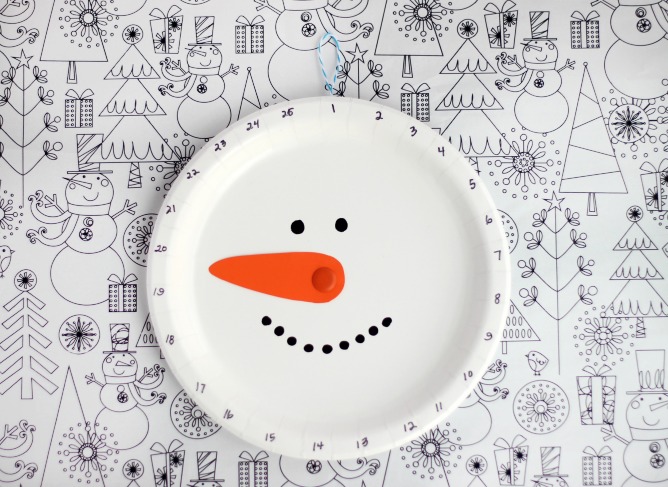 Step 5: Add eyes and a mouth using permanent marker or paint pen.
Step 6: Add a magnet or tape a string onto the back for hanging.
Start with the carrot pointing towards 1 if you are counting up to Christmas Day or start at 25 if you are counting down the days to Christmas. Either way works.
The idea for this countdown came as Derrick and I were walking with the kids through our local AT HOME store. They sold snowman countdowns that were large and made out of metal. Very much country-Christmas style and something I would have just kept walking past, but Derrick said, "You could totally make a kids version of this that would be easy for kids to replicate!" Ours isn't near as fancy, but I like it so much better! The only critique that Derrick had when he saw the one that I made was the suggestion to add lines to the carrot nose. I tried it and didn't like it, so it stayed plain, but feel free to add likes if you'd like!
Here are two more snow themed crafts for kids!
Snowball Surprise Soap: No melting, pouring or measuring. This snowball surprise soap is SO easy to make! Hide a small toy inside for this fun snowball surprise soap!
Sock Snowman: A quick and easy sock snowman for kids to make. No sewing involved! Fill with rice or pillow stuffing for a darling stuffed toy!