Quick and easy mini heart pizzas are the perfect dinner for families to make together on Valentine's day! Don't forget to brush the crust with garlic butter when they come out of the oven. Perfection!
Serve these mini heart pizzas in February with our heart shaped strawberries, chopped Italian salad, and deep dish chocolate chip cookies for dessert! Try our cheesy garlic ranch twists—the perfect appetizer! If you like the ones from Round Table Pizza, you'll love these!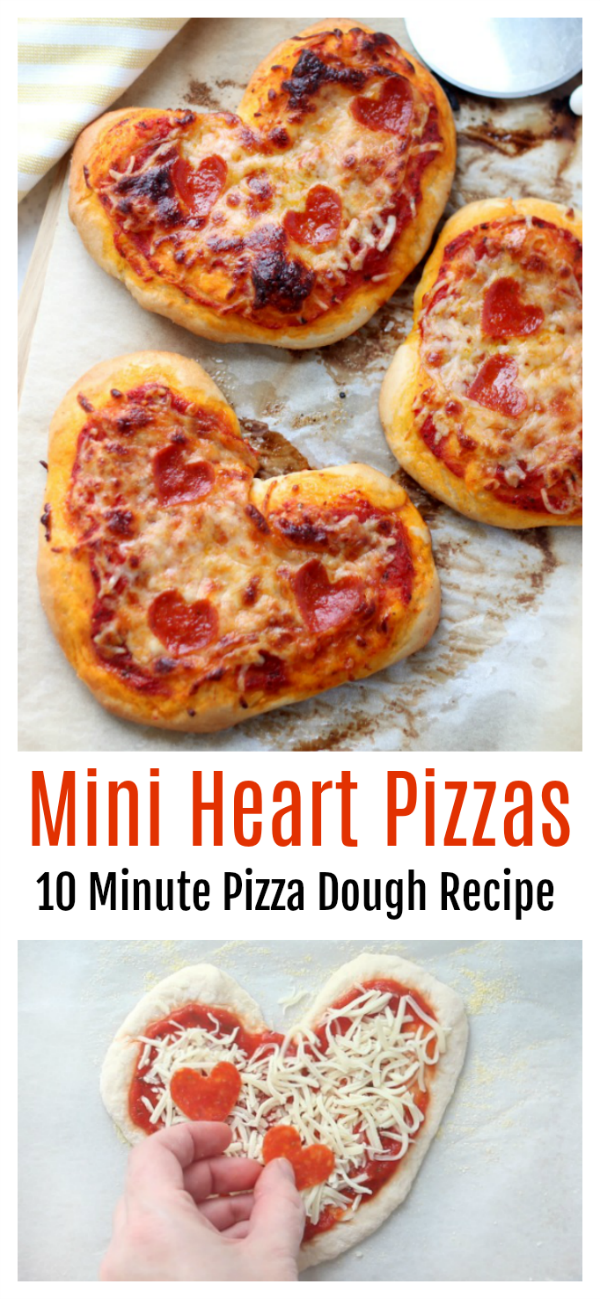 Watch our step by step video!
One dinner that all of my kids can agree on is homemade pizza. They love pizza Fridays, and especially like making their own personal sized pizzas. I made it a goal years ago to learn how to make THE BEST homemade pizza because ordering pizzas for our family of 7 adds up!
We used to treat the kids to a one-topping heart shaped pizza from Papa Murphy's on Valentine's Day. We don't live near one anymore and decided to start making our own. Personal sized!
Tips for Making Homemade Pizza
You'll want a great pizza dough recipe. We like this one because it bakes evenly and is nice and chewy! We use this recipe for making our sausage bread, too.
You'll also want to bake your pizzas on parchment paper. Because I was making a bunch of little pizzas, I placed a sheet of parchment paper onto a baking sheet to cook them all together. Normally, I'll place my homemade pizza onto parchment paper and bake DIRECTLY on the oven rack. No pizza stone or pan necessary. Just make sure to trim the parchment paper close to the size of the pizza, not leaving a lot of excess around the edges because the paper will brown easily. You can sprinkle the paper lightly with cornmeal to prevent any sticking or lightly spray with non stick cooking spray.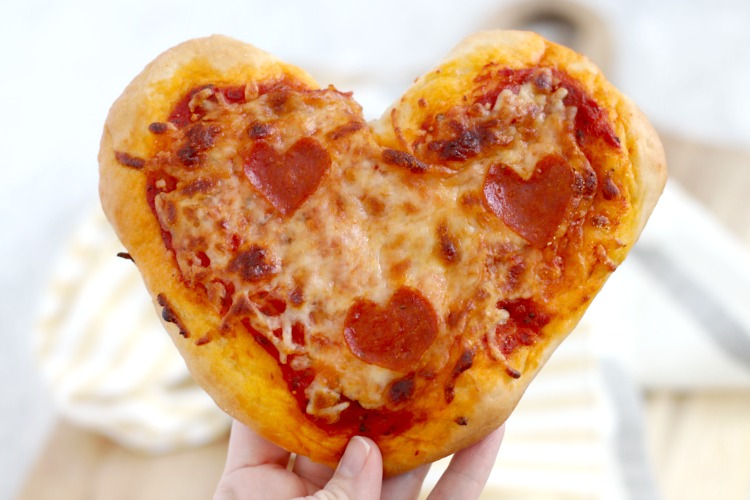 Don't bake pizzas under 400 degrees. Ever. The higher the heat, the better! My oven goes to 550 degrees, so when I bake mine directly on the oven racks or on a stone, I crank it all the way up. These mini pizzas bake well at 450 degrees.
Looking for a fun way to make these heart pizzas festive? Fold the pepperoni slices in half and cut a heart on the fold using scissors. Heart pepperoni—-so easy!
Oh! And DON'T FORGET THE GARLIC BUTTER. You can drizzle a bit of garlic butter over the mini heart pizzas as soon as they come out of the oven or brush the crust with it. It adds so much flavor!

Homemade Pizza Sauce
For pepperoni pizza we like a basic red sauce. I buy spaghetti sauce.
For a delicious white sauce, spread the crust with ranch then sprinkle with garlic powder. AMAZING, and my all time favorite pizza sauce. This is delicious with chicken, spinach, bacon, tomatoes and onions.
My son prefers olive oil for his sauce. He lightly coats the crust then adds mozzarella cheese and his other favorite toppings.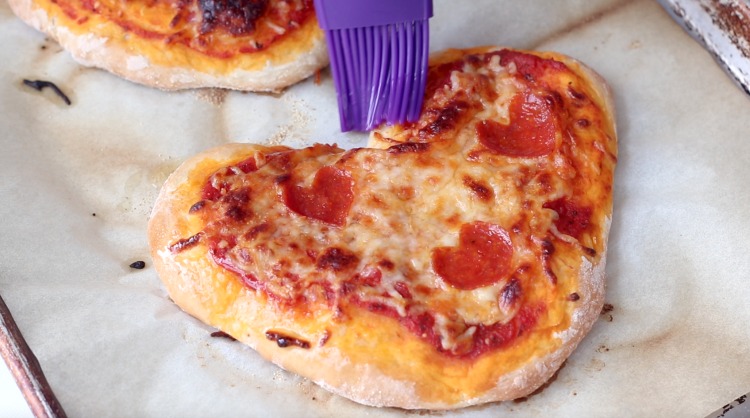 This pizza crust recipe only rests for 10 minutes (no 1 hour rise necessary!). It's been our go to recipe for years and is a slight adaptation from allrecipes.com. One batch makes 1 large pizza or 4 mini pizzas.
How To Make Mini Heart Pizzas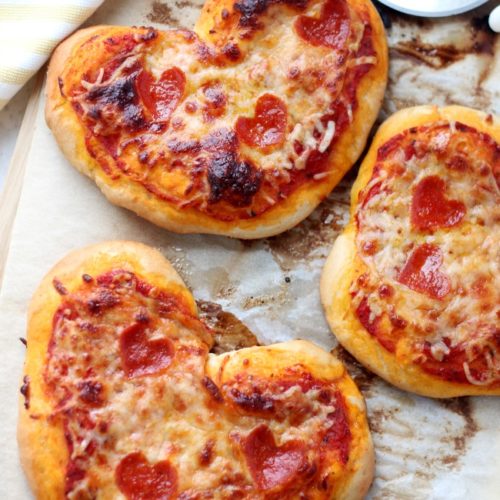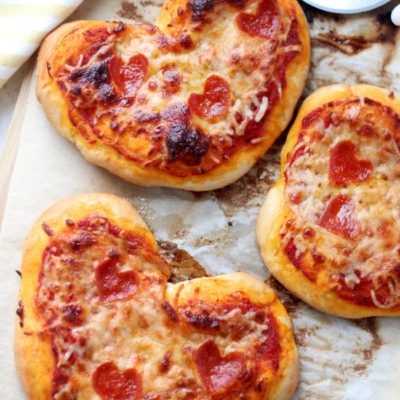 Mini Heart Pizzas
Quick and easy mini heart pizzas are the perfect dinner for families to make together on Valentine's day! Don't forget to brush the crust with garlic butter when it comes out of the oven. Perfection!
Print
Pin
Rate
Ingredients
1

Tbsp.

yeast

1

cup

warm water

1

teaspoon

sugar

2

Tbsp.

oil

1

teaspoon

salt

2 1/2

cup

flour

2/3

cup

pizza sauce

12

pepperoni slices

1 1/3

cup

mozzarella cheese

3

Tbsp.

cornmeal

4

Tbsp.

melted butter

sprinkle of garlic powder
Instructions
In a small bowl mix yeast, water and sugar. Let sit 5 minutes until bubbly.

Pour yeast and water mixture into a large bowl and add oil and salt.

Mix in flour, one cup at a time. Stir until dough comes together.

Knead dough on lightly floured surface until soft.

Cover with a damp towel or plastic wrap and let rest 10 minutes.

Divide dough into 4 sections.

Shape each dough section into a heart by pressing it into a circle then cutting a small slit in it to form a heart.

Place each heart on a baking sheet lined with parchment paper and sprinkled with corn meal.

Poke dough with a fork to prevent bubbles when baking.

Top with sauce, cheese and pepperoni.

Bake at 450 degrees for 12-15 minutes, or until golden brown.

Mix butter and garlic powder. Brush garlic butter over crust.
Nutrition
More pizza recipes you'll love! French bread pizza, sugar cookie pizzas, and taco pizza.