This savory sausage bread with mozzarella cheese is sure to become a favorite in your home. Perfect to serve for breakfast or as an appetizer. It's delicious warm or cold!
If you like savory breads you'll love our pull apart jalapeno cheese bread and pepperoni pizza rolls.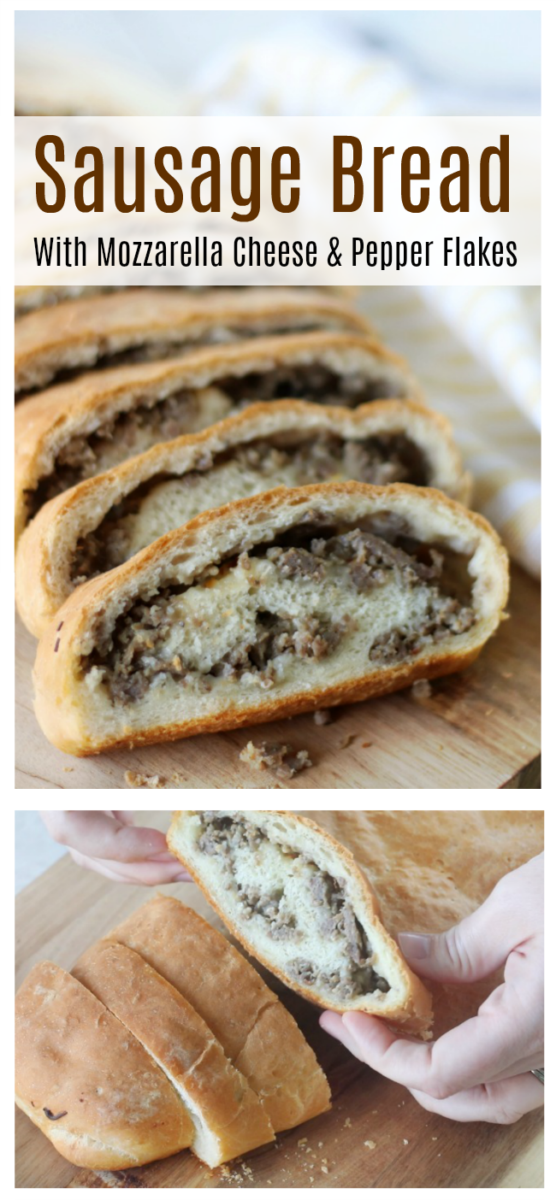 Check out our step by step video!
Sausage bread is one of my husband's favorites. One that he actually requests. This is kind of a big thing because he is a pretty laid back and doesn't usually care what I make. He eats it all.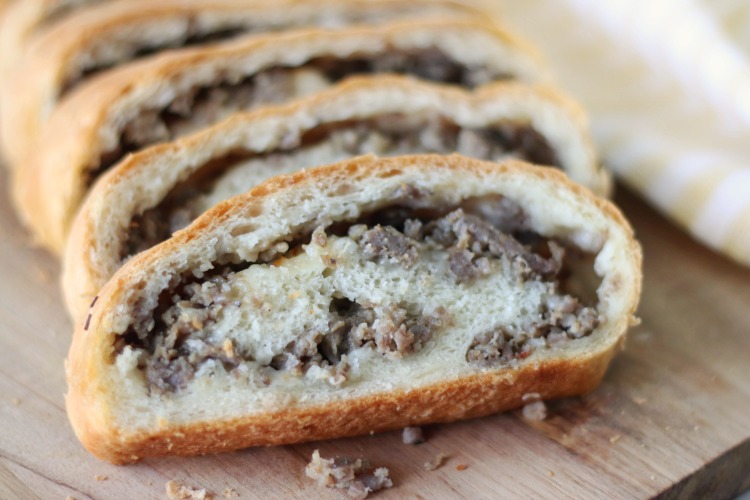 Our bread is a twist on one that our friends made for us ten years ago. They shared their technique, and we've been making it ever since. I've made it for Christmas morning the past couple of years, and it's a nice twist on traditional cinnamon or orange sweet roll recipes.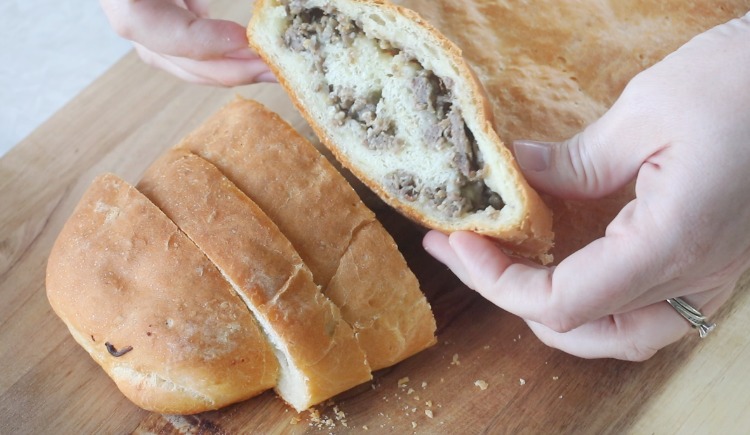 Savory Sausage Bread
Simply start out with a batch of your favorite pizza dough (mine is shared below). Roll it out and spread with butter. Then sprinkle with cooked sausage, mozzarella cheese, and a dash of red pepper flakes. Roll up and bake until a golden brown. This is how I make mine, but there are SO MANY ways that you can customize this bread.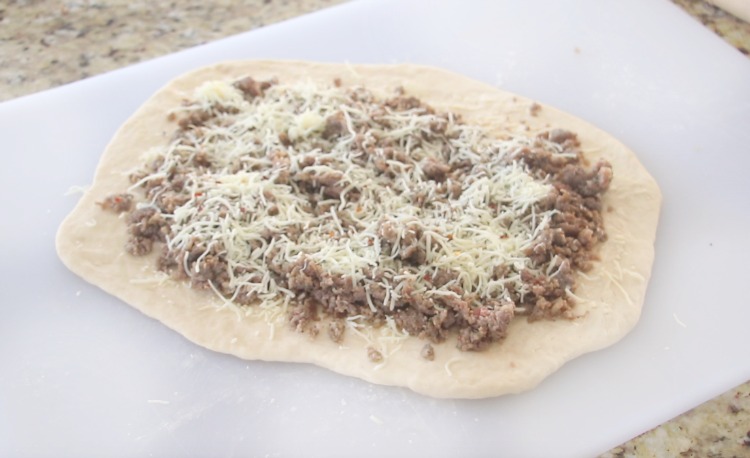 Favorite Sausages Flavors
This bread can be made using any kind of ground sausage you'd like. We've tried sage, mild, and spicy. All are delicious, but mild is my favorite.
Best Dough for Sausage Bread
You can use any pizza dough that you'd like, but this is a favorite of ours and turns out perfect every time.
Easy Variations for This savorite bread
Drizzle in sriracha sauce before rolling up the bread if you really want to bring the heat.
Sprinkle in parmesan cheese before rolling up.
Add chopped bell peppers and onions.
Brush with garlic butter after the bread comes out of the oven.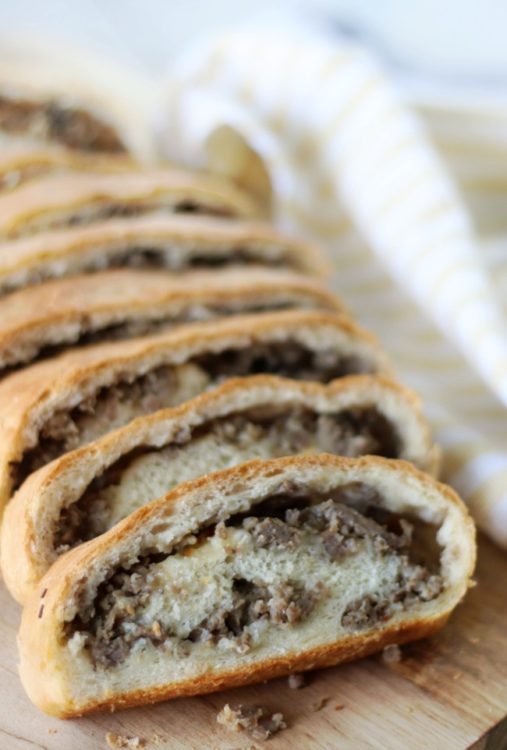 Sausage Bread REcipe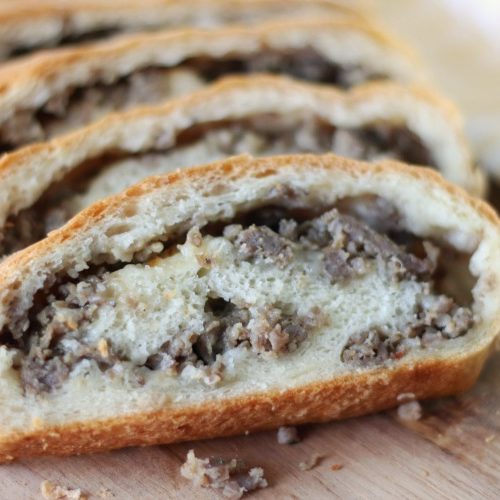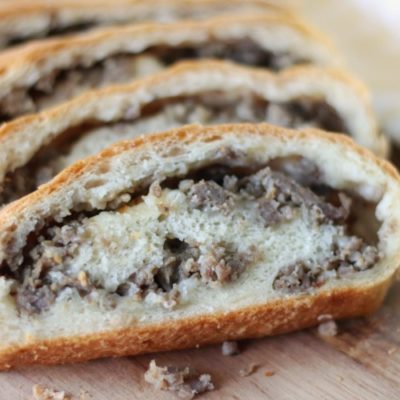 Sausage Bread
This savory sausage bread with mozzarella cheese is sure to become a favorite in your home. Perfect to serve for breakfast or as an appetizer. It's delicious warm or cold!
Print
Pin
Rate
Ingredients
1

cup

warm water

1

Tbsp

yeast

1

teaspoon

sugar

2

Tbsp

oil

1

teaspoon

salt

2 1/2

cup

flour

1

lb.

sausage

2

Tbsp.

butter

3/4

cup

mozzarella cheese

shredded

red pepper flakes
Instructions
Mix water, yeast and sugar in a small bowl. Cover and let proof 5 minutes.

In a mixing bowl combine yeast mixture, oil and salt.

Stir in flour, one cup at a time until soft dough forms.

Knead dough on a lightly floured surface until elastic, about 5 minutes. Cover and let rest 25 minutes.

Roll dough out to a 9"x18" rectangle. Spread with butter.

Sprinkle with sausage, cheese and red pepper flakes (to taste).

Roll bread into a long loaf shape. Pinch seams and ends to close.

Place loaf on a greased baking sheet. Cover and let rest 25 minutes.

Bake at 400 degrees for 25-30 minutes or until golden brown.

Cool 20 minutes before slicing.
Nutrition
A few bread making tips:
WHAT IS THE BEST KIND OF FLOUR TO USE?
I always use bread flour or all purpose. Honestly, I can't tell a difference between the two.
WHAT IS THE BEST WAY TO PROOF YEAST?
I like putting 1/2 c. of the warm water into a small bowl with the yeast and 1 tsp. of sugar. Give it a stir. Place a small plate on top and let it sit for 5 minutes. When you go to add the rest of the ingredients make sure to subtract the 1/2 c. of water and 1 tsp. of sugar that you already used for the yeast proofing.
CAN YOU USE INSTANT AND DRY ACTIVE YEAST INTERCHANGEABLY?
For the most part I use whatever yeast is available. Most of the time it's the instant yeast that comes in a large package from Sam's Club. When I use dry active yeast I add 10-15 minutest to the rise time. Technically you do not need to proof instant yeast, only dry active yeast, but I've gotten so used to proofing my yeast that I proof it for every recipe.
WHERE IS A GOOD PLACE TO LET THE DOUGH RISE?
A warm place is the perfect place for yeast to do its thing. Normally I preheat my oven for 60 seconds then shut the heat off. Then I place my bowl of dough with a damp cloth covering it inside my oven. For quick breads like this that only rise for 25 minutes I'll simply leave the dough on the floured surface and cover with a damp dish cloth.
This cheese bread is another deliciuos savory bread recipe.