This post was most recently updated on February 25th, 2022
How to sprout wheatgrass—it's easy! Perfect to grow for Easter grass and spring decor! I'll share how to sprout wheatgrass to fill bowls, baskets, or empty cans and watch it grow! A fun pop of color on any window sill. This post contains an affiliate link.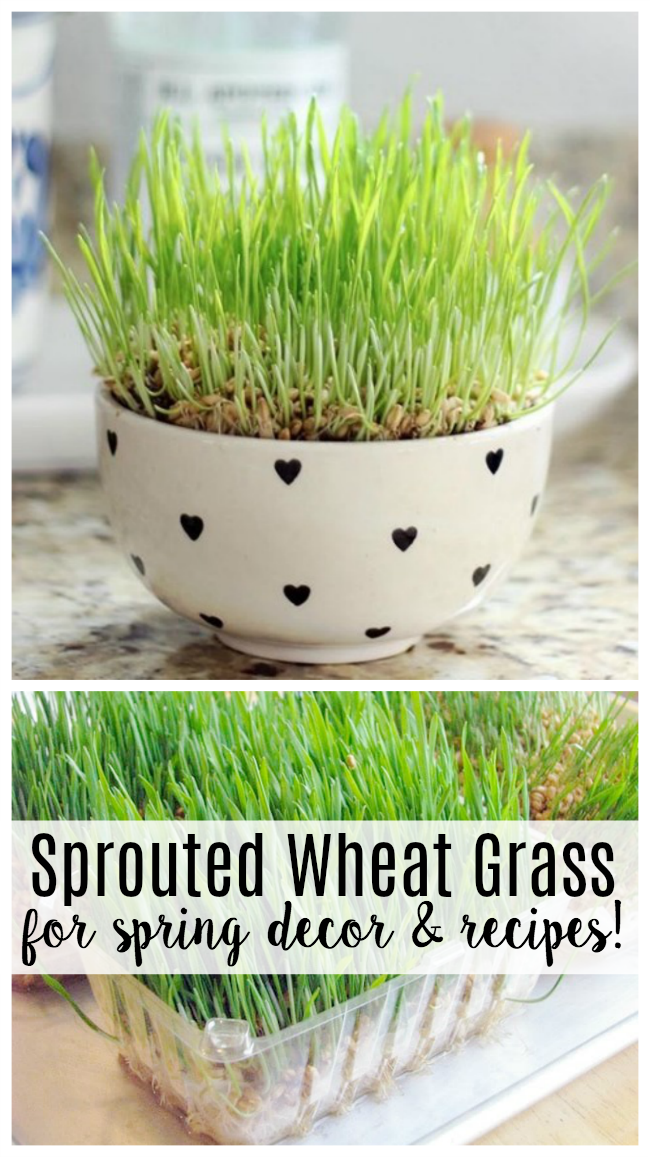 When I was little I remember going to my Aunt's house and seeing her snacking on
sprouted wheat berries
. She'd sprout them herself and eat them plain or as a warm cereal. I wanted to sprout grass for spring decor with the kids and as those wheat berries began to open it immediately reminded me of Aunt LuAnn! I saved some and made a loaf of
sprouted wheat berry bread
(so yummy) and let the rest continue to grow into wheatgrass.
Have you sprouted your own wheatgrass before? It's easy! And it grows SUPER fast!
You can grow wheatgrass in baskets, bowls, tin cans, or anything really! It adds such a fresh pop of color to any table or window sill. We've even filled tin cans with wheatgrass and decorated the front of the cans with silly faces. The kids liked giving the grass haircuts. They were the craziest little grass heads, but so fun!
I sometimes grind my own whole wheat flour for bread so I usually have a bag of wheat on hand, but you can get it in stores or online. A bag of wheat, stored correctly, will last for years. You can use all different types of common wheat (Triticum aestivum), but I usually have hard red or white wheat. I'll share some links below!
5 More Gardening Projects You Might Enjoy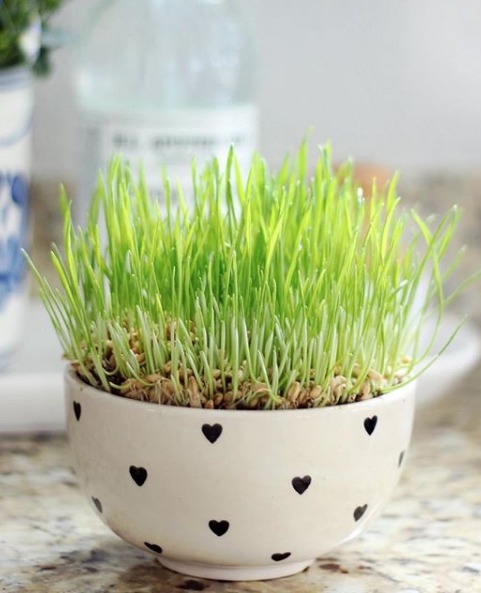 How To Sprout WHEATGRASS For Spring Decor (With Potting Mix)
Wheatgrass growing supplies:
Wheat Berry Seeds (this bag will last forever if you only use it for sprouting wheat)
Organic potting mix
Pots (mugs, glass jar, plastic containers, etc.)
Plastic Wrap
Spray Bottle of Water
Step 1: Fill a container with potting mix, leaving about an inch of space at the top.
Step 2: Sprinkle a single layer of wheatgrass seed on top.
Step 3: Spray with water. Don't soak, but make sure everything is covered with an even layer of water.
Step 4: Cover loosely with plastic wrap to create a moist environment and set on a window sill with bright light where it will stay warm.
Step 5: Spritz with water every morning and cover again with plastic wrap.
Step 6: After day 7 or so you shouldn't need to cover with plastic anymore as the blades of grass will be growing quickly. Once you have blades of grass move the pot out of direct sun and into indirect light.
Step 7: Trim the grass with scissors or a sharp knife to your liking as it grows.
Step 8: After the first week use the mister only when soil is dry. Too much water will result in mold.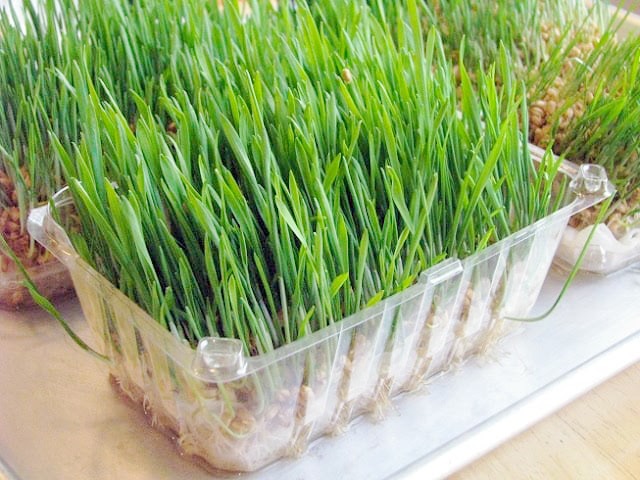 How To Sprout Wheatgrass (Without Potting Mix)
You can also sprout wheatgrass without potting mix. Layer wet paper towels into a container. Berry containers work great. Spread with a layer of seeds and follow the directions above for watering, etc. If your container has drainage holes make sure to place the containers on a planting tray (cookie sheet, etc.) to catch any excess water and moisture.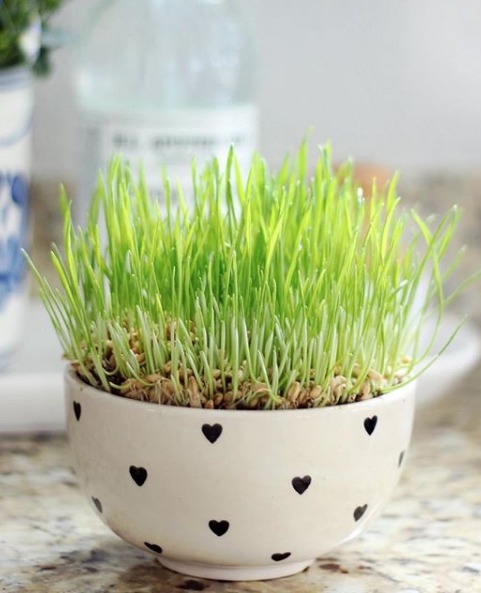 Our grass lasted a good 4-5 weeks so a good rule of thumb is to begin the process 2 weeks before Easter so enjoy before and after!
Wheatgrass Has Many Nutritional Benefits
Besides being cute spring decor, wheatgrass has many health benefits. Once Easter is over you can harvest the wheatgrass and use it for many other things. Wheatgrass is full of nutrients (amino acids, antioxidants, chlorophyll, iron, calcium, magnesium, vitamin a, e, c, k) and you can add it to smoothies or make
wheatgrass juice
 using a juicer.
You can also grow grass for your pets from a variety of grains. Cat grass (wheatgrass, oat grass, barley grass) can be grown indoors for cats. Our chickens LOVE when I grow wheatgrass for them in the winter. Such a healthy treat.
More WheatGrass Projects to Check Out
Water Bottle Planters from hi Sugarplum!
Egg Head Planters from Playdough to Plato
—these are one of my favorite things ever. So fun and definitely going onto our list of future projects!