Whether you're looking for an amazing dinner roll to make for a holiday dinner or a quick weeknight meal, you'll be sure to find the perfect recipe in this collection! From copycat Texas Roadhouse rolls to Pretzel Rolls, here are 10 of the best dinner roll recipes!
You might also like our quick-rise cinnamon rolls, our pumpkin cinnamon rolls, or our soft pretzel bites!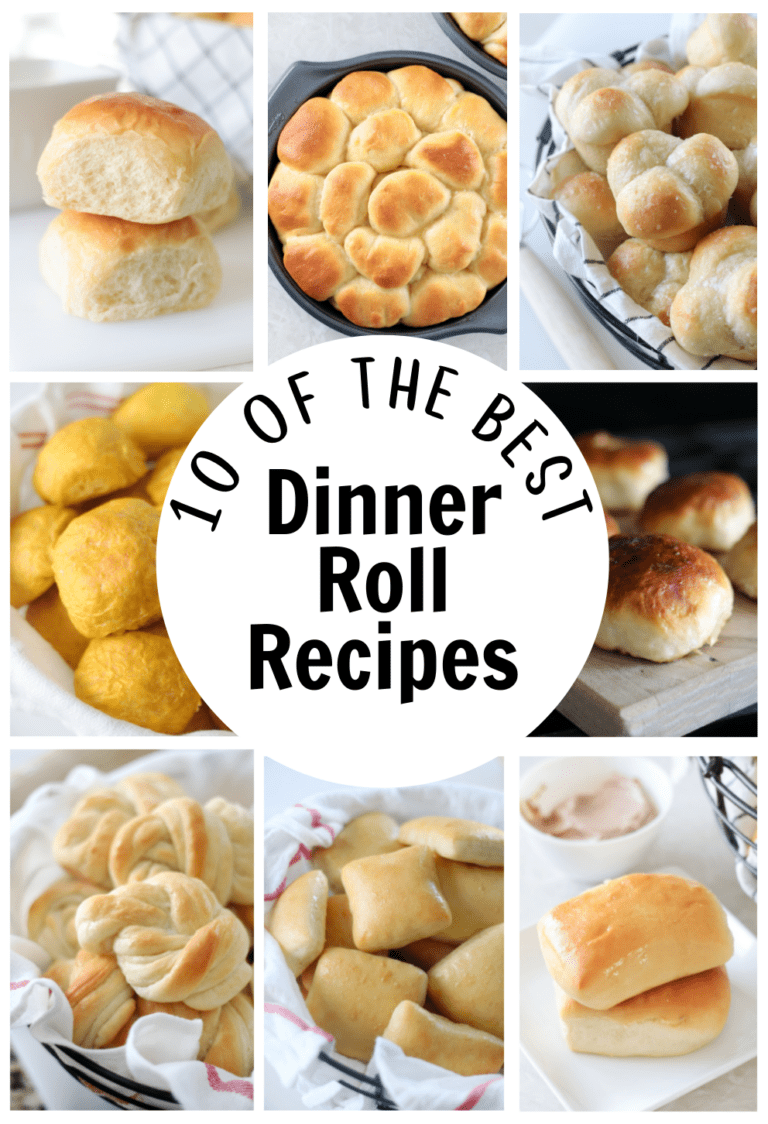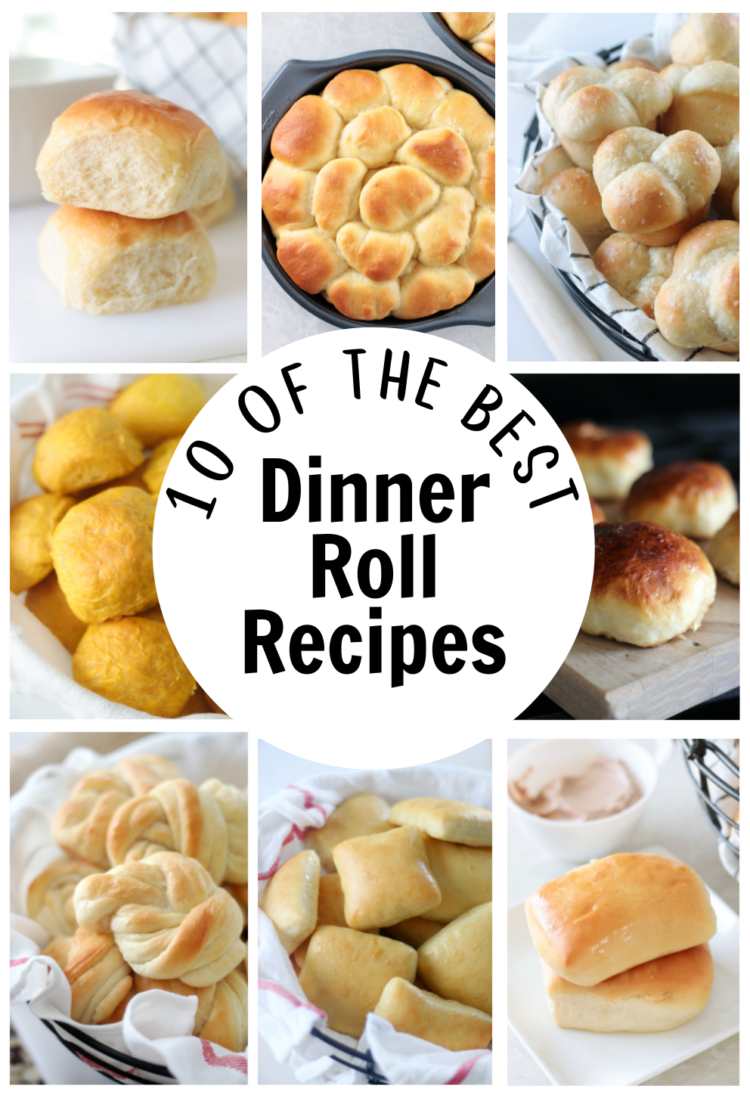 The Best Dinner Roll Recipes
(click on the title to be taken to the recipes!)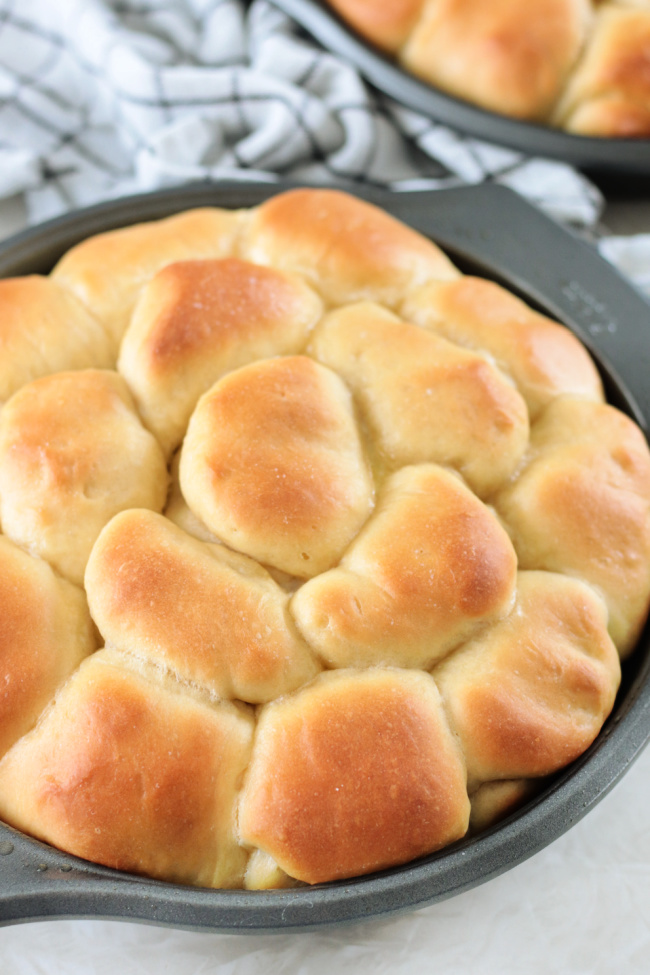 Better than Sister Schubert's Parker House rolls, these buttery rolls are easy to make and the perfect addition to any dinner! My kids love the frozen Sister Schubert's Parker House-style dinner rolls. They come crowded in a foil pan and bake up quickly. I like them too, but always prefer homemade to storebought. Sister Schubert's version is baked in a round cake pan so I made mine in a cake pan too.  They are easy to make and the homemade version blows the frozen counterpart out of the water.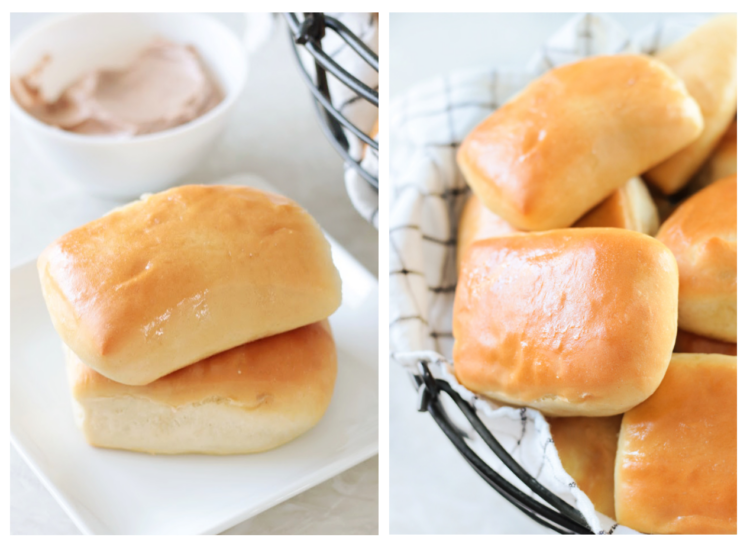 Our copycat Texas Roadhouse rolls are light, sweet, and buttery! Spread with cinnamon honey butter they are just as delicious as the rolls served at the steakhouse! What makes these rolls so special? Why are they the first thing we think of when we hear the restaurant's name? The hot rolls are served in a basket with cinnamon honey butter. They are the perfect appetizer to enjoy while you wait for your food. Texas Roadhouse rolls are soft and light, buttery and sweet. They also have a signature shape that is created by cutting the dough vs. rolling it into dough balls. Make sure to spread our homemade cinnamon butter over the hot rolls!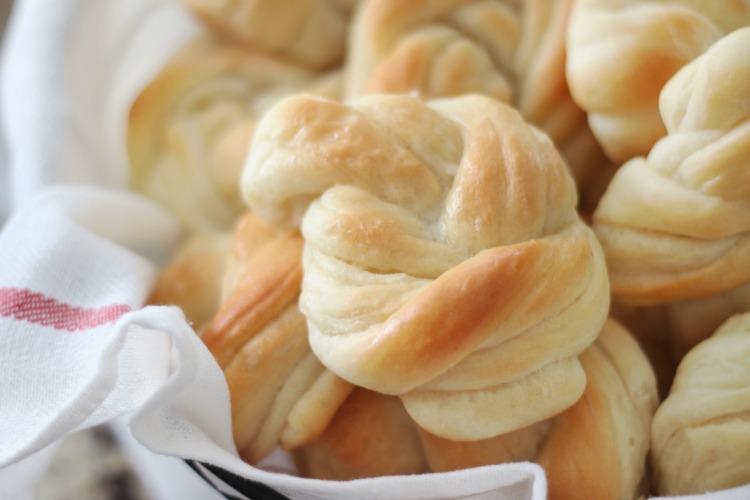 If you're looking for an amazing roll recipe for Thanksgiving or even a weeknight, these knotted dinner rolls are it. Buttery, soft, and so pretty when tied in a knot! A spin-off of our Amish dinner roll recipe that is one of the most popular recipes on the site! We know you'll love these as much as we do!
Our homemade garlic knots are buttery, easy to make, and delicious. Shaping them is super easy and makes for a beautiful presentation. Watch our video for an easy tutorial to see how we make these. Brushed with garlic butter and sprinkled with cheese!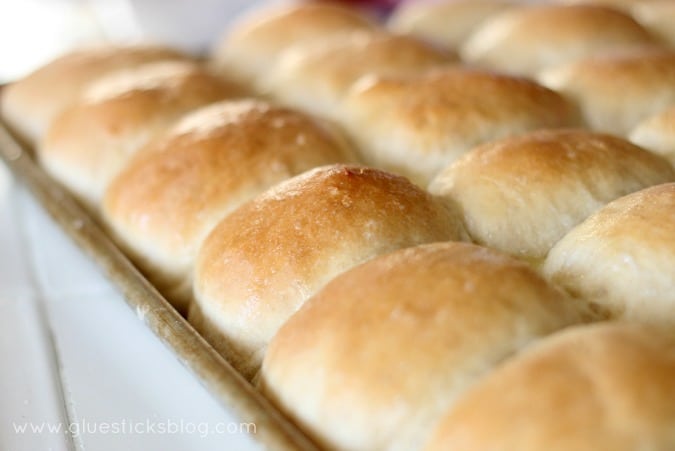 These Amish dinner rolls are absolutely perfect and a delicious addition to any dinner. The rolls are buttery, light, and fluffy! These rolls are so delicious served with soup on a cold day. They are also the BEST thing to mop up gravy off of your Thanksgiving plate!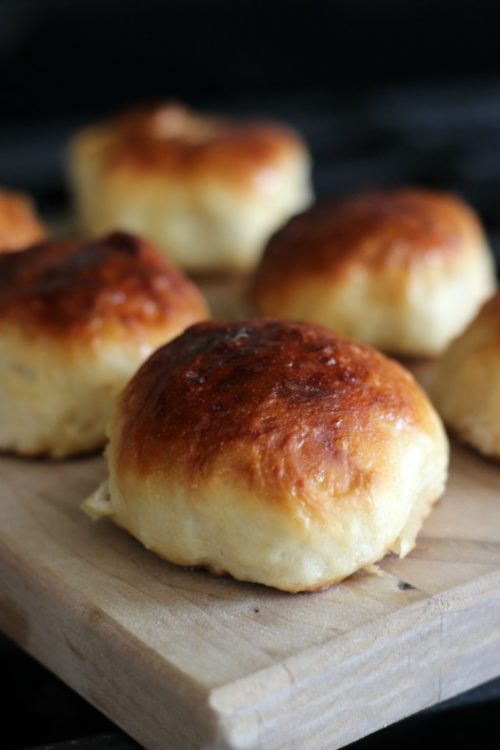 Buttery, soft, and chewy. This pretzel rolls recipe is the only one you will ever need! Use this recipe for sliders, buns, and more! This pretzel rolls recipe makes 16 soft and buttery pretzels. Make a batch to serve with soup for the ultimate comfort meal.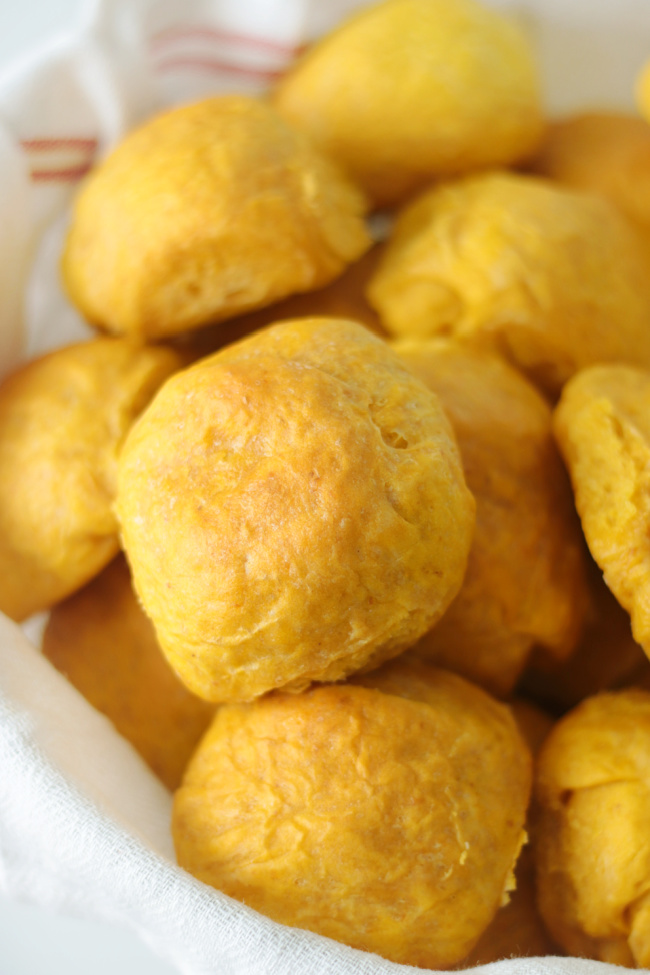 While pumpkin dinner rolls are the perfect complement to Thanksgiving dinner, they are also perfect for any time of year. My kids like using these for sliders in their lunches. They are ridiculously soft and stay soft for DAYS. What makes these rolls different than the rest? Canned pumpkin. The pumpkin gives them a golden color and richness, but they don't have a lot of pumpkin flavor. If you're looking for that signature pumpkin spice flavoring you can add a couple of teaspoons of pumpkin spice to the dough.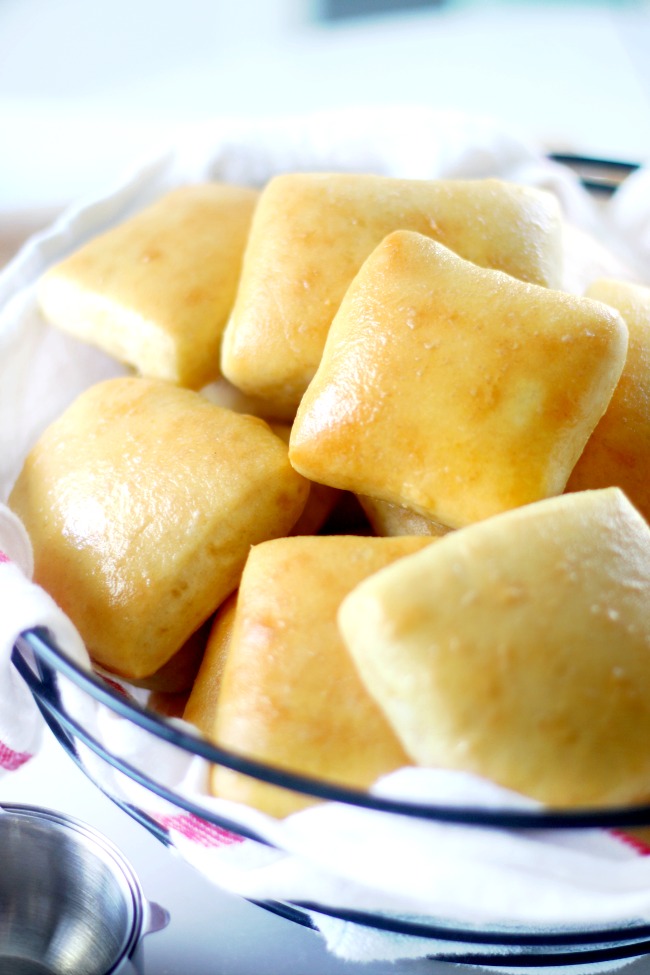 These are the BEST 1-hour dinner rolls. Buttery pillows of dough, baked until golden. Start to finish in an hour. Perfect for weeknights, slider sandwiches for lunches, and holiday dinners!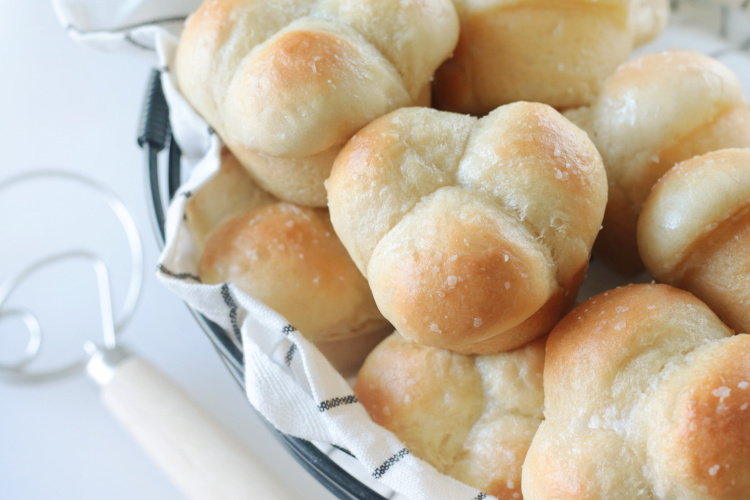 Cloverleaf dinner rolls are an absolute classic. 3 small balls of dough are packed tightly together in muffin cups to form the clover shape. Once baked, the clover shape makes the rolls easy to section off into thirds simply by pulling. They have a soft, buttery texture and are taken up a notch with a sprinkling of kosher salt.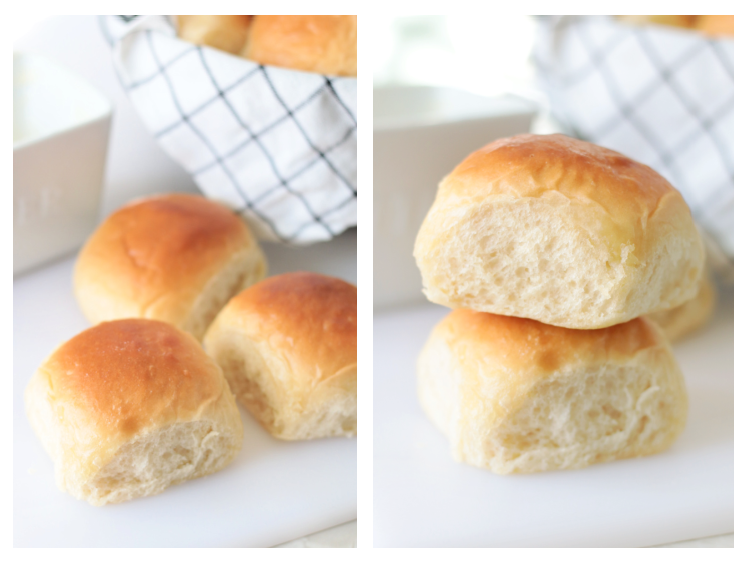 If you like King's Hawaiian rolls you'll love our homemade version. They are ridiculously soft and fluffy with just the right sweetness and melt-in-your-mouth texture. The perfect dinner roll, sweetened with pineapple juice and brushed with butter.
Welcome! I'm Brandy, mother to 5 darling kiddos and a cute black lab named Toby. My husband is in the Coast Guard so we've lived all over the place, turning each house into a home. I love baking, sewing, making cute things with my kids, and sharing what I've learned with all of you!