Scrap fabric flip flops are so fun and funky. We call them "Fluffy Flip Flops". A quick and easy summer camp project for girls and a great way to use up fabric scraps. Create patterns or tie the strips on randomly, the choice is yours!
You might also like our wired headband tutorial, our crayon lip gloss or our nail polish washer necklaces!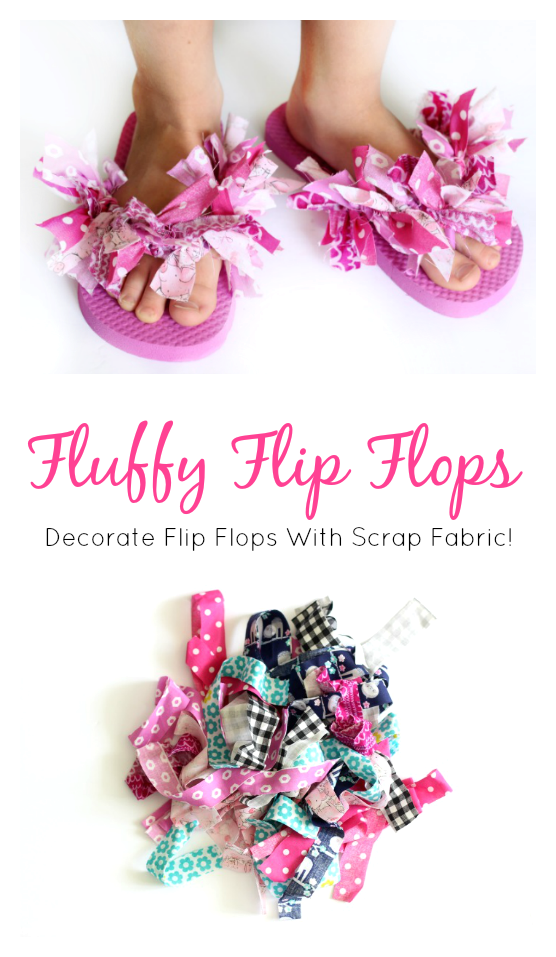 Coming up with activities to do with the 8-11 year old girls at our church is probably my favorite thing to do. I am the Activity Days leader for our congregation and get to hang out with these girls on Sundays to teach gospel lessons, and two Wednesday evenings a month to make crafts, play games, and teach life skills! Some of our favorite activities have been the
Random Acts of Kindness Kits
,
Mother's Day Tea Party
, and
Nativity Wall Hangings
. We are getting ready to take a break during the summer months so I wanted to have a little fun before we did that.
Scrap Fabric Flip Flops
I saw a giant bin of $.97 flip flops at Walmart and thought it would be fun to decorate flip flops with the girls! I've done this with kids and teens before, but the results have been hit and miss. Hot glue never lasts very long, but the other types of glue take forever to dry and the kids end up making a huge mess. This time I wanted to simplify things. I've seen these funky flip flops made with yarn, strips of ribbon, or scrap fabric in the past and always thought they were a little crazy. They're a 90's creation, right? Fast forward to being in a time in my life of having two girls who LIVE for fun and funky fashion creations, and I instantly knew that they'd be a hit with the girls at church too.
I requested the shoe sizes for all of the girls from their parents and got to work with Ruby to make an example pair. When we finished she looked down at her fluffy flip flops and said, "Wow. I LOVE these." Mission accomplished!

I sew. Therefore I have a stash of scrap fabric.
Supplies:
1 pair of flip flops
fabric scraps
Instructions:
Step 1:  cut 1″ strips of fabric in varying lengths. (8″ is a nice length)
Step 2: Tie the strips onto the flip flop straps in double knots.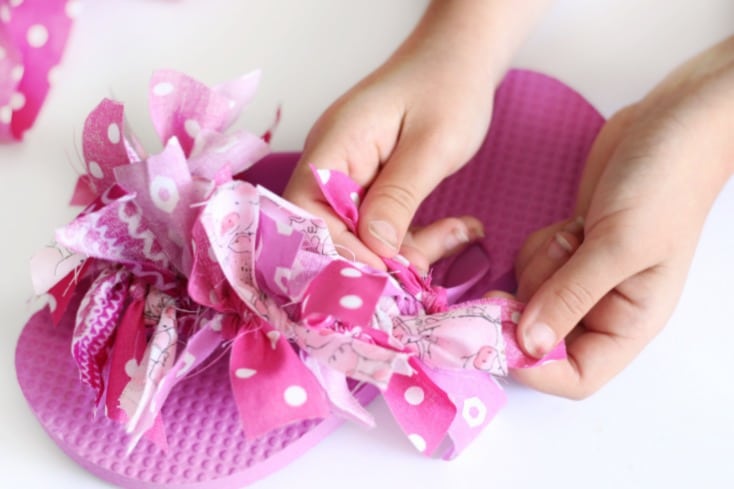 Note: You can tie them really close together (you'll need about 20 strips for each flip flop) or space them further apart.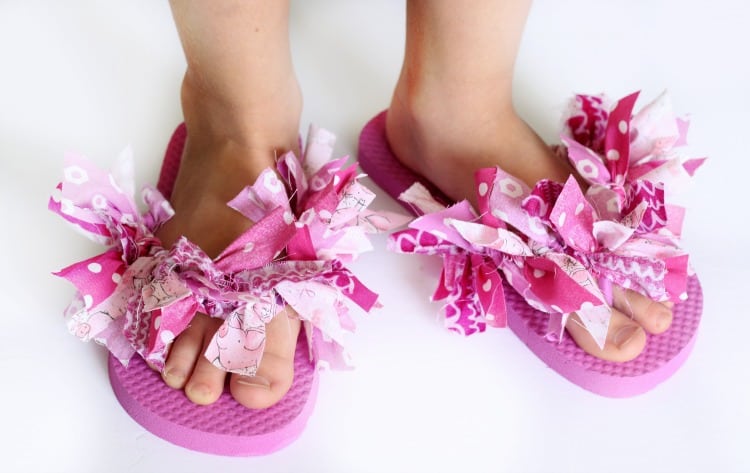 Step 3: Give them a trim when when you are finished so that the strips are the same length and won't drag on the ground.
Won't these be fun fashion statements this summer? There will be at least a dozen pairs walking the beaches here in Virginia Beach!
Here are 30 summer crafts for kids that you'll want to check out!