These bunny treat cups are made out of to go cups! Decorate with felt and paint pens then fill with mini donuts or popcorn! Perfect for parties! This post contains affiliate links. See disclosure at the bottom of the homepage for more information.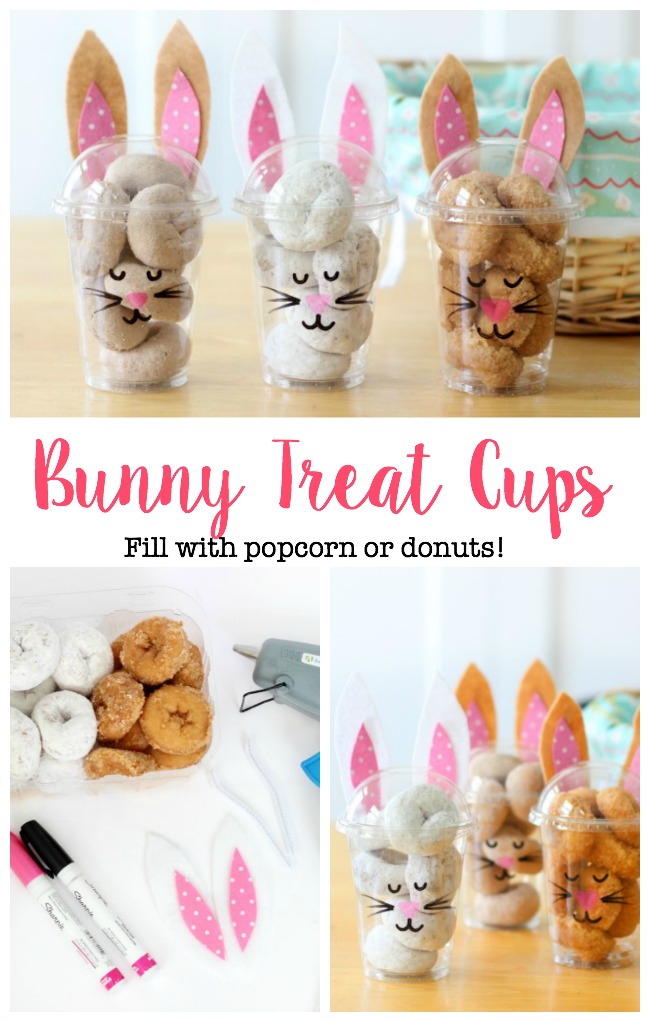 Watch our step by step video!
If you've been here more than a minute you already know my love for these fun to go cups. They are perfect for so many things! Because they have a lid they are great for packaging little gifts as well as on the go snacks. During the holidays I made holiday party treat cups and today I'm sharing a springtime version: Bunny Treat Cups!
Supplies needed to make a set of Bunny Treat Cups
scraps of felt
pipe cleaner
hot glue gun
mini donuts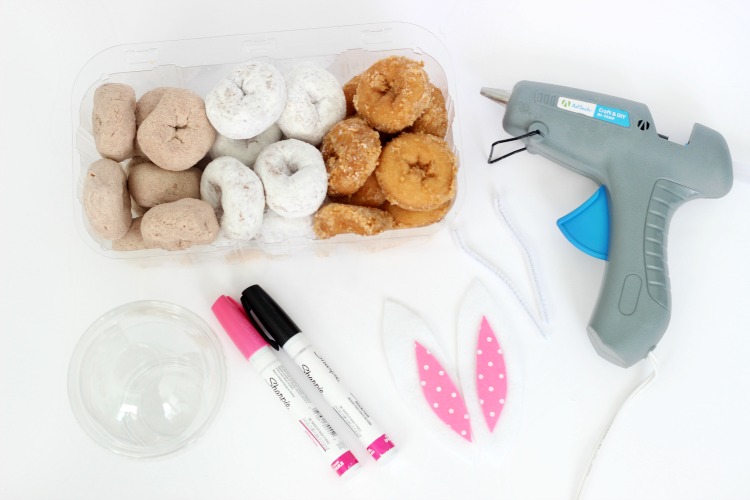 Instructions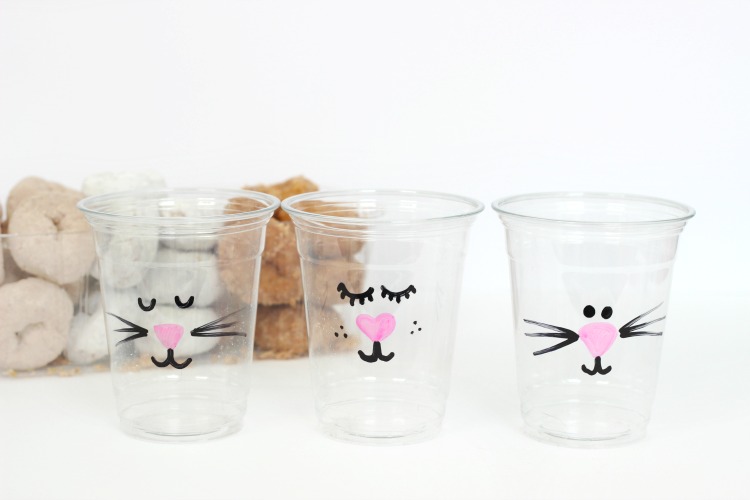 1. Use a paint pen to decorate the front of the cup with a bunny face.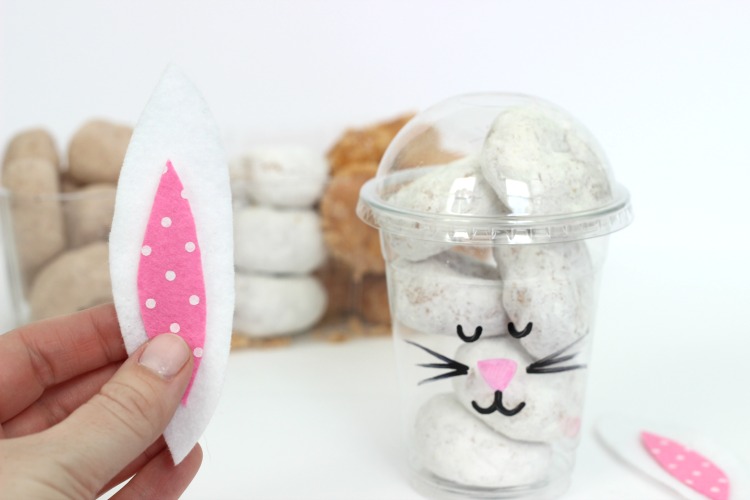 2. Cut out two outer ear pieces and 2 inner ear pieces.
3. Hot glue them together.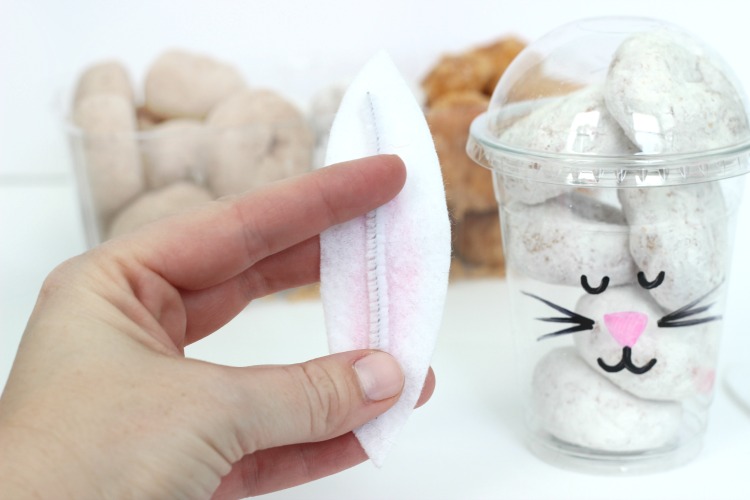 4. Glue a small section of a pipe cleaner to the back of each ear. This makes the ears stand up straight or bend down.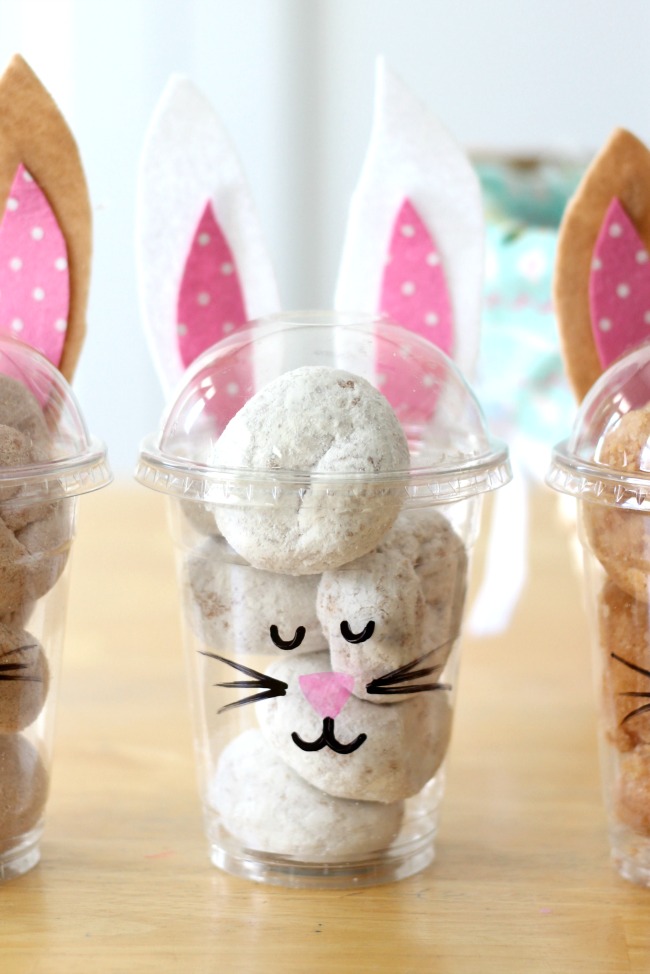 5. Fill the to go cup with mini donuts and snap the lid into place.
6. Glue the bunny ears onto the back of the cup using hot glue.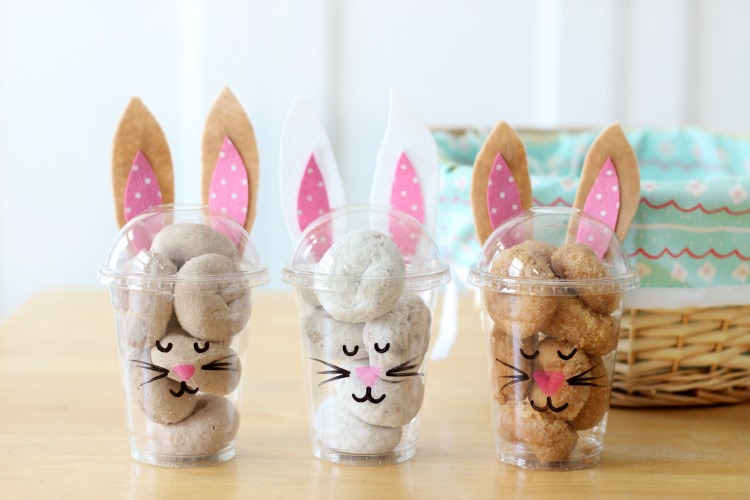 Wouldn't these be cute for a classroom party? The kids could make one to take home! You can buy a container of mini donuts at the grocery store (I bought mine at Walmart for $2) so it's a fairly inexpensive craft and take home gift to make with kids.
Can you use craft glue to make these bunny treat cups?
Yes, you can use craft glue, but it will take longer to dry.
Would permanent markers work for the faces?
Yes, a black sharpie would also work, but the colored sharpies tend to not be as bold as the sharpie paint pens for other details.
What else can you put inside the bunny treat cups?
Popcorn would be a super fun alternative! Maybe white, caramel, and buttered popcorn flavors?
What other uses do you have for to go cups?
Fruit Snack Cups: A hot breakfast sandwich and an on-the-go fruit cup! Eat individually or pair together for a hearty and quick on the go breakfast!
Cereal Cups:These cereal cups are the perfect on the go breakfast or snack. Prepare a basketful to store in the pantry then add a splash of milk before heading out the door!
Halloween Donut Cups: It doesn't get any cuter or easier than these Halloween donut cups! Perfect for Halloween parties, classroom parties, or gifts. Make all 3 varieties!
What other springtime crafts would be fun for classroom parties?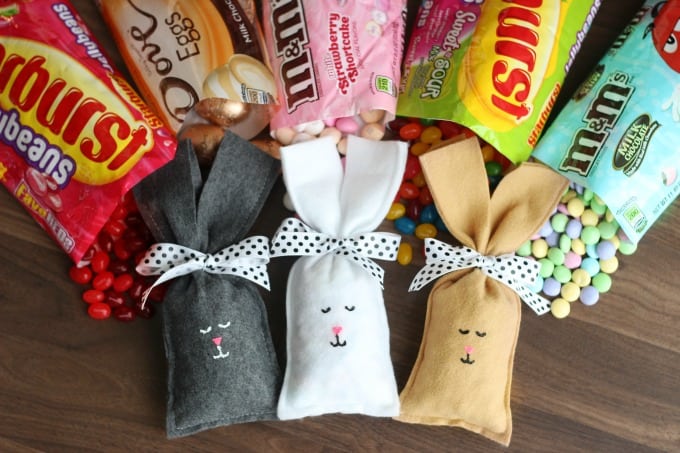 These felt bunny treat bags are quick and easy to make. Perfect fun for a class party or to surprise your kids in their Easter basket!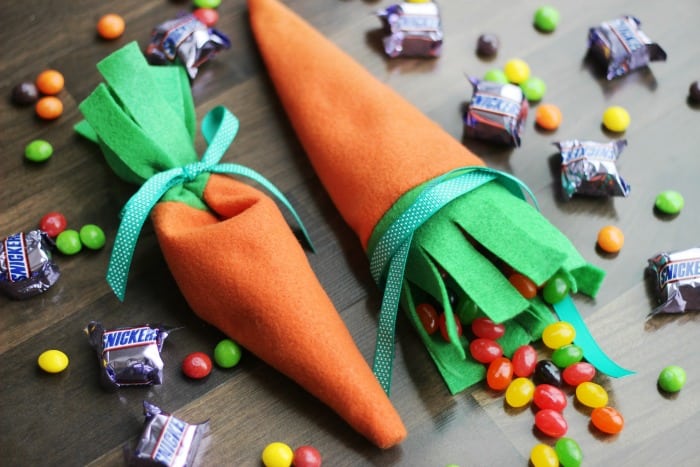 A quick 10-minute project. These carrot felt candy pouches are perfect to tuck inside an Easter basket!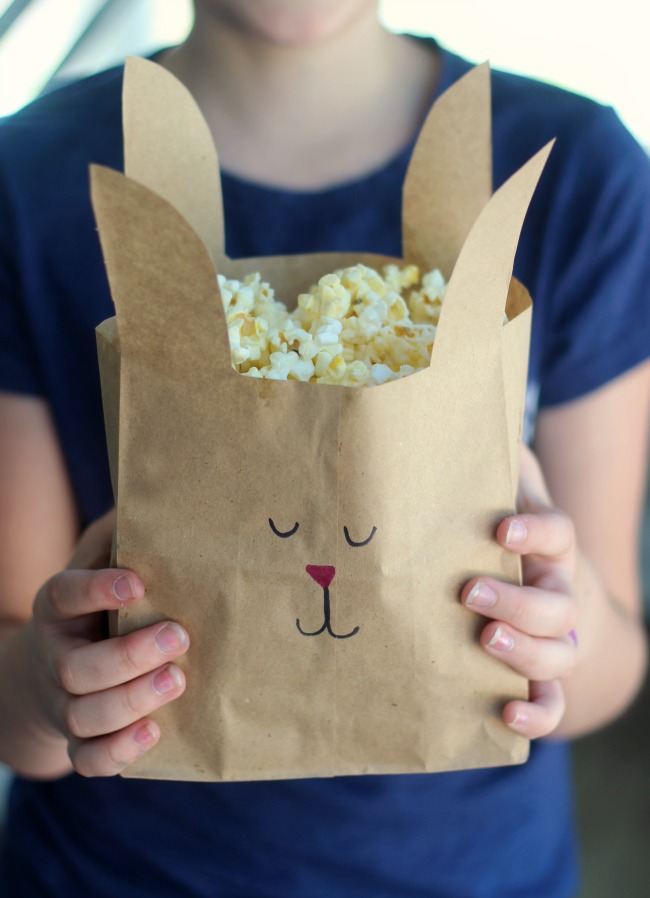 Turn paper lunch sacks into bunny treat bags with just a few snips of the scissors. A quick and easy way to make your next movie night even more fun!