Our brown paper packages advent is simple, inexpensive, and so fun! Wrap small gifts in brown paper and hang with string. You probably already have these supplies in your home! This post contains affiliate links.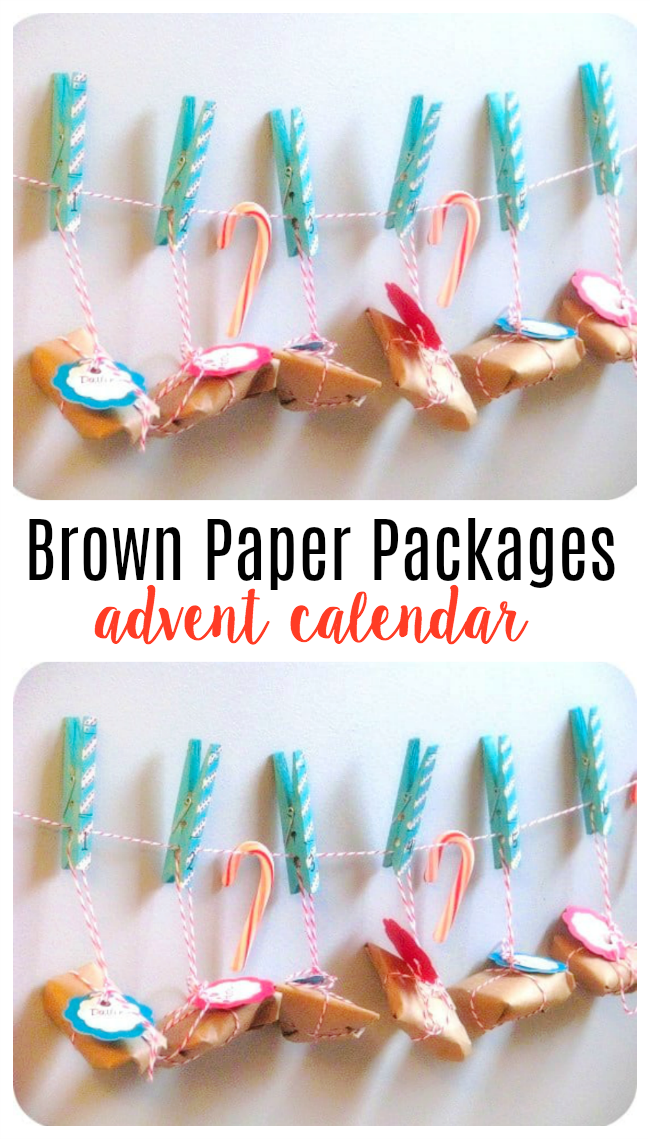 I had a lot of fun creating this fun advent/countdown for my kids! I wanted something simple, cute, and made using items that I already had. This brown paper packages advent fit the bill and the kids loved it! Inside each brown paper package is a piece of candy or nuts, and a small card with a seasonal activity printed on it.
Other Inexpensive Advent Calendar Ideas
Gingerbread Cookie CountdownTissue Paper Countdown20+ Advent Calendar IdeasAdvent Gum Packs
Don't have time make your own advent? No worries. We've gone the store bought route the past. Here are some of our favorites!  The LEGO one was an absolute hit. We actually still have it and have re-used it a few times. Just save the pieces and put them back year after year!

Brown Paper Packages Advent Calendar
Supplies:
brown paper bags or brown kraft paper
tape
small toys, candy
sharpie pen
hole punch
small cards with seasonal activities printed on each one
Directions:
Cut squares of brown paper into desired sizes.
Wrap candy and toys in paper and tie baker's twine around each one, creating a bow/loop for hanging.
Cut a long string of baker's twine and attach to the wall.
Label each package using a tag, optional.
Hang each package using a clothespin.
Other notes: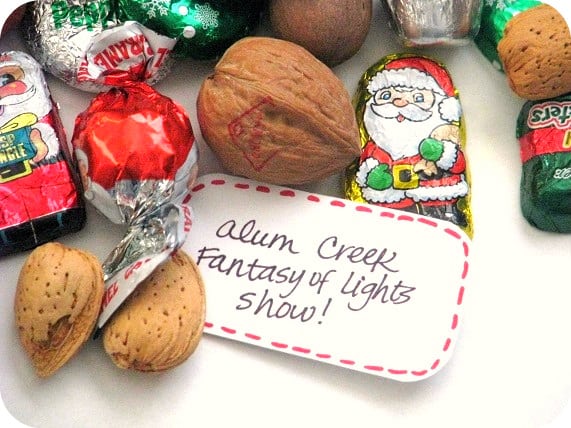 I bought a bunch of Christmas candies in bulk as well as mixed nuts for the kids to crack. The Palmer chocolate candies in bulk are my favorite this time of year! Especially the mint patties. I also made some cards to go inside of a few of the packages. Fun things to do at home or around town this time of year.
Here are are a few ideas of seasonal activities to add to your brown paper packages!
Neighborhood Christmas Lights
Make Your Own Hot Cocoa Bar
Make Sugar Cookies
Go To the Library and Check out Christmas Books
Write Letters to Santa
Drop Off a Secret Santa Gift to a Neighbor
Deliver Holiday Treats to Friends
Decorate the Christmas Tree
Watch a Christmas Movie
Make Christmas Cards
Hang a New Ornament on the Tree
Make a Christmas Craft