Looking for  cute and easy Easter desserts to make with the family this year? Food art is so much fun, and these 7 Easter desserts are just too cute to pass up! The Easter Bunny Cake is a family favorite over here. Thank you Kraft for sponsoring our creativity.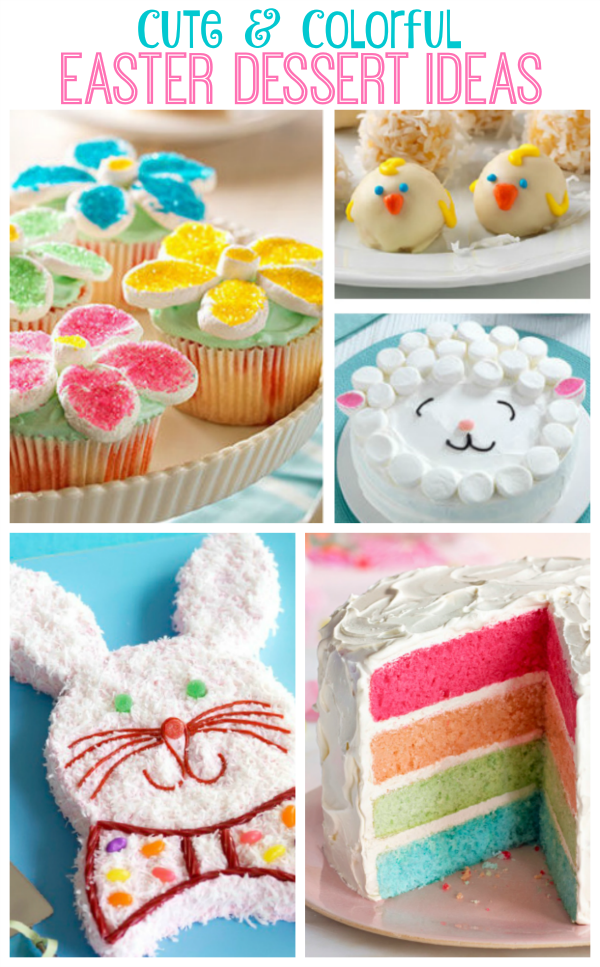 Cute & Colorful Easter Desserts to Make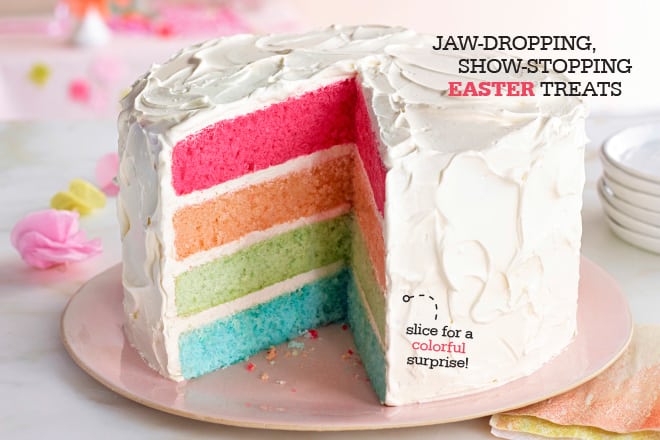 Rainbow Layer Cake: You might look at those gorgeous layers and assume you'll need whole bottles of food coloring…but you'd be wrong. They're tinted with JELL-O Gelatin! You can choose whatever gelatin flavors you like, but pro tip: Unless you're looking for a subtle yellow shade, avoid lemon flavor. Check out the full tutorial on how to make a rainbow cake for a no-fail showstopper.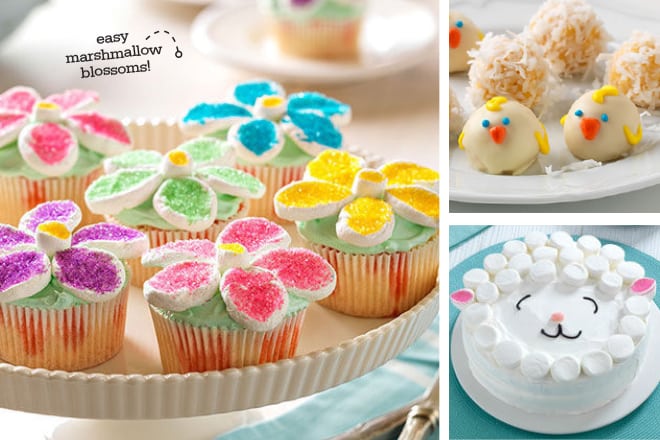 Flower Power Cupcakes
: Spring blooms are about to erupt all over your kitchen. Just snip marshmallows crosswise with scissors, then mold the marshmallow ends into pointed petal shapes with your fingers. Dip the marshmallow petals into colored sugar before placing them on frosted cupcakes; sprinkle extra sugar over the top of the petals to make the colors really pop.
Hawaiian Cookie Balls: Itty-bitty shortbread balls decorated like baby chicks? Yup, we went there! Mini candy-coated chocolate morsels make super-easy eyes (I find mine bagged in the candy aisle in a rainbow of neon colors). Then just pipe on orange and yellow decorating gel for beaks, wings and a little feathery "hair." Here, chicky-chicky-chicky!
Easy Lamb Cake: Talk about a whole lotta cute for very little effort! Seriously, decorating this lamb cake goes quickly after you've frosted it with whipped topping and snipped the marshmallows in half—watch the video if you don't believe me! This decorating tutorial works for any flavor of round layer cake, but tinting yellow cake batter with cherry-flavor gelatin mix makes it pretty and pink and perfect for Easter.
Bunny Cake
: Everybunny loves this classic cake, for good reason: It's unbelievably cute and downright delicious. And cutting the cake is a deceptively simple process; the recipe even includes a video showing how and where to make the strategic slices. If you're feeling artsy, shake the flaked coconut in a plastic resealable bag with a few drops of food coloring before sprinkling on the tinted "fur."
Here is the bunny cake
that my girls and I made last year!
Chocolate-Dipped Strawberry "Carrots": I don't know about you, but I didn't get enough of chocolate-dipped strawberries on Valentine's Day. And since tinting melted white chocolate orange is as easy as adding a few drops of food coloring, go ahead and dress this treat in its Easter best. Like Mom always said, "Eat your carrots!"
PHILADELPHIA Easter Mini Cheesecakes: Everyone loves miniature desserts…and cheesecake. So these creamy handheld cheesecakes are a double delight! Raid your kids' Easter baskets for speckled-shell malted milk eggs, then bed 'em down in a nest of toasted coconut atop each of these super-cute treats.
What fun Easter desserts will you make this year?
You might also like…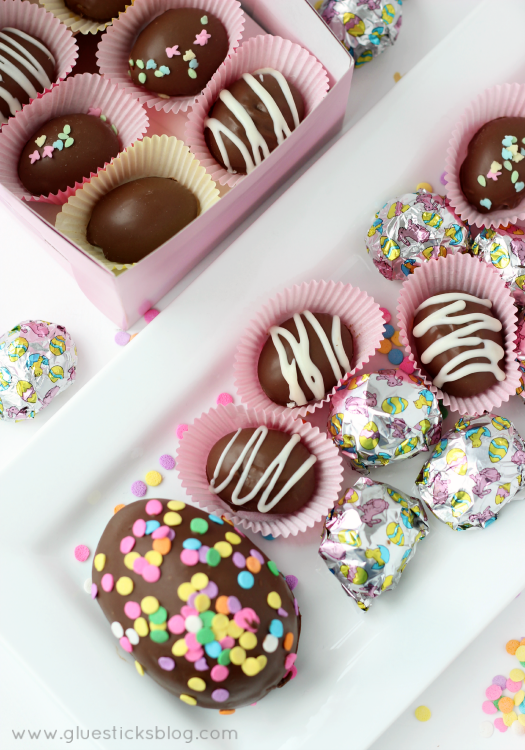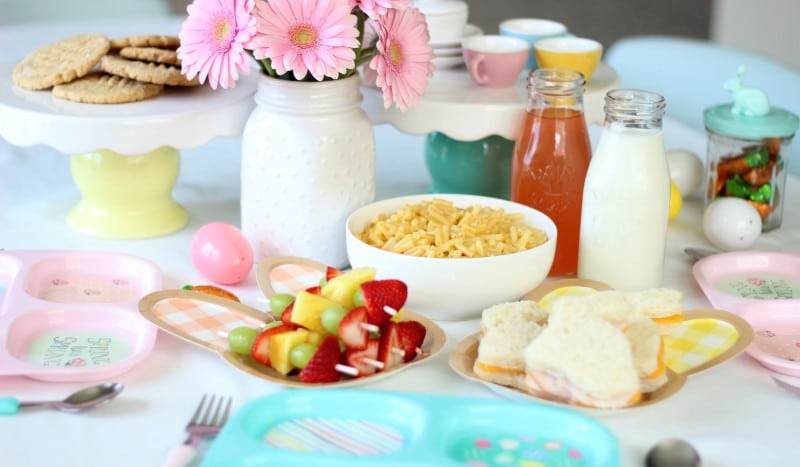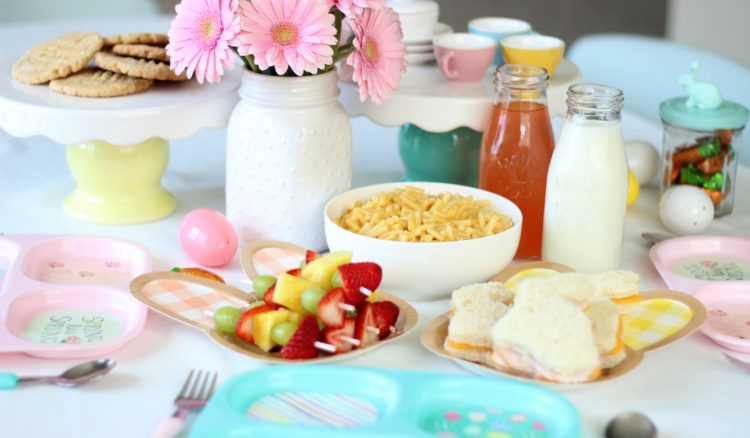 Welcome! I'm Brandy, mother to 5 darling kiddos and a cute black lab named Toby. My husband is in the Coast Guard so we've lived all over the place, turning each house into a home. I love baking, sewing, making cute things with my kids, and sharing what I've learned with all of you!