This blog post was sponsored by Coca-Cola but the opinions are completely my own based on my experience.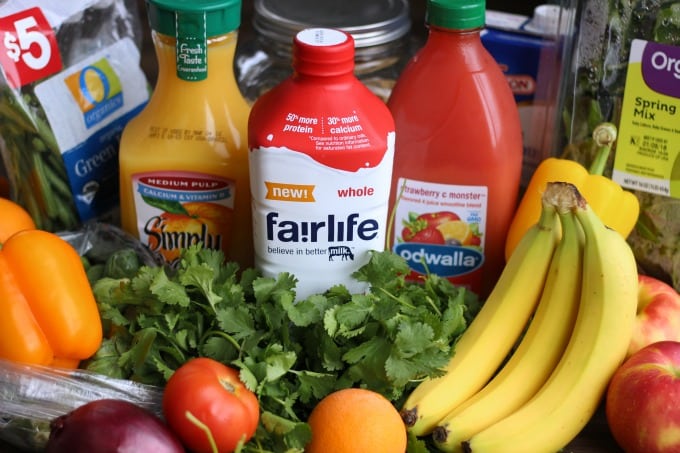 I made my first big shopping trip of the year and couldn't help but laugh when I looked at the items in my cart. Gone were the pounds of butter, brown sugar, nuts, flour, and chocolates that I had been buying the past two months on a regular basis. The refrigerator was empty, the counter had been cleaned off of any remaining holiday treats, and I was ready to recharge with the new year. Isn't this always how it is? We welcome the clutter, the decorations, the baking, the traditions and everything that comes with the holiday season. We are sad to see it leave, but at the same time it feels so good to start January with a clean slate. A revamped menu and a more organized home. That being said….I'm already looking forward to December 🙂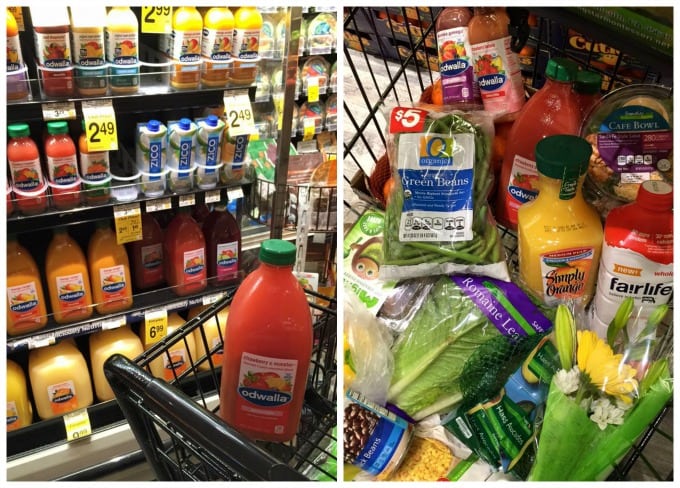 I do my shopping at several stores, but for produce and fresh items I like to go to
Safeway
. Their produce is always fresh and they have great sales. I stocked up on fruit, vegetables, and our family's favorite drinks: milk (both white and chocolate milk), Simply Orange juice (their lemonade is fantastic too), and Odwalla Smoothies. Now that schedules are returning to normal I loaded up on items for healthy lunches for the whole family. I generally skip breakfast and am pretty busy all morning so when lunch comes around I am STARVING! It's so easy to grab a snack from the pantry instead of having a decent lunch. For this reason I like to have lunches ready to go in the refrigerator.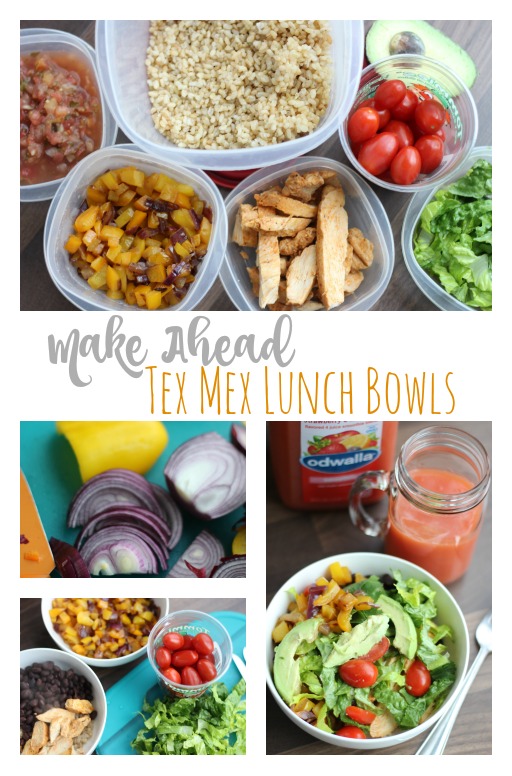 My favorite go-to healthy lunch is a Tex Mex Bowl. Sometimes I start with a large base of romaine. Other times I start with rice. Then I top with pico, sautéed peppers, chicken, avocado, beans, and corn. Drizzled with cilantro ranch or a splash of lime juice, it's a filling and healthy lunch.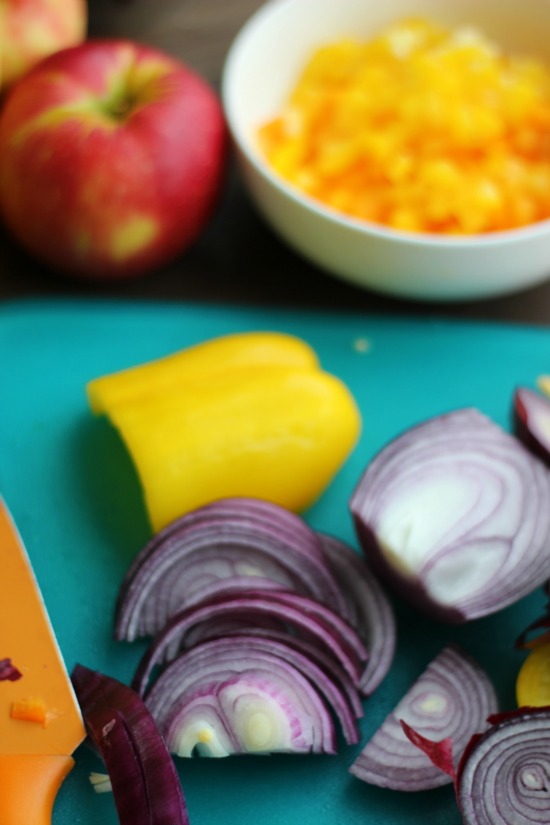 The peppers add a ton of flavor. I slice bell peppers and red onion then heat in a sauté pan with a bit of olive oil until soft and caramelized.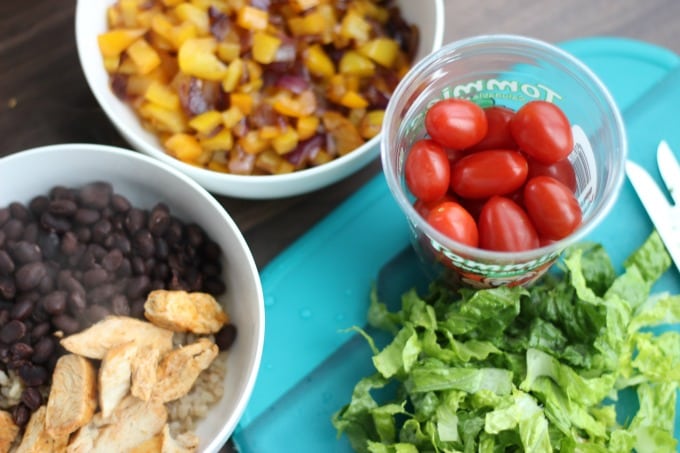 I rinse the beans, chop the lettuce, thaw the corn, and prepare the chicken.  Then divide everything into containers. This week I used pre-cooked chicken that I found on sale. It was already sliced, cooked, seasoned, and was a great time saver. Usually I dice the chicken and cook in a pan with olive oil and a teaspoon of chicken taco seasoning.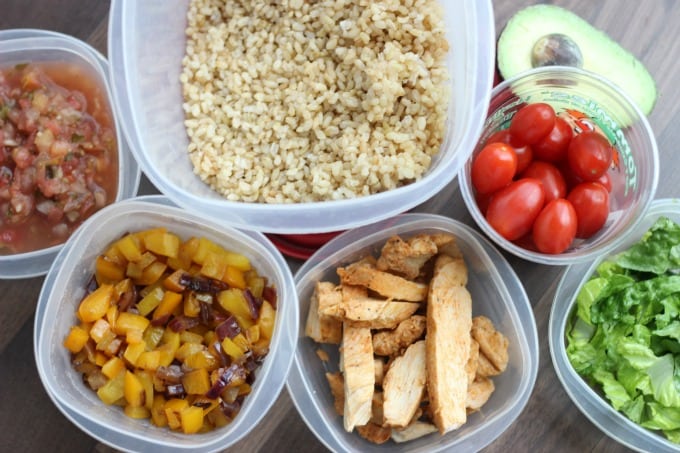 When it's time for lunch I grab a bowl and start loading it up! One morning of prep will make lunches to last all week.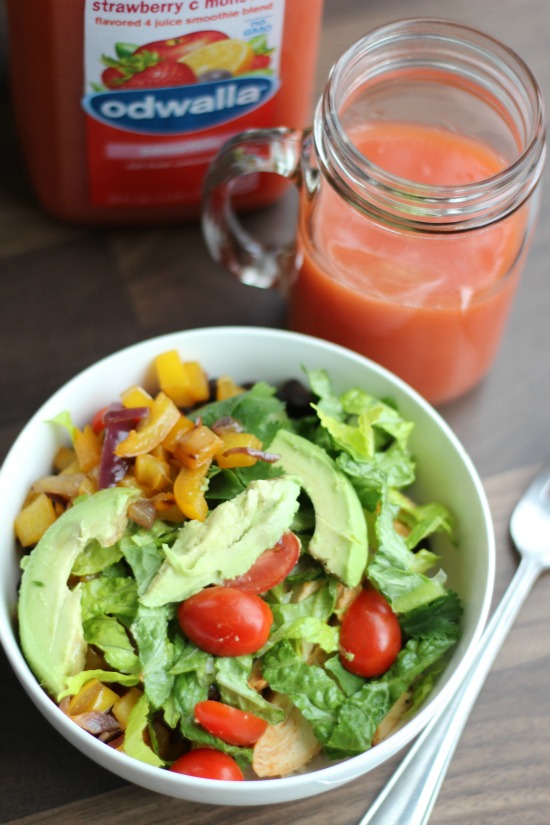 I LOVE the Strawberry C Monster Odwalla smoothie and have been buying it on a regular basis for years. I buy it in both the large and small sizes. For lunch I like to just pour some into a cup. If I'm replacing a meal with a smoothie I'll drink an entire individual sized bottle. The Strawberry Banana and Berries GoMega flavors are good too, but not as good as the Strawberry C Monster—I love citrus juices so this packs the right amount of tang into it.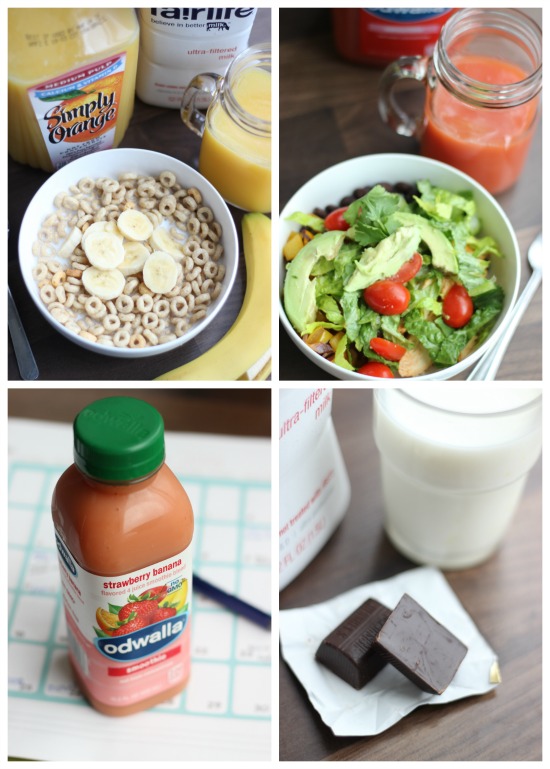 The biggest challenge for me is not taking short cuts. It's so easy to grab a handful of crackers or a few homemade cookies and call it a lunch, but having a variety of fresh produce all ready to go and healthy lunch options really keep me energized. I love breakfast foods, but like I mentioned before, I don't eat breakfast. I'm just never hungry until after 10 am, so sometimes I'll have my favorite cereal with half of a sliced banana, 1/2 c. of Fairlife Milk, and then wash it down with orange juice for lunch. Breakfast foods are great for any meal, right?
And chocolate. I have to have it every day. I'd love to eat a ton of it, but I don't need a ton. Just a little. I found these dark chocolate nuggets and they are just right to satisfy that craving. 2 nuggets and 1/2 c. of milk make the perfect mid-day chocolate break. The kind you need after picking up the kids from school, cleaning up a toddler's potty accident, or folding a ton of laundry. It's a nice little reward!
So this is how I do lunch. What is your favorite healthy lunch? 
I'm a busy person and I like it! Creating, caring for the kids, serving at church, cooking, household tasks—they keep me on my toes, but it wasn't until recently that I realized that even though I am constantly BUSY  that I am not really that ACTIVE! There is definitely a difference.
I had been wanting a fitness tracker for a while and I finally got one for Christmas! I'm probably one of the last people to get one, but it's awesome. If you had asked me to guess how much I walked my first day I would have said probably 2.5 miles. It was a busy day of cleaning the house, doing laundry, and running the kids to dance class and other activities. At the end of the day I synced my tracker and found out that I had walked….drumroll, please…….just over a mile.
Yeah, folding laundry doesn't really get me up and moving. Driving in the car doesn't either.  The best thing this fitness tracker has done is put me in a very competitive mode. With myself. Each day I've tried to go further than the day before. Even if it meant running laps after the kids went to bed to meet my goal, haha!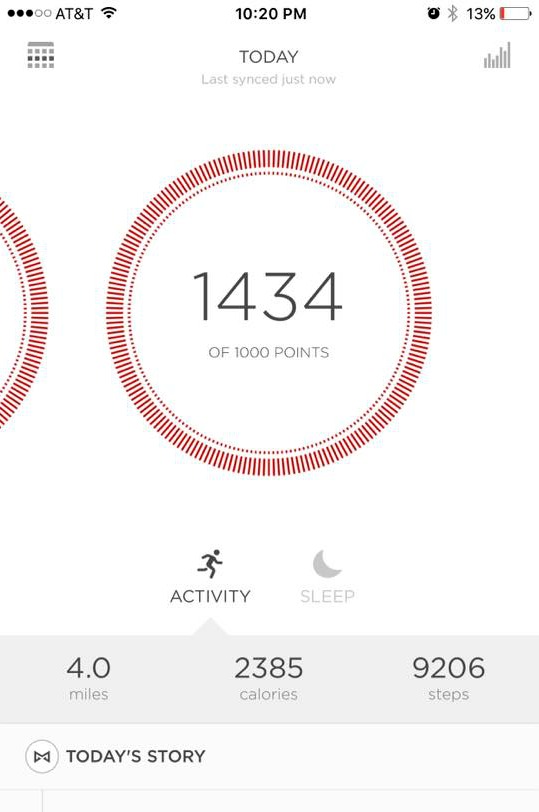 I don't like running, but it is the cheapest form of exercise and when I'm trying to beat my own record it can be a fun challenge. Not only did I meet my 1000 point goal in the photo above by running for 25 minutes after the kids went to bed, but I went over it, going 4 miles, moving 9206 steps, and earning 2385 calories for the day. It's a great accountability tool and I needed it. I have no interest in running a half marathon or even a 10k. I just want to earn the calories than I am consuming. Better yet, I want to earn MORE calories than I regularly consume, but the most important thing for me right now is to have energy. Energy to keep up with my kids and to feel great when I wake up in the morning!
By purchasing fair life milk, Simply Orange, or Odwalla products at your local Albertsons or Safeway stores by March 24, 2016, you can enter for a chance to win 1 of 1000 Misfit Shine Fitness + Sleep Monitors. Just save your receipt and snap a photo. Easy as that!  Enter here! 
Start Smart. Stay Active. Keep Fit. #StartSmart2016