This shop has been compensated by Collective Bias, Inc. and its advertiser. All opinions are mine alone. #OrvilleGameTime #CollectiveBias
Sweet, salty, buttery, sticky, and crunchy–this marshmallow caramel corn is the perfect snack to munch on with friends!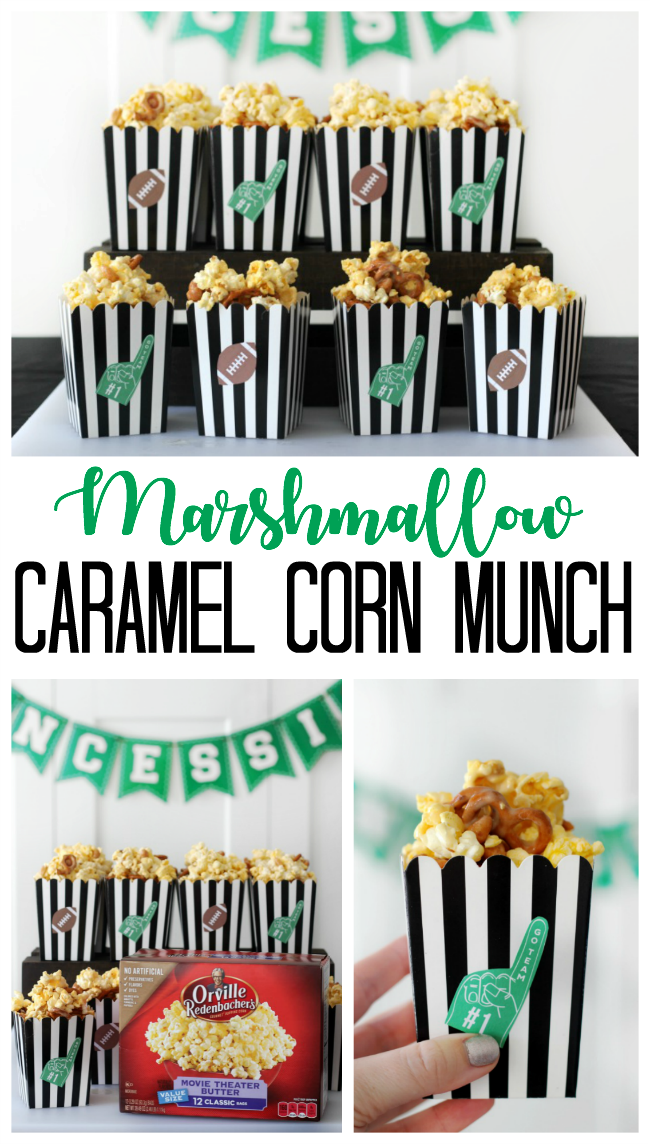 My friend, Keiko, shared her marshmallow caramel corn recipe with our family 5 years ago and it has been a favorite ever since! We've had fun experimenting with different add-ins like chocolate, sprinkles, peanuts, and pretzels.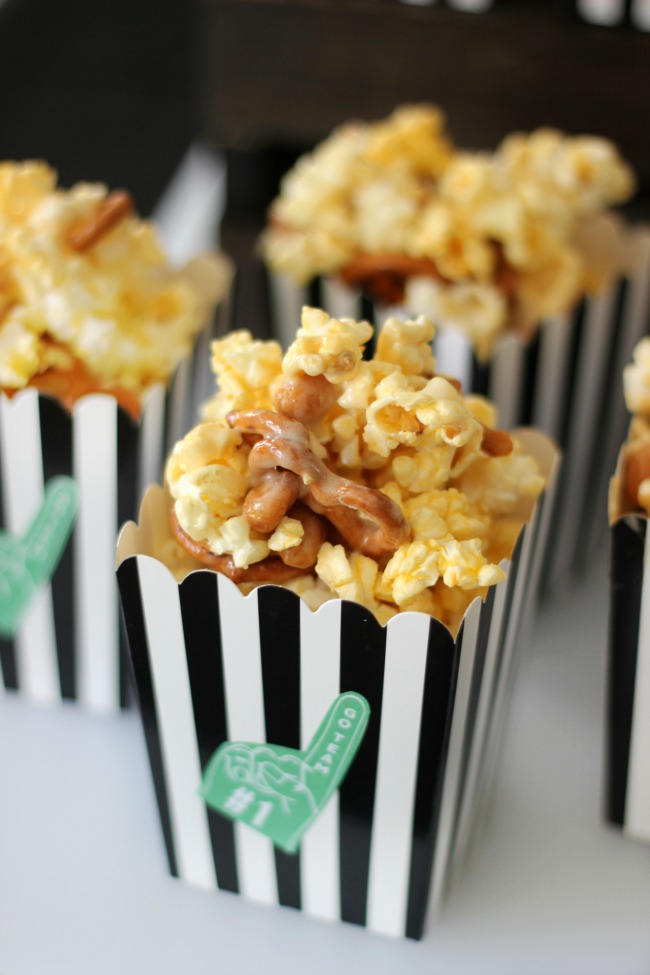 Our favorite combination (besides the original) is this sweet and salty popcorn munch made with pretzels and honey roasted peanuts. The best part is that it comes together in under 10 minutes! Ooey-gooey and the perfect flavor combination. It makes 12 servings so it is perfect for parties!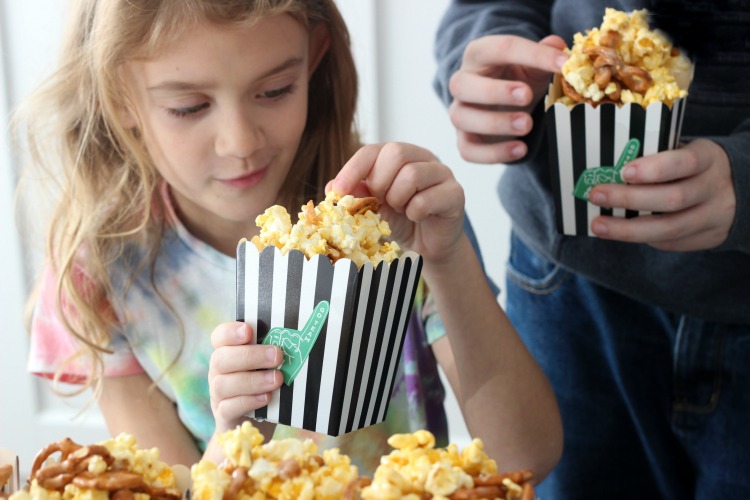 Our friends invited us over for the big game a few years ago and I thought it was weird since they never mentioned watching sports before. She said, "Oh! It's all about the game day snacks and commercials!". Haha, I get that. Totally! Good food, friends, and commentary. Those are what the best parties are made of.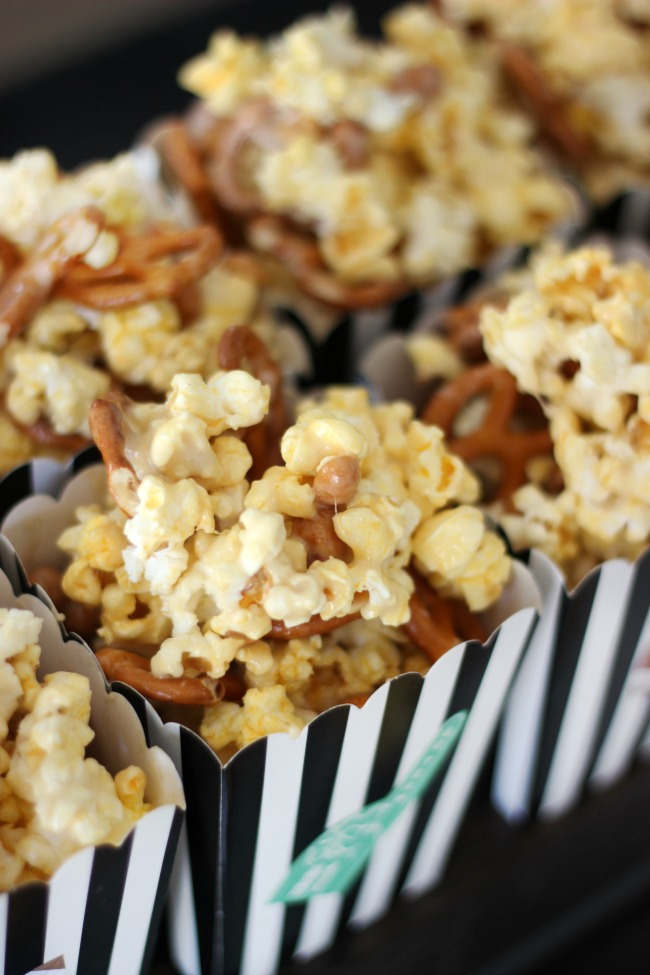 Marshmallow Caramel Corn Munch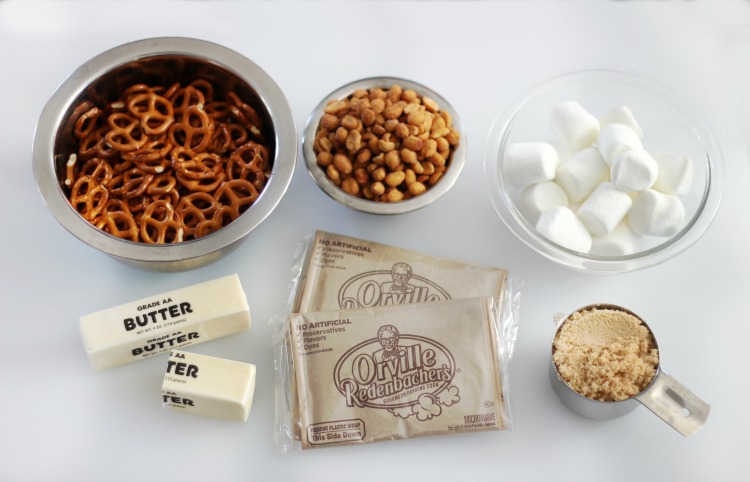 Serves 12
2 bags Orville Redenbacher's® Movie Theater Butter Popcorn, popped
3/4 c. butter
3/4 c. brown sugar
18 jumbo marshmallows
4 c. pretzels
2 c. honey roasted peanuts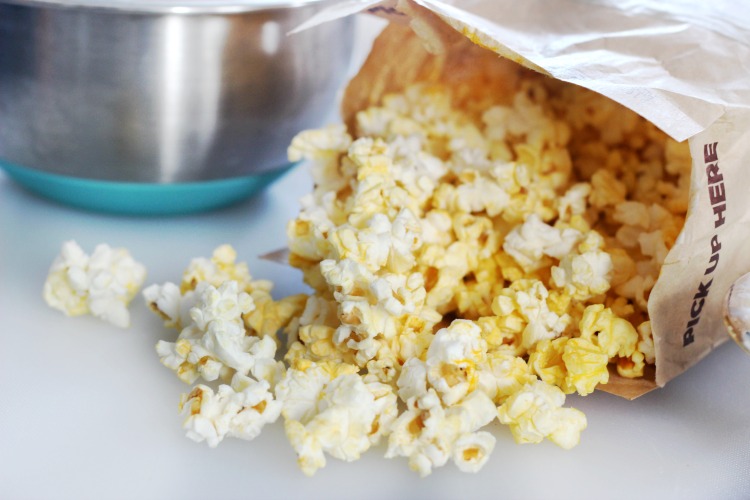 Step 1: Pop two bags of popcorn in the microwave. My favorite is the movie theater butter microwave popcorn. It gives the marshmallow caramel corn the perfect amount of salty to sweet ratio.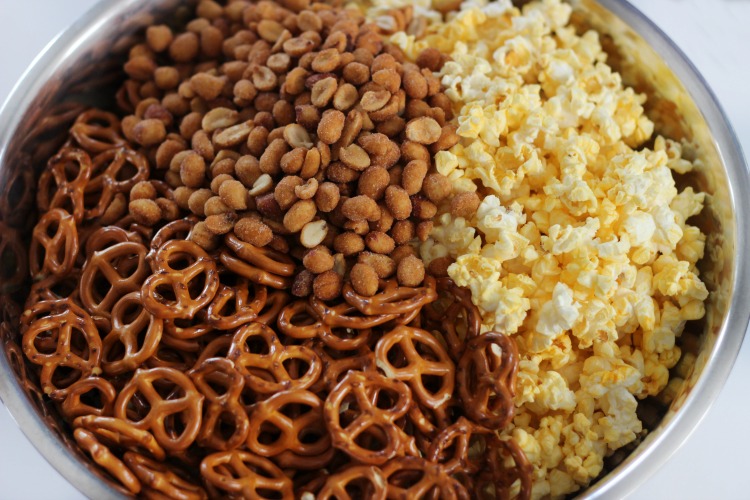 Mix popcorn, peanuts, and pretzels in a large bowl. (If you don't have a giant bowl, use two medium bowls)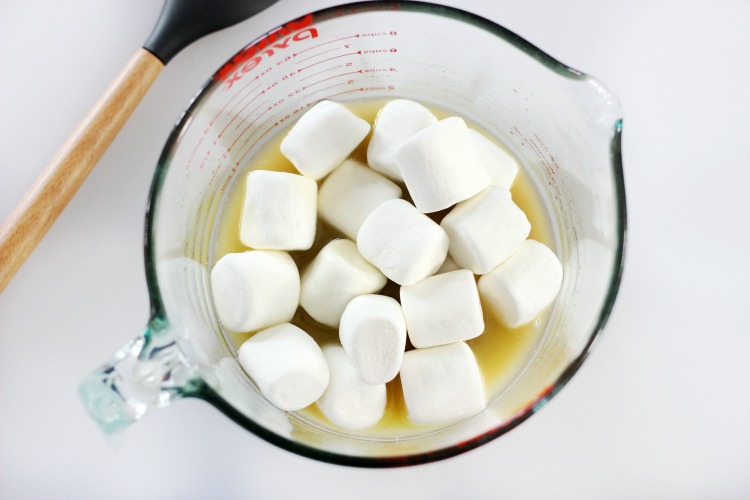 Step 2: Melt butter and sugar in a microwave safe bowl for 60 seconds. Stir.
Step 3: Add marshmallows and microwave in 30-second intervals for 90 seconds, stirring after each interval.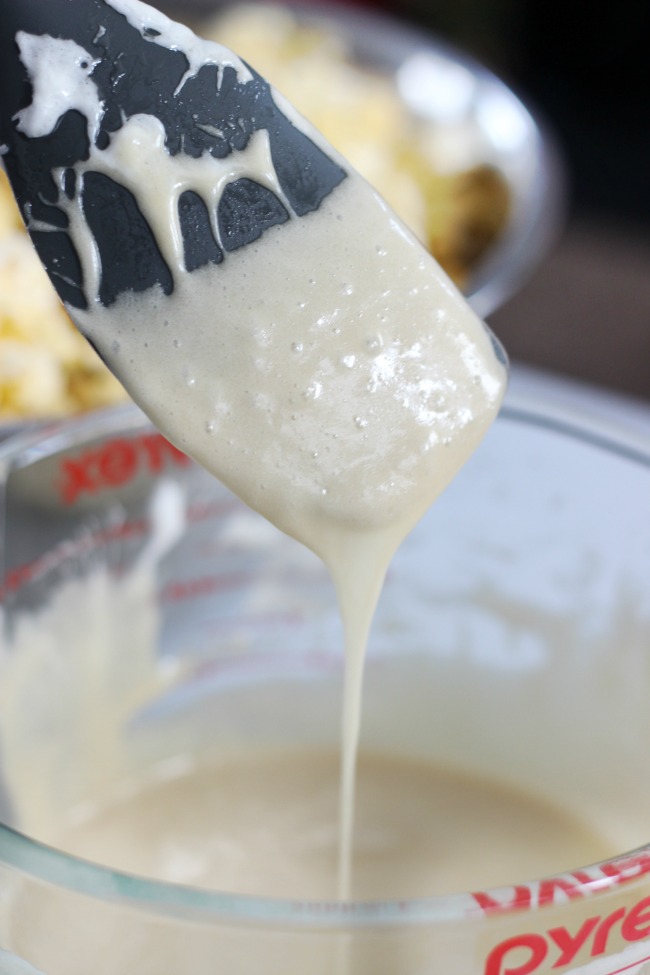 Step 4: Stir and pour over popcorn mixture. Mix thoroughly.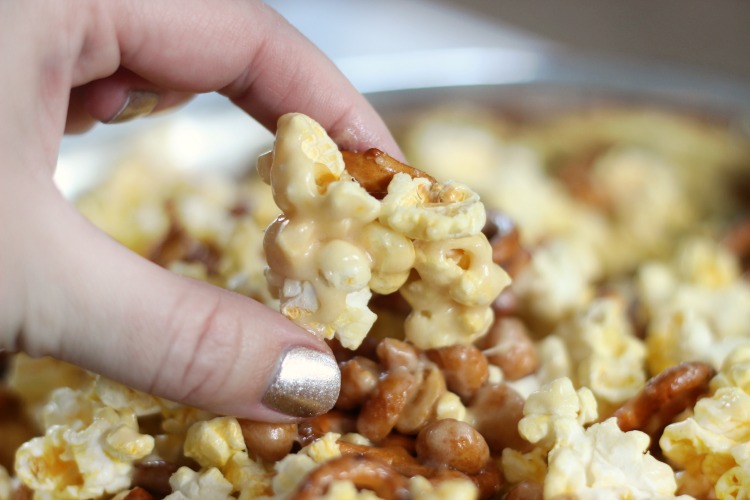 You can dig right in if you want the warm ooey-gooey popcorn, or wait about 10 minutes for it to slightly set up.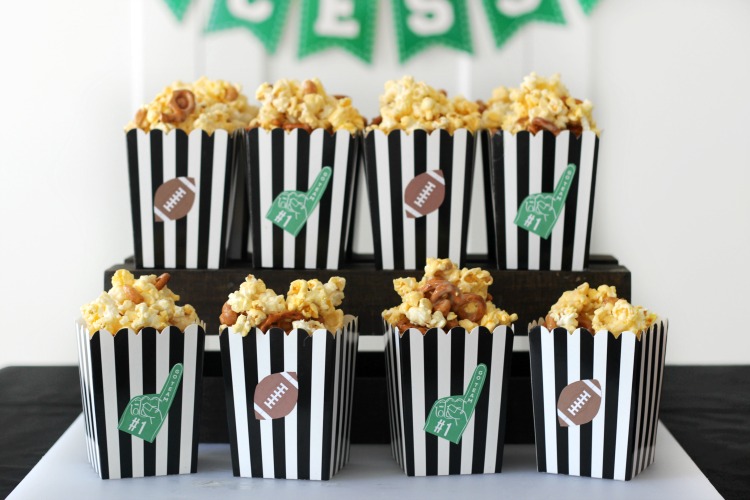 Mini popcorn boxes are perfect for individual servings. I glued little cutouts onto the front that I downloaded from Printable Crush.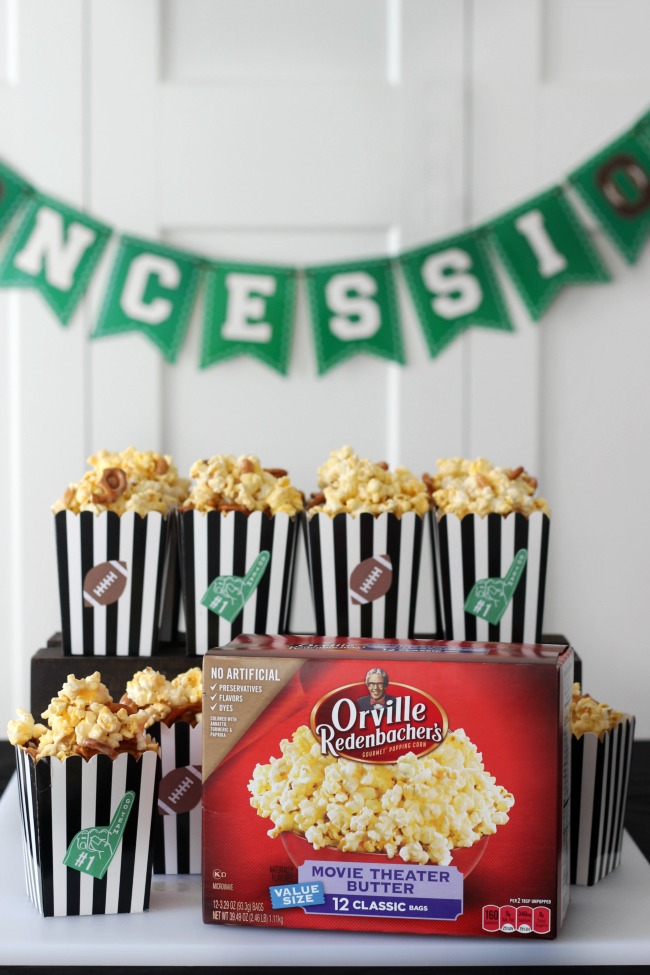 Orville Redenbacher's popcorn contains no artificial preservatives, flavors, or dyes and is the only leading brand who uses butter. In 1952, Orville Redenbacher hand selected a small group of family farmers to grow his exclusive kernel. Generations later, farmers continue to grow that same light and fluffy popcorn.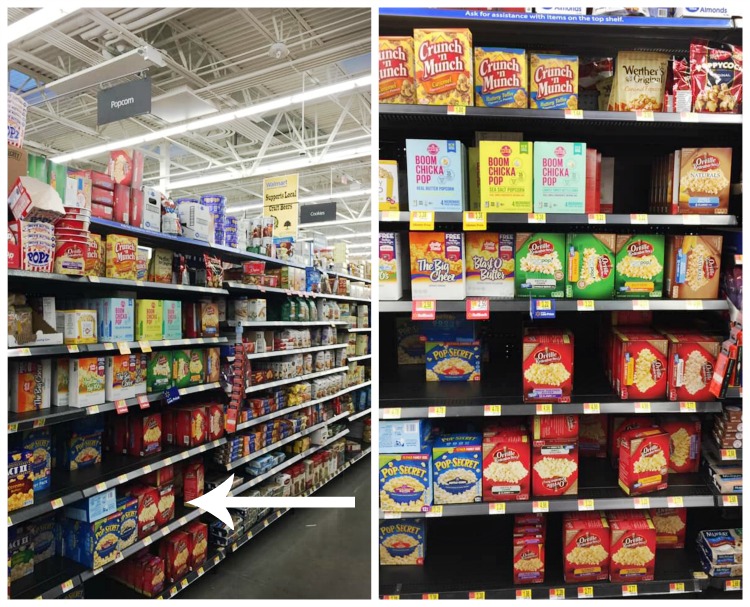 Walmart is a great one-stop-shop for snacks and popcorn. I picked up everything I needed for my marshmallow caramel corn munch in the snack and baking aisles!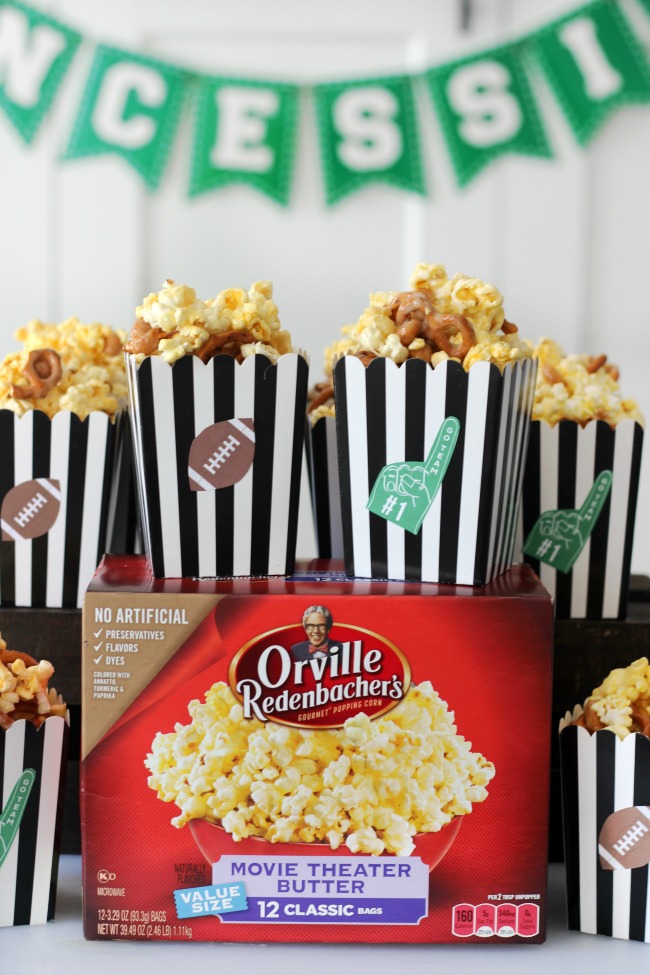 Find more game day snack inspiration here.