The ultimate list of creative gifts for kids. The creative kids gift guide includes over 35 sewing, textile, crafty food, science, craft, cooking and baking gifts! This post contains affiliate links.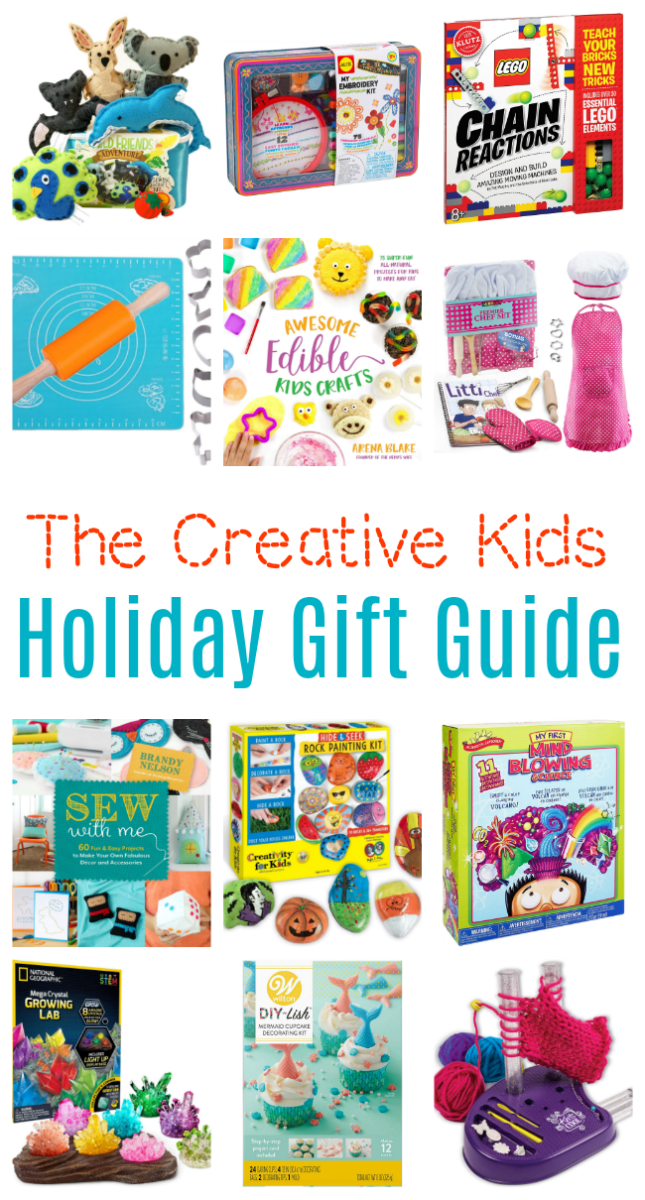 My kids have been huge fans of craft and science kits and we usually have a few under the tree come Christmas time. Here is a collection of 36 different creative gift ideas for kids. We own many of them (I've marked each one that we own with a *) so they are already mom and kid approved! From sewing to baking, and building to experimenting—we've got you covered.
Click on the links below to go directly to our reviews of the items or to go directly to the shopping sites!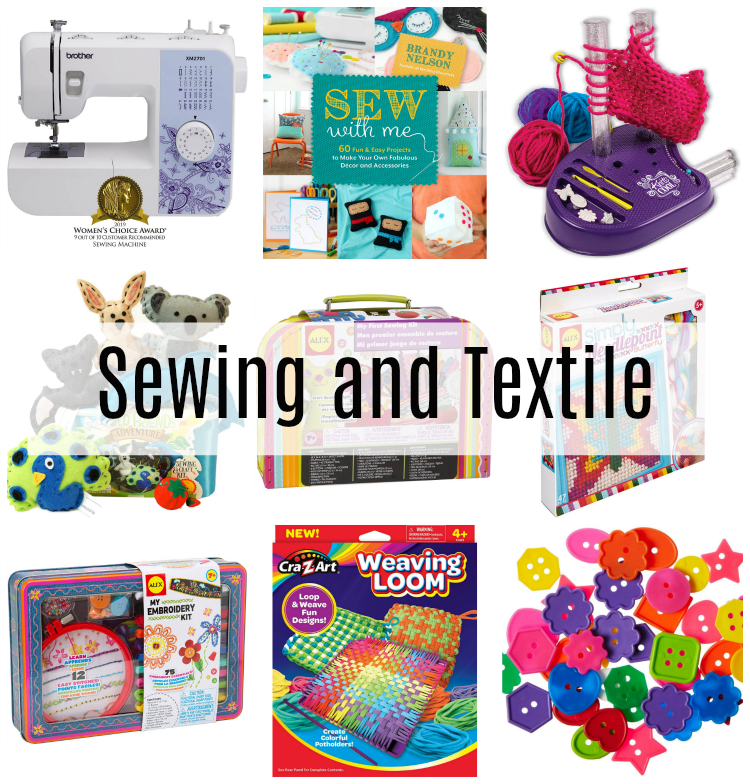 Creative Kids Gift Guide: Sewing and Textile Gifts
Brother Sewing Machine: We made the mistake of purchasing a super cute kids sewing machine when Kaylee was 8 years old. It lasted 3 months before breaking, and that was with minimal use. After talking with friends who did the same thing and had the same results, I decided to buy her a basic sewing machine that would last her quite awhile. This Brother Sewing Machine comes with everything that a beginner needs. It is easy to thread, easy to use, and has 27 built in stitches. I like that it isn't electronic, which may or may not be a bonus for you, but I think it keeps things simple this way.
Sew With Me Sewing Book for Kids*: If you've been here for a minute, you may recognize this as MY book. I wrote this book for my girls in mind. 60 sewing projects for kids in 3 different sewing levels. There is something for everyone! You can read all about this kids sewing book here.
Knits Cool Knitting Studio*: Kaylee has this kit and LOVES it. We picked one up before Christmas a few years ago and she made scarves for family and friends as gifts—they turned out so cute! You can check them out here.
Wild Animals Adventure Sewing Kit: these unique and adorable zoo animal designs will make your kids happy for days on end. DIY Stitch and Stuff element makes it possible for your little ones to sew their own animal crafts and bring their toys to life. Makes 5 animals.
My First Sewing Kit: This sewing kit is perfect for travel or for a rainy day activity. It comes with 28 felt shapes, embroidery floss, stuffing, fabric, ric rac, scissors, measuring tape, pins, needles, thimble, pin cushion, 6 buttons, pom pom strip and is the winner of Dr Toy's Best Classic Toys Award and Parents' Choice Approved Award.
Simple Needlepoint Kit for Kids: This easy needlepoint kit includes pre printed plastic canvas, plastic frame, 44 pieces of yarn, plastic needle and easy instructions.
My First Embroidery Kit: Learn 12 easy stitches in this cute kit that includes a colorful keepsake tin storage box. This kit is a Dr Toy 2013 Best Picks Parents' Choice Approved Award winner.
Weaving Loom*: My husband bought this kit to make hot pads with Aaron for his Christmas gift to me a few years ago. I still have those cute hot pads that they made and they work great. They are small, but completely functional!
Variety of Sewing Buttons: Every kid needs a box full of notions and accessories for sewing. This bag of buttons is perfect for so many sewing and craft projects. Add ribbon, trim, scissors, a needle, and a measuring tape for a simple sewing accessory kit for kids.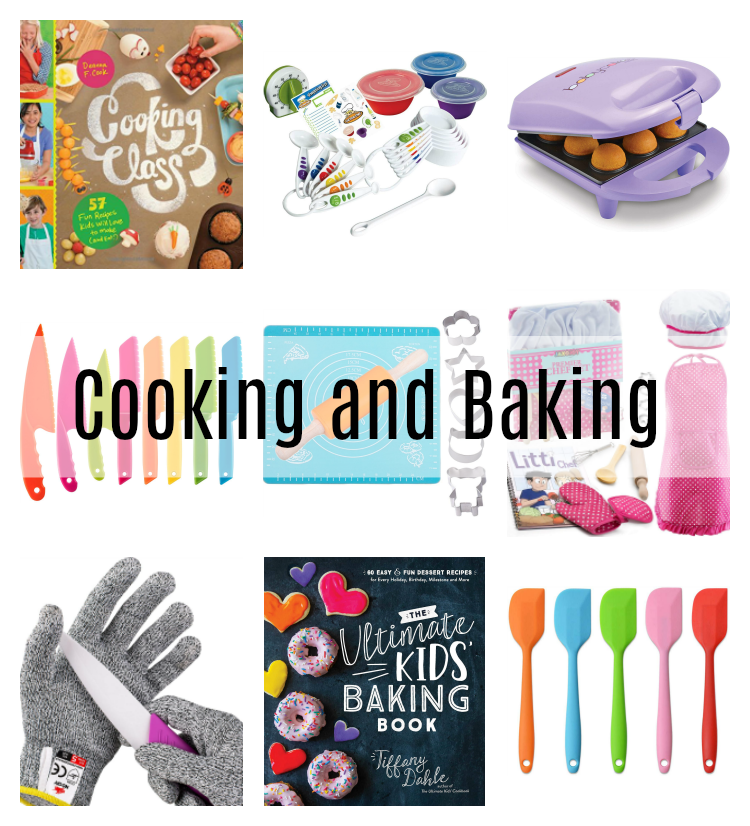 Creative Gift Guide for Kids: Cooking and Baking Gifts
Cooking Class Cookbook: The kids are taking over the kitchen! Deanna F. Cook presents more than 50 recipes designed for the cooking abilities and tastes of children ages 6 to 12. Basic cooking techniques are explained in kid-friendly language, and recipes include favorites like applesauce, French toast, popcorn chicken, pizza, and more.
Kids Cooking Measuring Tools Kit: Kit includes: 6 piece measuring spoons and cups set, large poly spoon, a timer, 3 piece prep bowl set, shopping list and stickers too. Appropriate for young gastronomic apprentices ages 5 and up and is dishwasher safe.
Cake Pop Maker or Donut Maker*: We have two donut makers in our home. One for each of the girls so that they can make them together. We also have this donut recipe book. They are so fun to use and easy for kids! I'm thinking that we may need the cake pop maker, too!
Kids Cooking Knife Set: 8 pc. set of kid safe knife made of high-quality nylon material, the jagged edges will not cut the skin and avoid the risk of finger cuts. This is a great choice for beginning young chefs and safe kitchens.
Kids Rolling Pin and Mat Set: This darling kit comes in a variety of color options and includes a rolling pin, 5 stainless steel cookie cutters and silicone mat.
Kids Apron, Mitt and Tool Set: The PREMIER CHEF SET includes everything you need for your little one to start their adventures in the kitchen.The apron and chef hat are adjustable with a neck and waist band to the apron and an elastic band to the chef hat, so it will have a perfect fit including a chef's hat, apron, mitts, wooden spoon, whisk and cookie cutters. If you'd rather make your own apron, check out our Little Baker's Apron Tutorial OR our Cookie Monster Toddler Apron Tutorial.
Kids Cutting Gloves: These are awesome and I have them on my Amazon shopping list for Christmas this year. A great way to transition from kids knives to adult knives with peace of mind.
Ultimate Kids Baking Book*: My girls and I love his book! So colorful with doable recipes to make together that are tasty too. 60 recipes! Read our review here and check out our Christmas coal cookies.
Kids Silicone Spatulas: These are so handy and the perfect size for kids.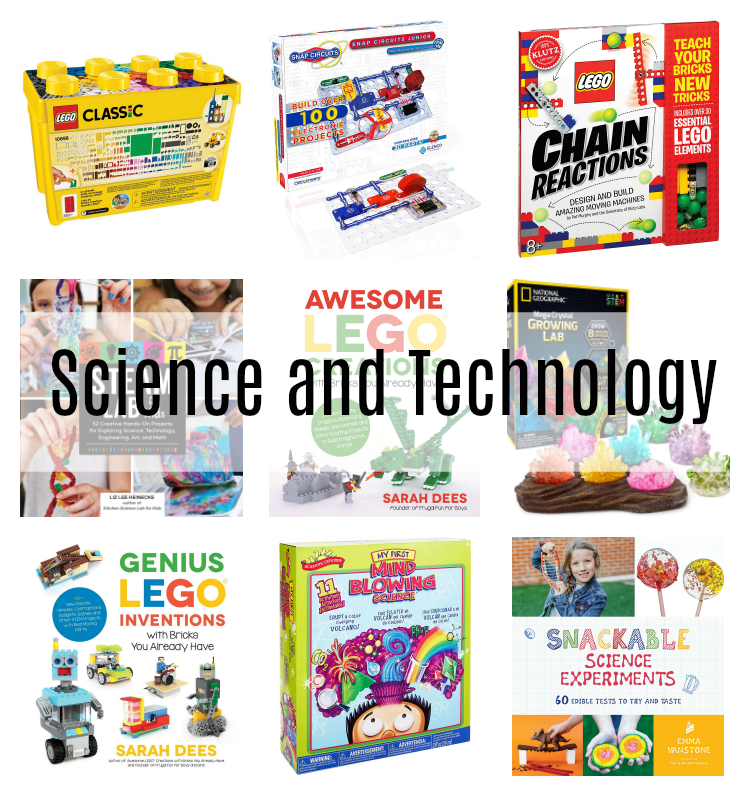 Creative Kids Gift Guide: Science and Technology Gifts
Check out these awesome science experiments for kids to make at home (no kit necessary!)
Classic LEGO Brick Set*: Every family needs a basic LEGO bricks set to build from. This one is awesome and is a great starter kit!
Snap Circuits*: We have a giant Snap Circuit set that we bought 6 years ago. The kids still like putting together the circuit fans, lights, radios and other projects!
Chain Reactions Lego Book and Connectors*: This set is a great addition to the classic LEGO brick set. Use the connectors to make chain reaction sequences! A great gift for creative kids who are into engineering and building.
STEAM Lab Book: 52 Creative Hands-On Projects for Exploring Science, Technology, Engineering, Art, and Math
Awesome Lego Creations Using Bricks You Already Have (Book): No need to buy special kits! This book shows you how to make awesome creations using the LEGOS that you already own!
Mega Crystal Growing Lab: If you've ever tried making rock candy you'll love this kit! Grow your own mega crystals from home!
Genius Lego Inventions with Bricks You Already Have (Book2): The sequel to the first LEGO creations book from above.
Mind Blowing Science Experiments*: We own this kit and have also purchased it for friends. It includes everything needed to make a sunset in a test tube as well as making a color-changing volcano, children will love learning fascinating facts about their natural world and this kit will keep them engrossed with interactive experiments.
Snackable Science Experiments*: Another fun book that we own! Check out the instant pot apple cider that we made in our kitchen and how we learned about the filtration process at the same time.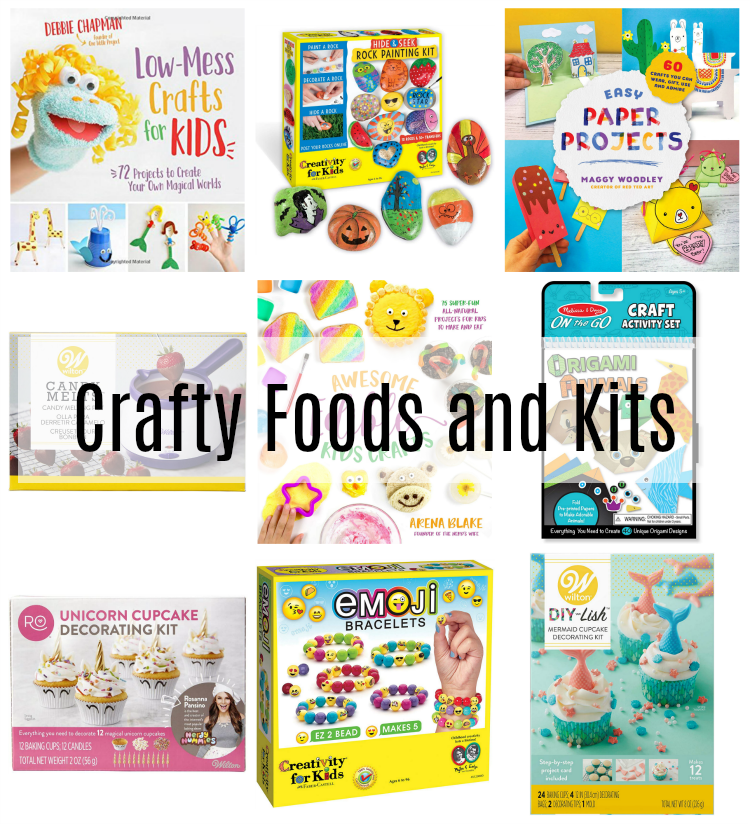 Creative Gift Guide for Kids: Crafty Foods and Kits
Low Mess Crafts for Kids Book: A darling kids craft book that includes 72 (yes SEVENTY TWO!) low mess crafts for kids to make on their own.
Creative Rock Painting Kit: My girls love painting rocks. This kit includes everything needed to decorate and hide 10 rocks. It even comes with fun transfers to put on the rocks to make decorating even easier.
Easy Paper Projects Book*: We own and love this book. We made easy paper gift bags inspired by one of the projects in this book!
Wilton Candy Melter*: I've owned one of these for years and it makes melting chocolate a snap for kids! Not too hot, not too cold—just the right temperature for dipping cake pops, cookies, pretzels and more edible crafts for kids.
Awesome Edible Kids Crafts Book*: HANDS DOWN, the most darling snack book for kids. So many doable projects that don't require fancy tools or ingredients. We made frozen penguin bananas using ingredients that we already had.
Origami Animals Kit: Aaron is a huge fan of origami and has learned how to make some pretty intricate animals! Here is a cute beginner's starting kit for ages 6+ and includes 40 pre-printed animal papers to make folding a breeze.
Unicorn Cupcake Decorating Kit: Unicorns are everywhere so why not have them in your kitchen too? This cute cupcake decorating kit is a great rainy day activity. If you love unicorns, check out the pigicorn cake that we made, haha!
Emoji Bracelet Kit*: My girls had a great time making these! Cute and super easy to assemble.
Wilton Mermaid Cupcake Decorating Kit*: We love the Wilton DIY Lish Kits. We used one over the summer to make these cute popsicle cupcakes and have also given them as gifts!