Over 25 gifts kids can make during for Christmas presents! Inexpensive, simple, and heartfelt. Which ones will you make first?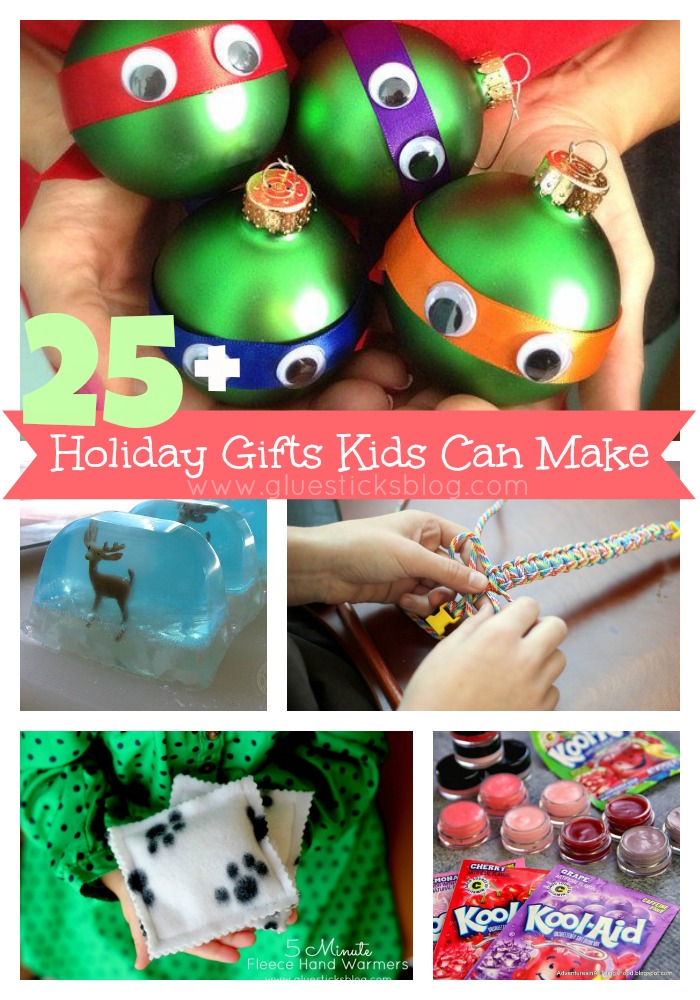 A couple of years ago we challenged the kids to make their own Christmas gifts. We didn't care if it was a coloring page, drawing, or a little craft that they came up with. The results were so fun! They were so excited Christmas morning to give their gifts to each other and didn't even care that Santa had brought them presents.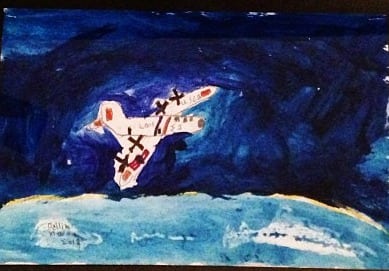 As soon as they finished exchanging their own gifts we showed them the ones Santa brought. Last year Dallin was especially excited about this watercolor painting he did of a Coast Guard C-130 for Derrick. We found an old frame and put it inside. I didn't cost him any money and was Derrick's favorite Christmas gift. Seeing them truly excited about "giving" more than "receiving" completely made our holiday season. I've compiled the gifts that they've done in the past, along with ideas that I've pinned for future reference. My favorite ideas for gifts kids can make from the web. I also put out some feelers to my Facebook readers for ideas on gifts kids can make and you guys had some awesome ideas too!
Reader Ideas:
Kirsty said, "My kids like to make photo collage cards. I print out a bunch of (lower quality) photos, they cut them up and stick them to the card and write greetings."
April said, "Pillowcases. Good for starter sewing projects. That's what my kids will be making each other this year! Oh! And coupon books! I'm going to make Micah put a "no whining" coupon in there for me to cash in!"
Rebecca said, "I used to always make Becca's Bucks! Lol in fact my dad hinted at wanting some for Christmas! Haha!! 
I plan to make blank greeting cards for friends. Kids could do that – just draw pictures or something?!?"
Here are 25 Homemade gifts for Kids to Make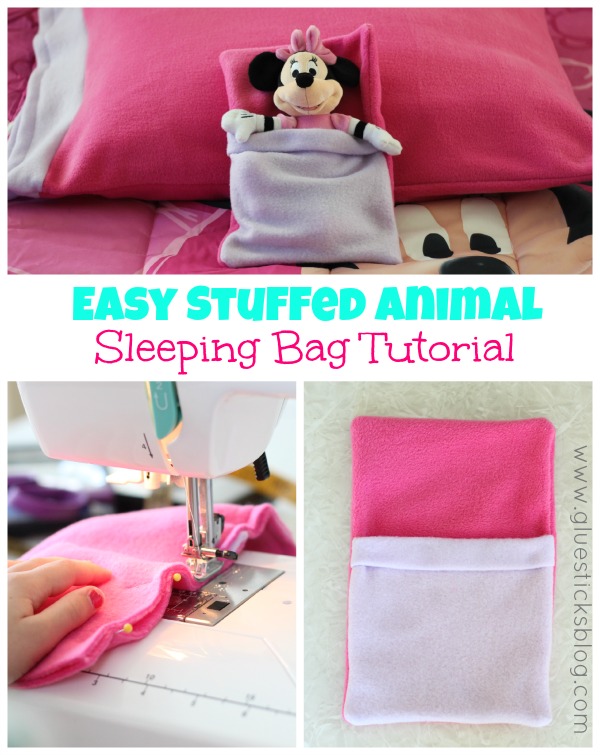 Does your child have a special Build a Beart, Cabbage Patch, or American Girl Doll? Does their friend have one too? These sleeping bags are made from fleece so they soft and simple to make. Great beginning sewing project!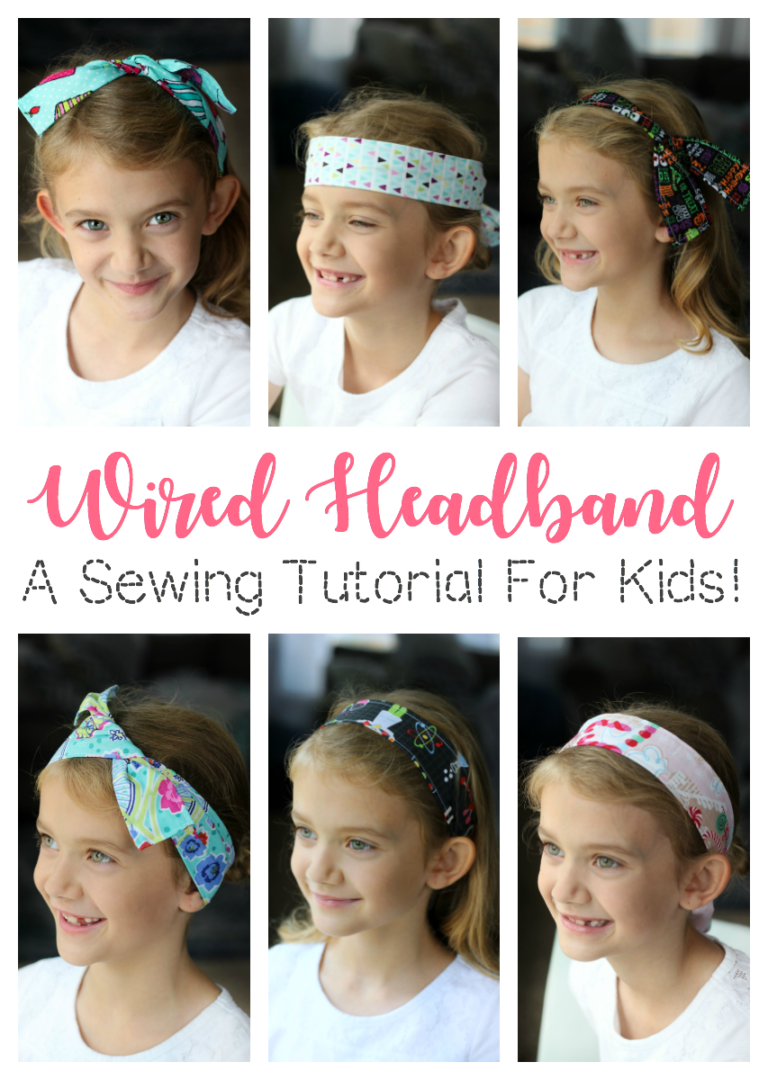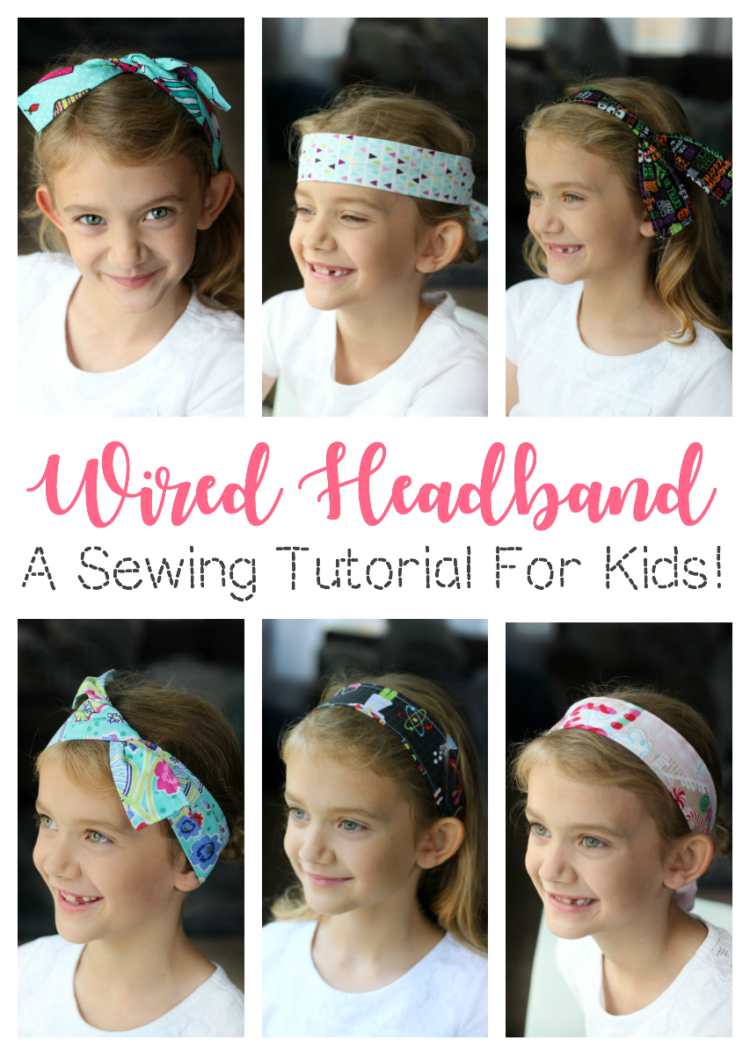 A quick and easy sewing tutorial for a cute wired headband. So many ways to style it! Make a few for friends!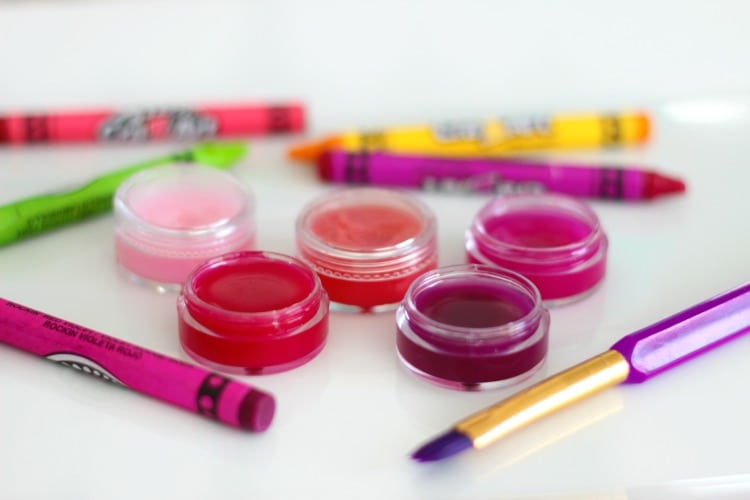 Did you know that you can color lip gloss with crayons? You can! Coconut oil and crayons melt together for a tinted gloss that is so easy to make in a rainbow of fun colors.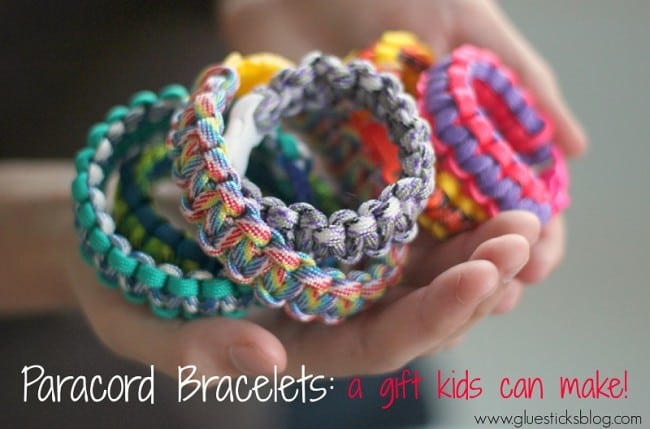 These were made by my 10 year old for his family and friends and he did a great job! A great project for boys!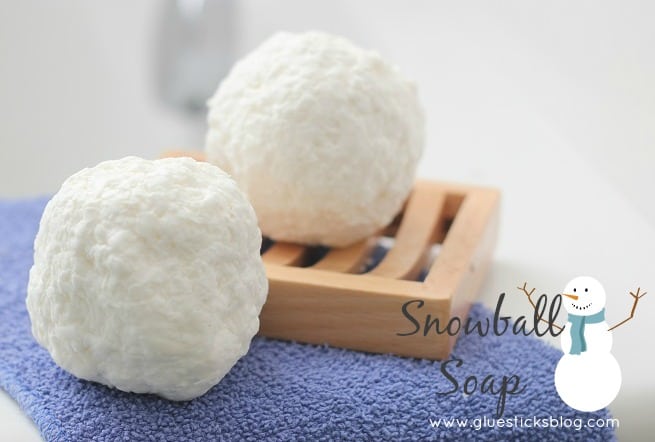 Grated Ivory soap packed around a small treasure. Fun to use in the bathtub and when it all wears off there is a little toy inside!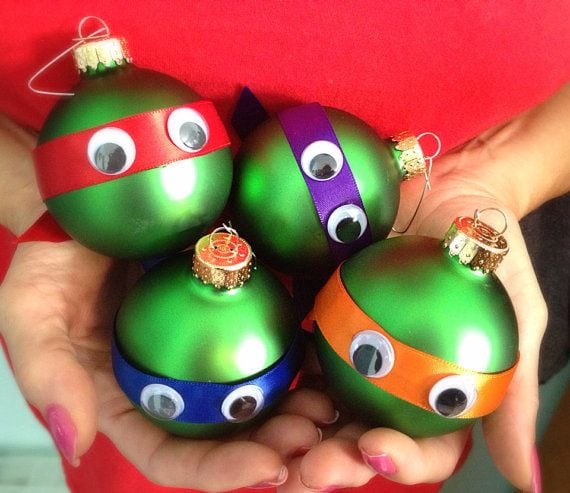 No tutorial here, just a link to an old etsy listing that was sold, but I think they are pretty self-explanatory. Ribbon, hot glue , nd google eyes. How fun!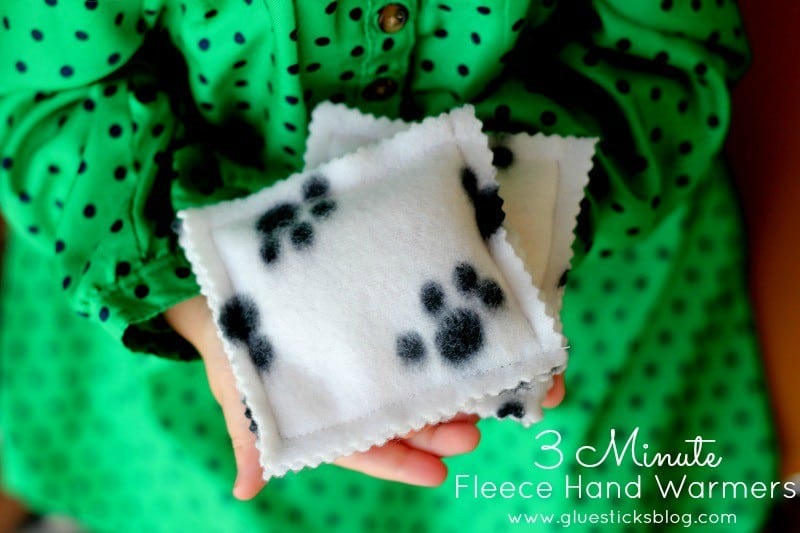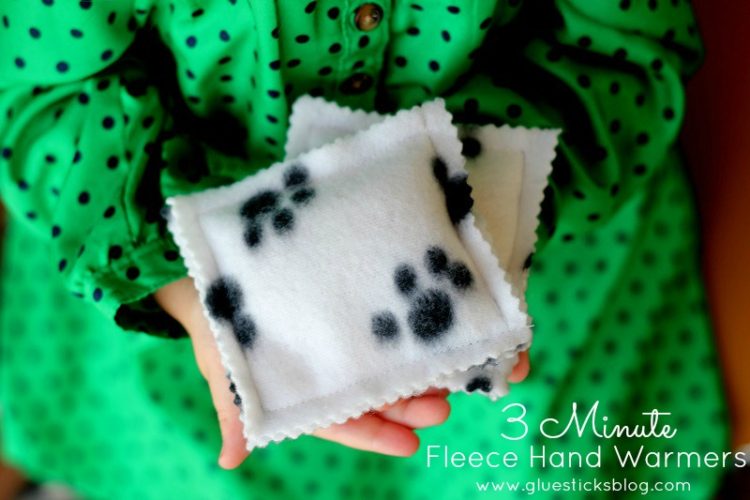 Fleece and rice. Warm in the microwave for the perfect little hand warmers for cold mornings!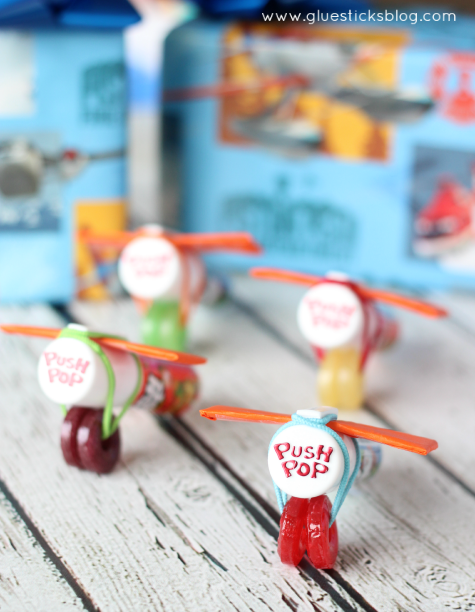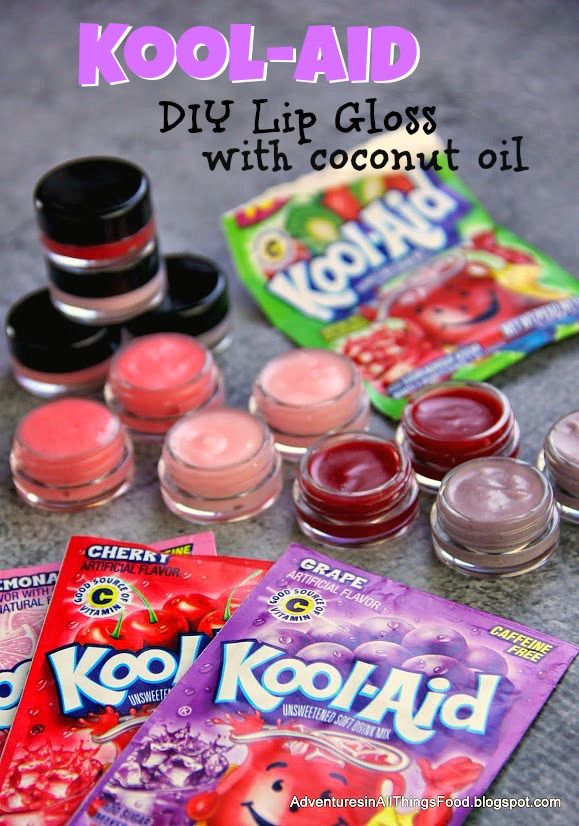 Kool Aid Lip Gloss Made with Coconut Oil : Adventures in All Things Food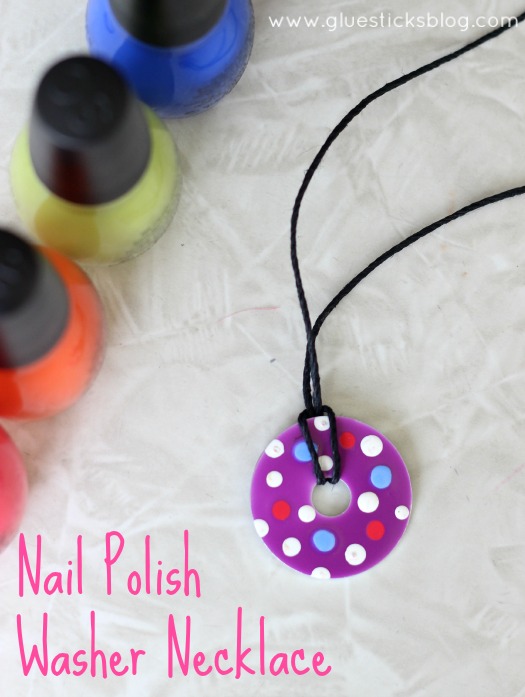 DIY Nail Polish Washer Necklace
Customize it in any flavor variety you'd like! My little girls would love these!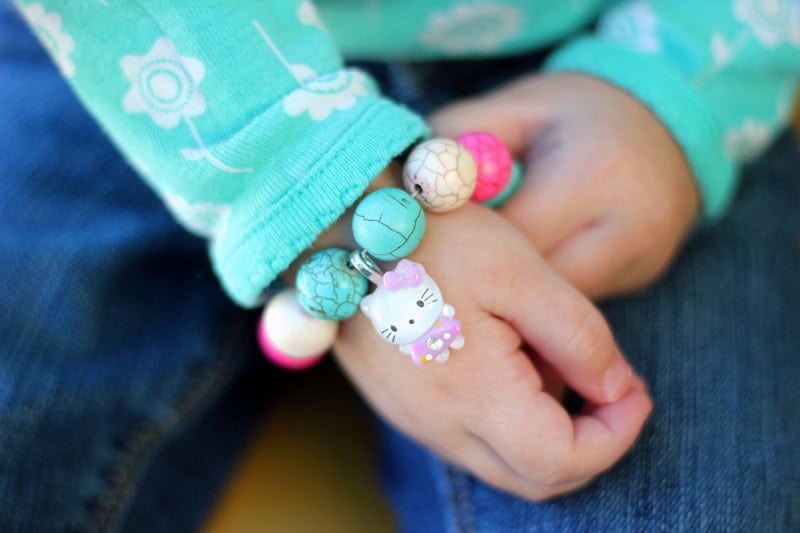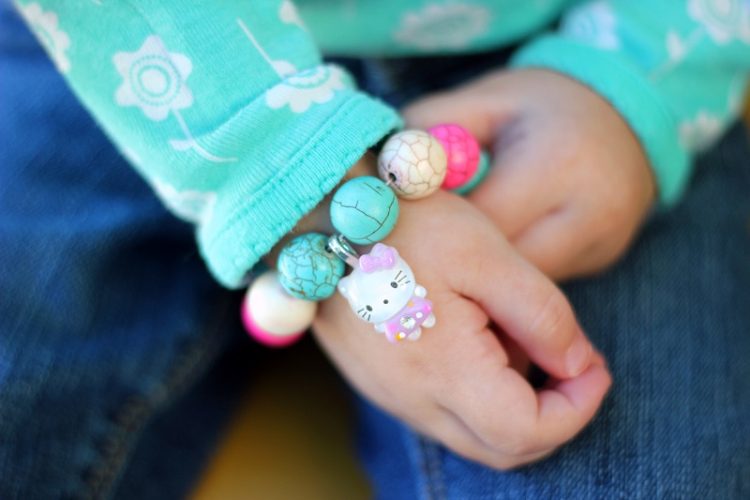 Darling charm bracelets, customize with a variety of charms and types of beads for a perfect gift.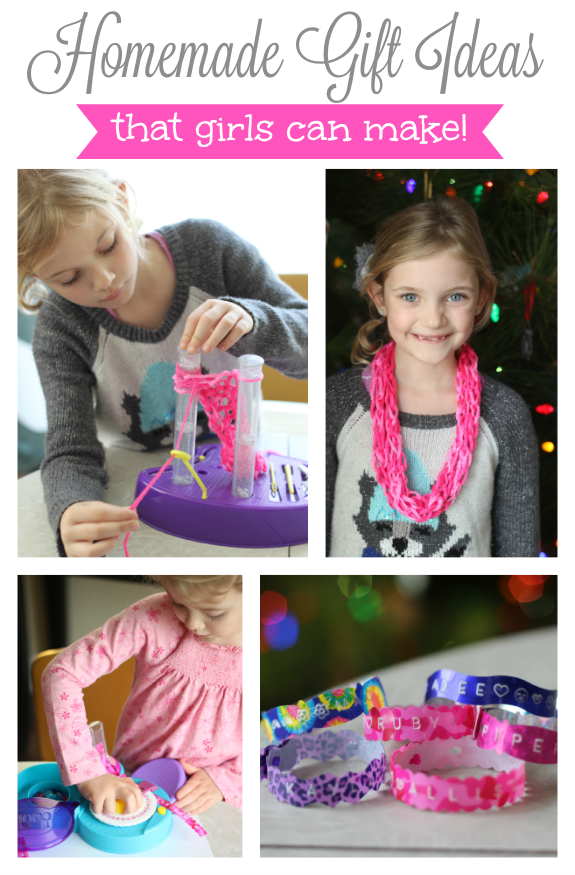 Gifts Girls Can Make: Text Bracelets and 1 Hour Infinity Scarves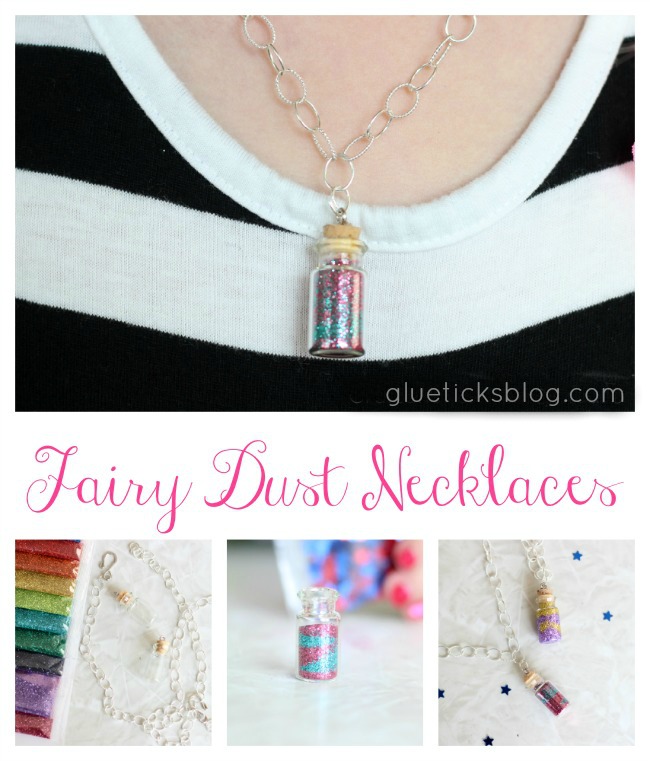 These are so fun! Have the kids help layer the ingredients for this cute Christmas gift. Package up with a cute mug for the perfect teacher's gift.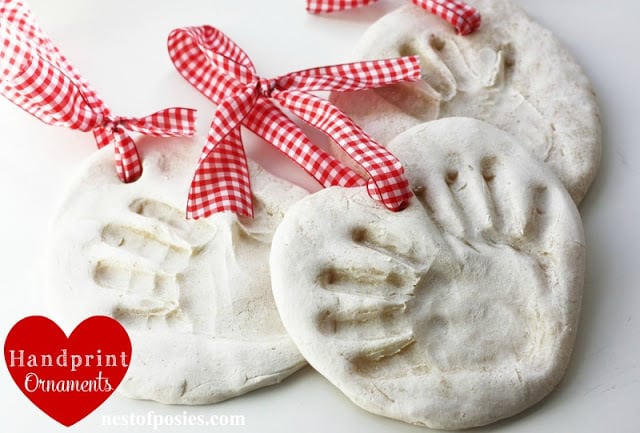 Salt Dough Ornaments from Nest of Posies
I love working with salt dough. Easy and inexpensive and great for so many projects.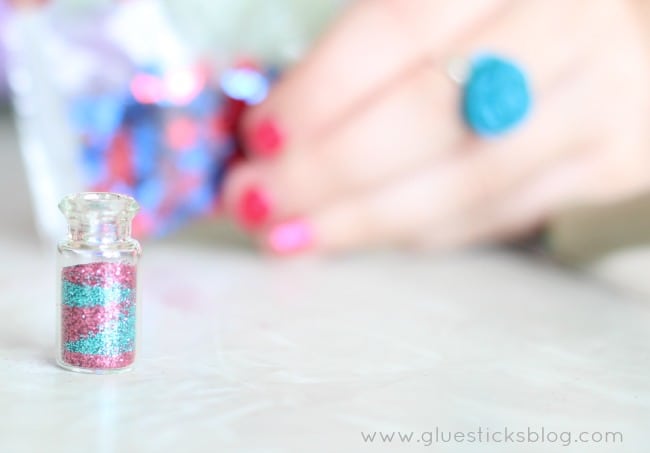 Who wouldn't like a little fairy dust pendant on a necklace? We glued ours closed to avoid any messes and the girls love taking a bit of magic with them wherever they go!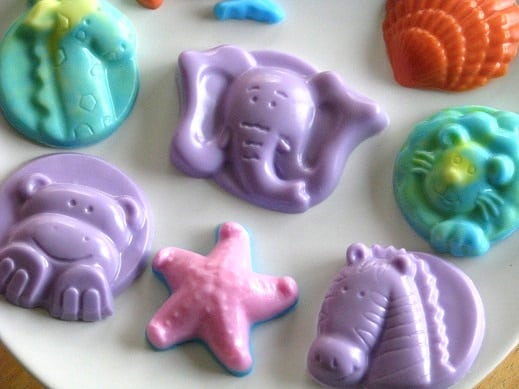 Easy as melt, scent, and pour! Kids will love "making" their own soap.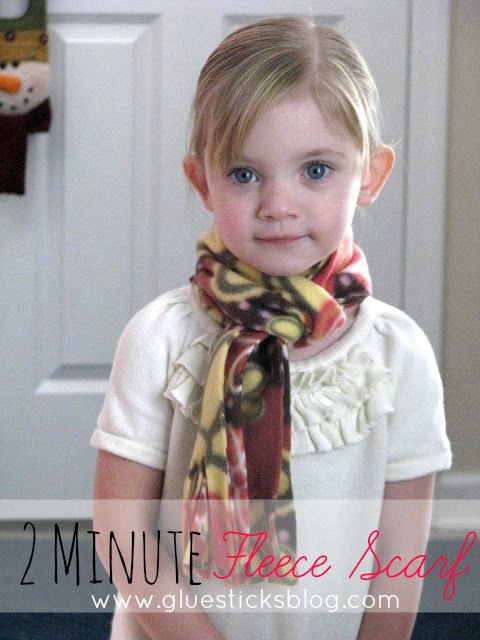 If you can use scissors you can make a fleece scarf!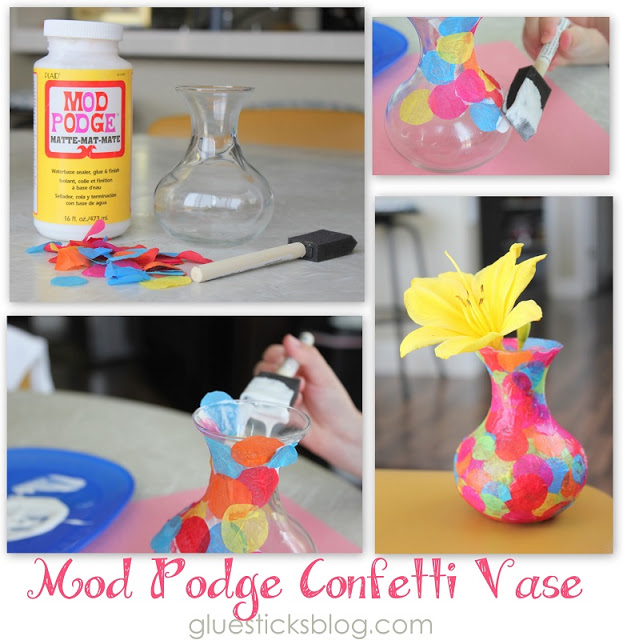 Fill with flowers for the perfect teacher's gift this holiday season. Red and green dots, perhaps? Cute!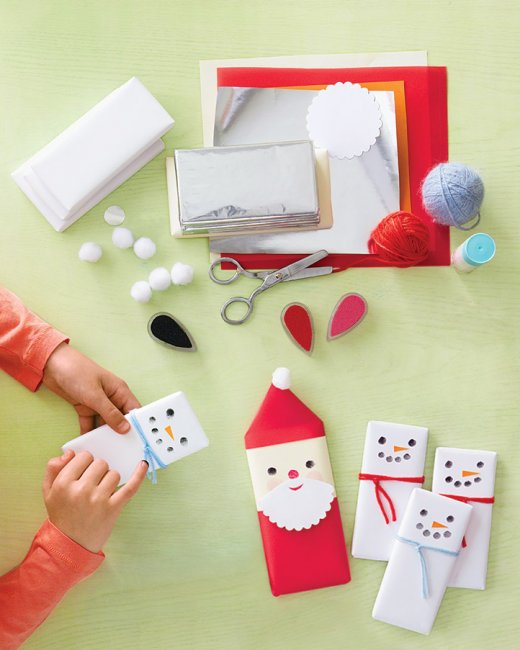 Santa and Snowmen Bars from Martha Stewart
Great for class parties or for kids to deliver to family and friends this year! What a fun little art project.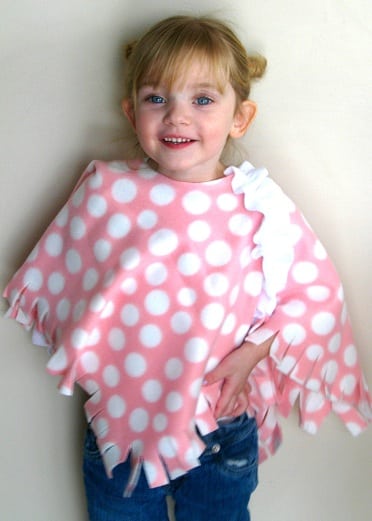 Little girls will love making these no-sew ponchos for each other. Size up to fit a big girl.
Decorated Candles from Red Ted Art.
How darling are these? A great present for a grandparent for sure.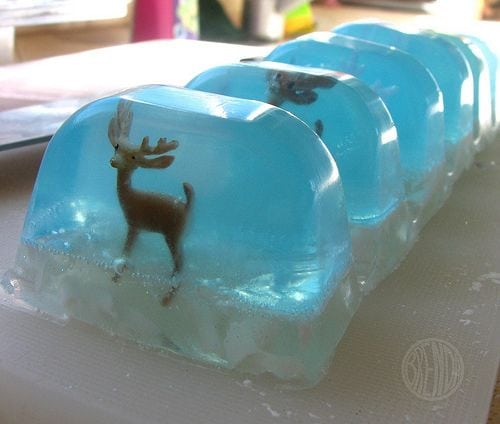 Snow Globe Soap from Alpha Mom
I just love these! Beautiful and festive. Not only would they be great for kids to pass out for Christmas, but they'd make great stocking stuffers too!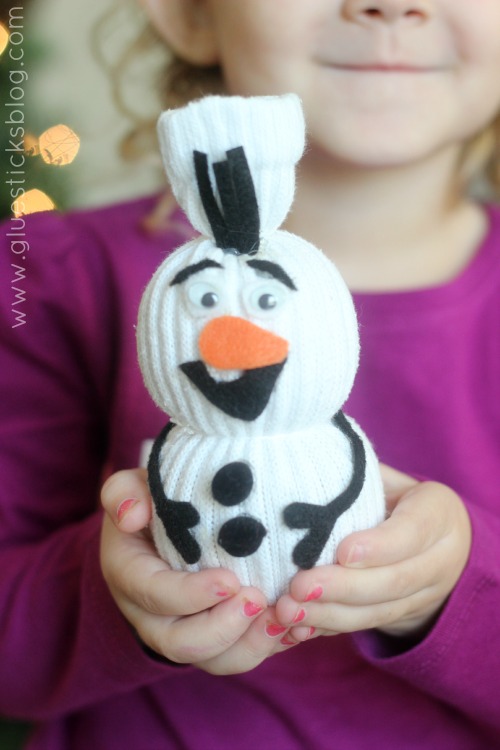 A sock snowman is fun to make and fun to give! Such a fun little winter decoration.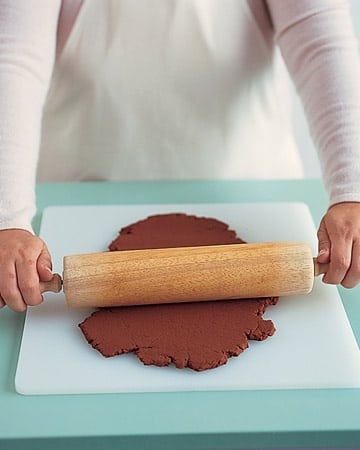 Cinnamon Ornaments from Martha Stewart
We love making these. They smell so good and last forever!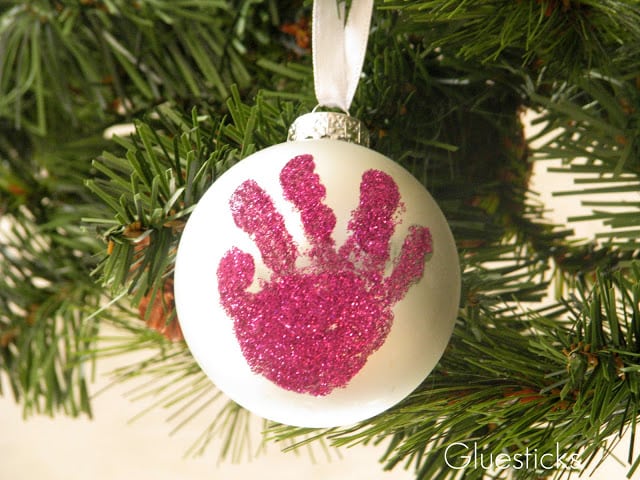 Handprint crafts are always treasured. Add a date for a keepsake ornament to remember every year.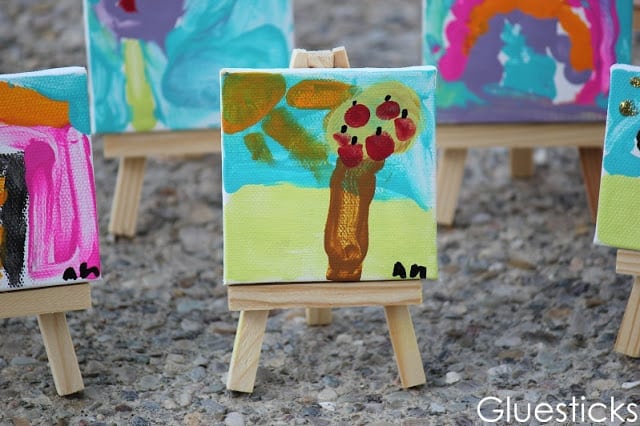 These were made without paint brushes. Just fingers! The kids loved making them. Package up with a little easel for a darling masterpiece or add a magnet on the back!