A collection of 24 of the BEST Christmas cookie recipes for holiday treat platters! Hot cocoa cookies, shortbread, gingerbread, sugar cookies, and more! You'll love this variety of Christmas cookie recipes to add to cookie boxes, holiday plates, and treat bags!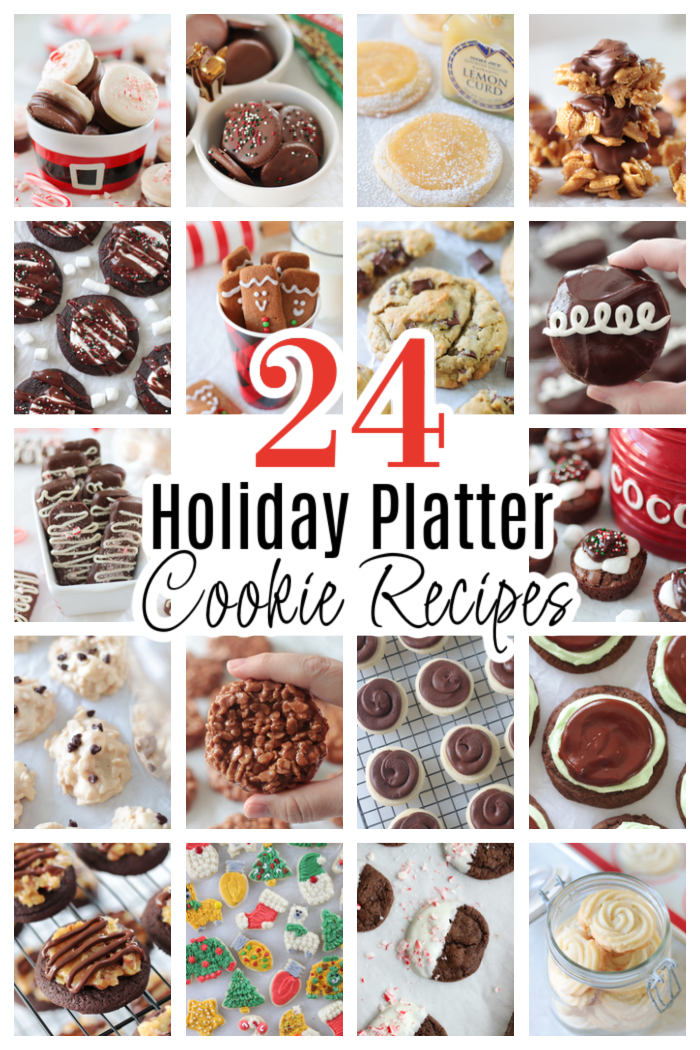 It's no secret that COOKIES are my jam. I love coming up with my own versions of classic recipes. I also have quite a few out-of-the-box ideas. Have you ever had a Hostess cupcake cookie? They're insane.
24 Christmas Cookie Recipes for Holiday Cookie Boxes and Platters
If you're looking for mint cookies, I've got those. Chocolate? Of course. Sugar cookies? My bakery-style sugar cookies have rave reviews. Looking for something a little different? Try our Chex scotcheroos! As an added bonus EVERY RECIPE includes a step-by-step video for the best visual learning experience.
Tips for Freezing Holiday Cookies
Many like baking cookies ahead of time and freezing them until ready to use. Most of my recipes include tips for storing the cookies, but I found a guide on freezing cookies and bars that I thought you might find helpful as well.
Without further adieu, here are my favorite Christmas cookie recipes to make during the holidays! I've compiled 24. You don't need to try them all, but I won't judge you if you do!  If you need ideas on how to creatively package up holiday treats, check out this post!
Tip: Hover over the title of each recipe for the recipe link.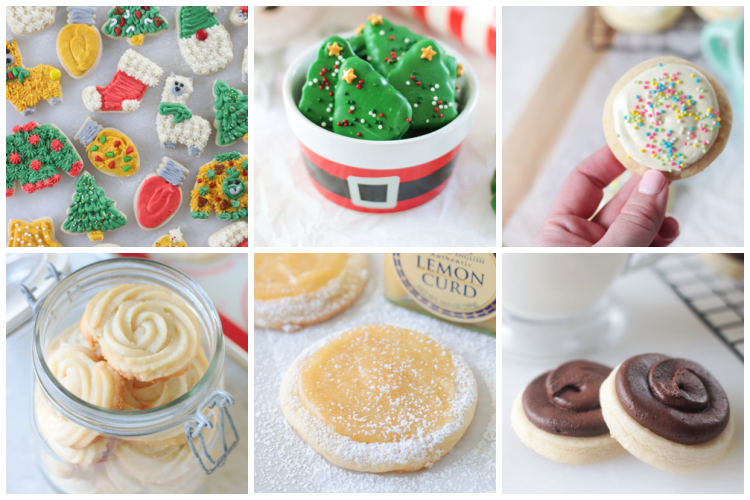 Shortbread and Sugar Christmas Cookie Recipes
Bakery Style Sugar Cookie Recipe that rivals those of any bakery. Soft, cooked through, melt in your mouth buttery. No refrigeration necessary for dough. The reviews don't lie—this is the best sugar cookie recipe! I also have a post showing how to decorate sugar cookies for Christmas.
Buttery shortbread cookies dipped in melting chocolate and decorated with sprinkles. These shortbread Christmas tree cookies are so fun and festive!
These soft sugar cookies melt in your mouth, and are even better with marshmallow creme frosting! No chilling or rolling required.
Who else loves the butter Danish cookies that come in a tin during the holidays? Make your own with a few simple ingredients! Our danish butter cookies are so buttery and delicious.
These lemon bar cookies are made with a buttery cookie base, lemon curd, and sprinkled with powdered sugar. The ultimate lemon cookie loaded with lemon flavor!
If you love Keebler fudge cookies, but wish that they made a softer version, you're in luck. These frosted fudge shortbread cookies are delicious, ridiculously soft and melt in your mouth good.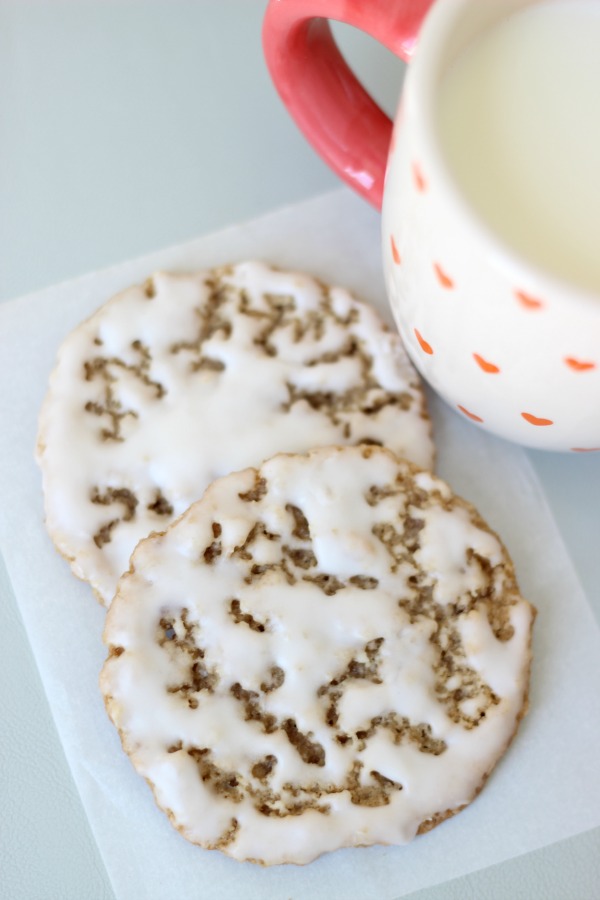 Oatmeal Cookie Recipes
Old-fashioned iced oatmeal cookies are the perfect after-school treat with a glass of milk. Use our iced oatmeal cookies recipe to create crispy and chewy cookies that are dipped in creamy vanilla icing.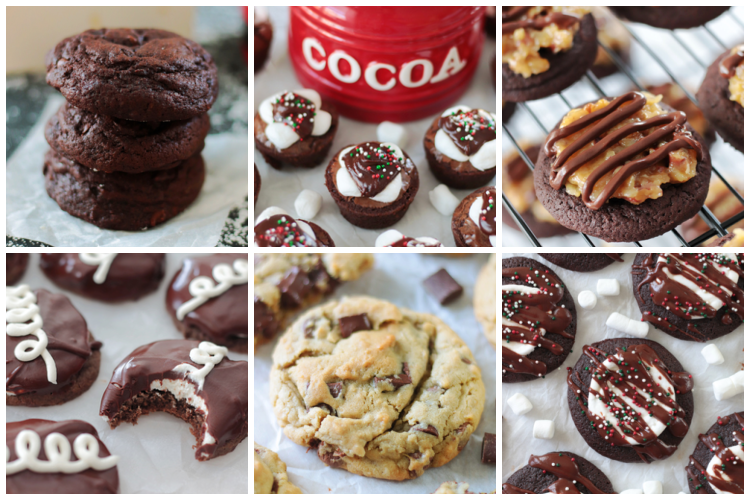 Chocolate Cookie Recipes
Bake up a batch of North Pole double chocolate coal cookies and add a printable cookie label for the most festive Christmas cookies around!
Hot cocoa brownie bites are chocolatey, rich, full of marshmallows, and delicious. Just like a cup of hot cocoa. You'll love these decadent brownie bites!
If you like German Chocolate cake you'll love our German Chocolate cookies with homemade coconut pecan frosting. Drizzled in melted chocolate they are a decadent treat!
If you like Hostess cupcakes you'll love our cookie version! A soft and chewy chocolate cookie topped with marshmallow buttercream then dipped in a chocolate glaze. Inspired by everyone's favorite cupcake. YUM!
These copycat Chick-fil-a chocolate chunk cookies are the real deal. Large cookies that are thick, loaded with chocolate chunks, milk chocolate chips, and oats. Serve warm with a glass of cold milk!
Hot cocoa cookies are chocolatey, rich, full of marshmallows, and delicious. Just like a cup of decadent hot cocoa.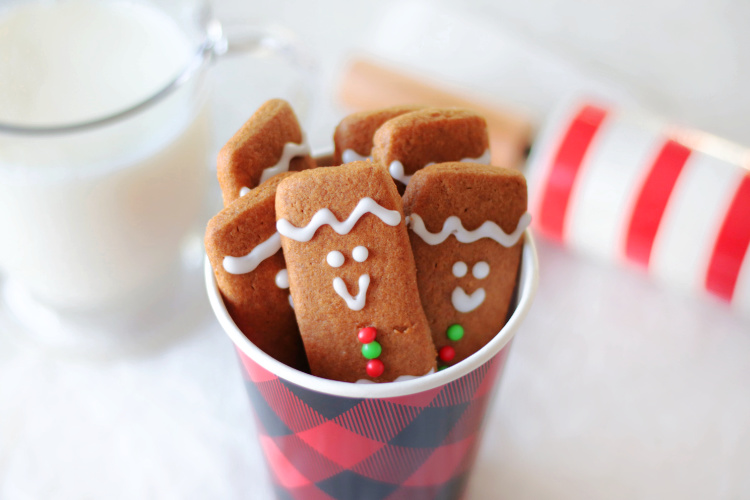 Gingerbread Cookie Recipes
Gingerbread cookie sticks are fun and easy to make! The perfect addition to holiday treat platters. You can use a cookie mix or homemade gingerbread cookie dough! If you choose to make your own my gingerbread cookie recipe only requires 15 minutes of refrigeration.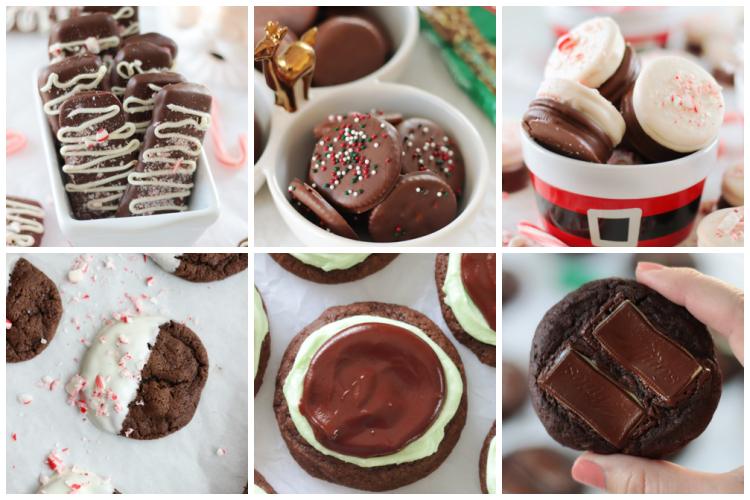 Mint Cookie Recipes
Peppermint bark shortbread cookies are the perfect Christmas cookie. Crispy shortbread cookies dipped in delicious peppermint chocolate then sprinkled with crushed candy canes. They are as delicious as they are beautiful!
2-ingredient homemade thin mints! So quick and easy. Taste just like grasshopper or thin mint cookies and are made with Ritz crackers!
Classic Oreos + Golden Oreos covered in peppermint chocolate. Is there a better combination? We don't think so! You'll love our stacked peppermint bark Oreos.
Chocolate peppermint cookies: chocolate cookies with chocolate chunks, white chocolate, and peppermint. The perfect combination for the perfect holiday cookie.
Rich, decadent, and loaded with mint and chocolate flavor. You'll love our grasshopper chocolate mint cookies! A soft, chewy chocolate cookie topped with mint buttercream and chocolate glaze.
Dark chocolate cookies, mini chocolate chips, and decadent Andes mints. These double chocolate Andes mint cookies are heavenly!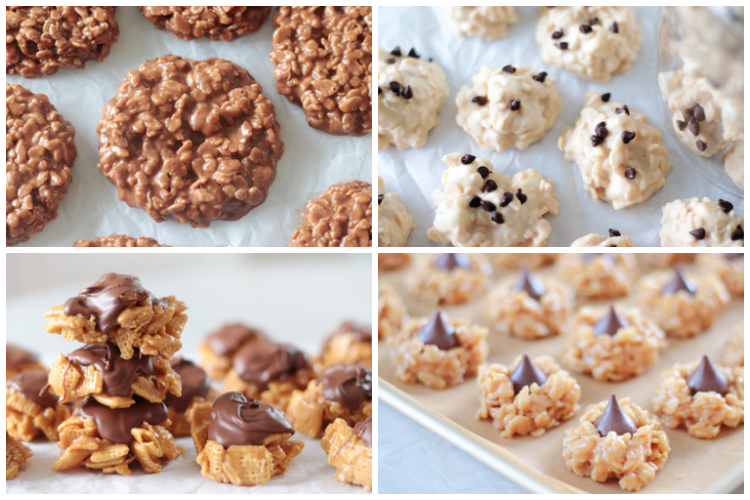 No Bake Cookie Recipes
This is the easiest copycat star crunch cookies recipe! Combine melted chocolate, caramel, butter, marshmallows, and Rice Krispies cereal into the most delicious no-bake cookies! Soft, chewy, and tastes like the real childhood treat from Little Debbie!
White chocolate, peanut butter, rice krispies cereal, and mini marshmallows. Combine them all together to create avalanche cookies! Melt in your mouth, no-bake cookies that are rich and delicious!
If you like Scotcheroos made with crispy rice cereal, you'll LOVE our corn Chex version! They might even be a little better! A great variation on the classic treat.
These no-bake peanut butter blossoms start with a peanut butter Rice Krispies base, similar to scotcheroos, and are topped with a Hershey's kiss! A fun twist on a classic treat.
Welcome! I'm Brandy, mother to 5 darling kiddos and a cute black lab named Toby. My husband is in the Coast Guard so we've lived all over the place, turning each house into a home. I love baking, sewing, making cute things with my kids, and sharing what I've learned with all of you!