A collection of EASY Halloween classroom treats. Sweet treats, healthy treats, and drink ideas. Simple pre and easy to make in batches! Perfect for school parties and Halloween fun!

Goodness, I love Halloween! The cute costumes, parties, decor and TREATS! Here are 31 Halloween classroom treats; some sugary and some healthy!  We all know that simple is best, especially when making food for a crowd. Each of these party treat ideas is assembly line friendly!
Easy Halloween Classroom Treats: Sweet Treats & Desserts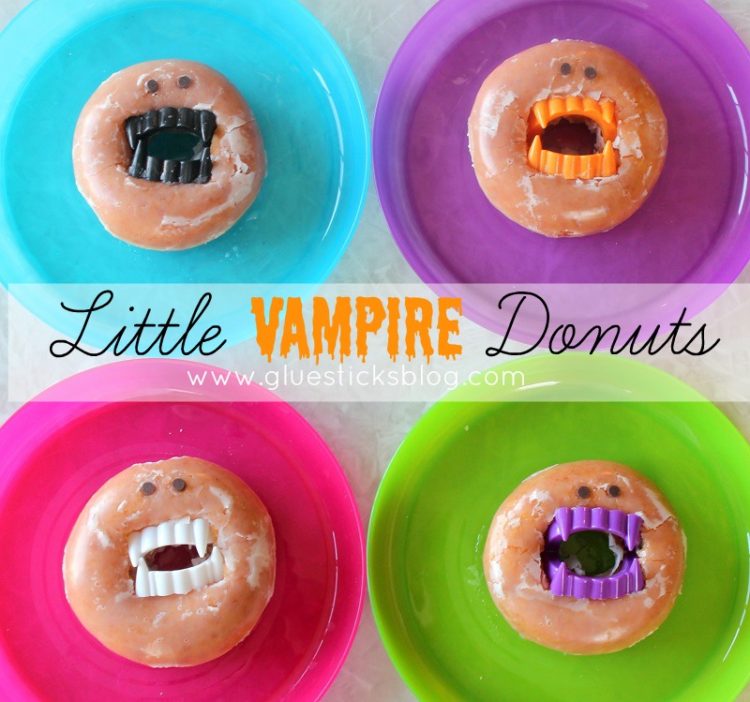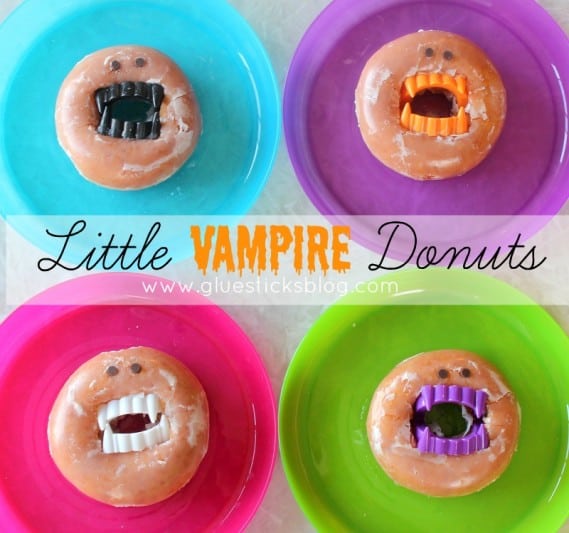 Are you ready to make the SILLIEST not-so-spooky halloween classroom treats this year? Stop by Krispy Kreme, grab 2 dozen glazed donuts and you're on your way! These are so easy to make and are always a hit.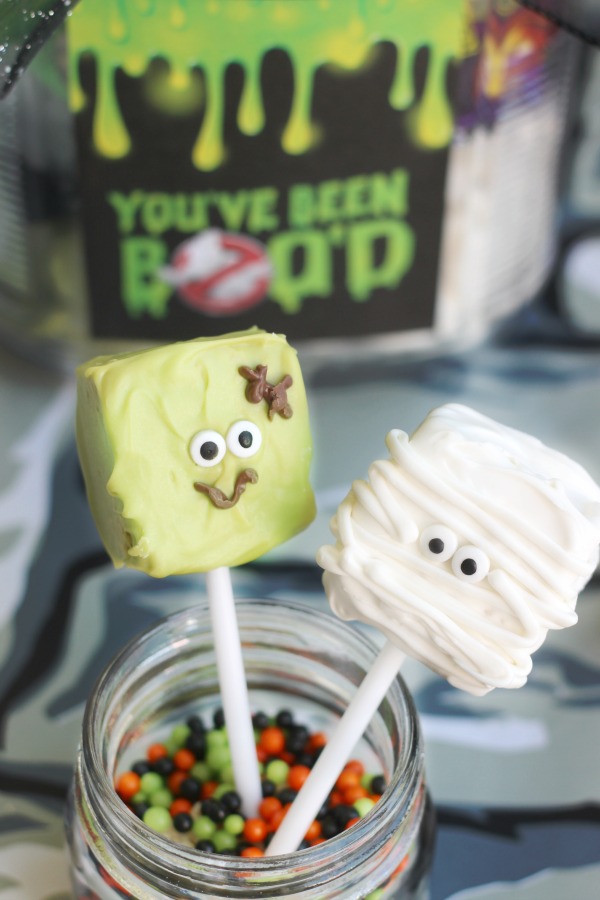 Mini Rice Krispies (pre-packaged) treats are dipped in melted chocolate and adorned with cute candy eyes and other details to create these halloween pops!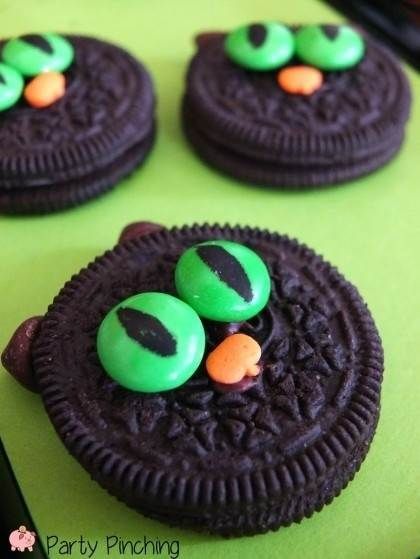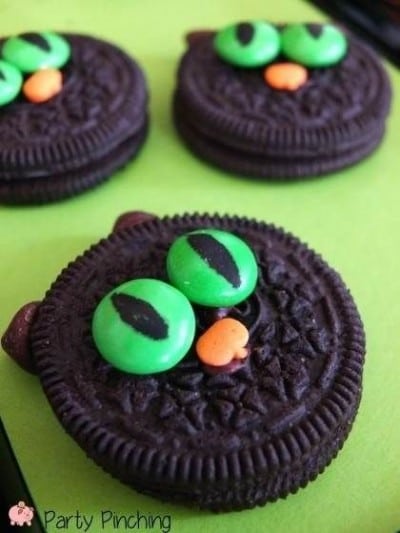 Cat Cookies from Party Pinching
I think these are one of my favorite ideas! So simple and cute! Who doesn't love Oreo cookies and M&Ms.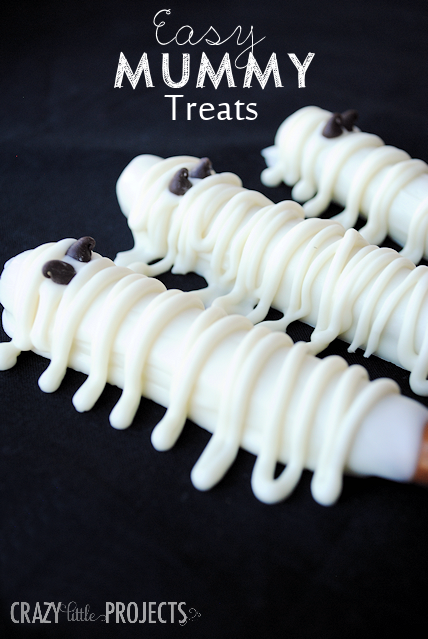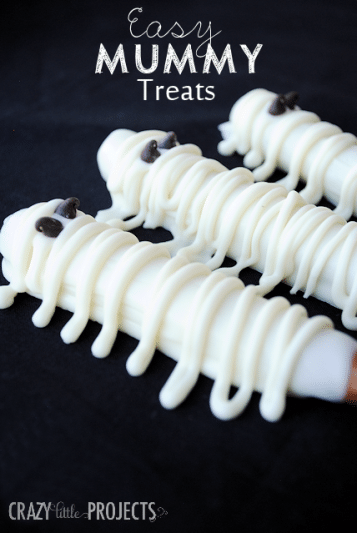 Easy Mummy Treats from Crazy Little Projects
Chocolate covered pretzels are so fun to decorate for holidays. I've never thought about making Halloween ones!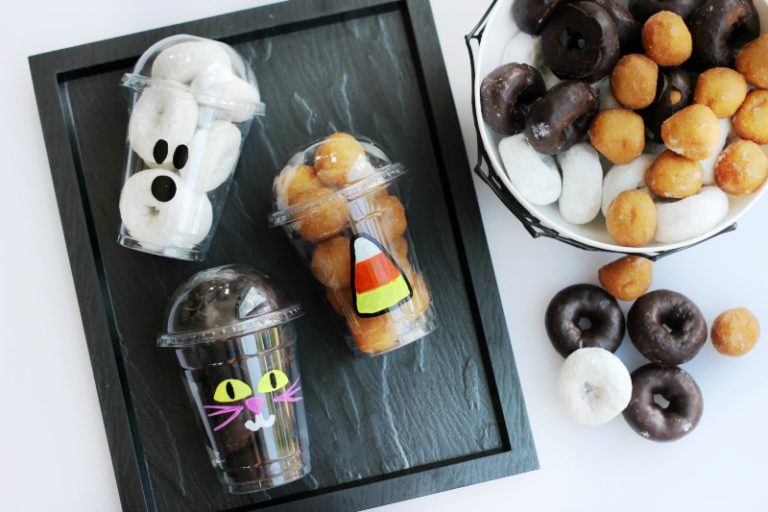 How cute are these? Sharpie paint pens and disposable cups combine to create cute and spooky treat containers. Mini donuts fit perfectly inside.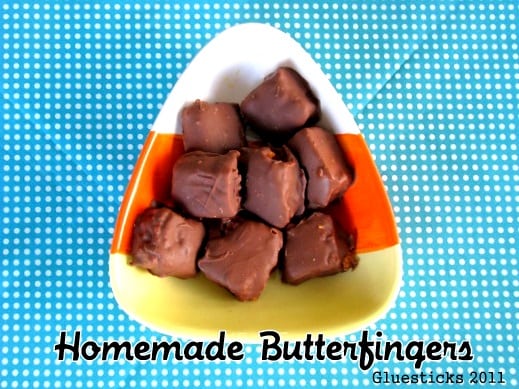 Did you know that you can make mock butterfingers using candy corn and peanut butter? Don't forget to dip them in chocolate! A great excuse to grab ONE more bag of candy corn on sale before and after Halloween!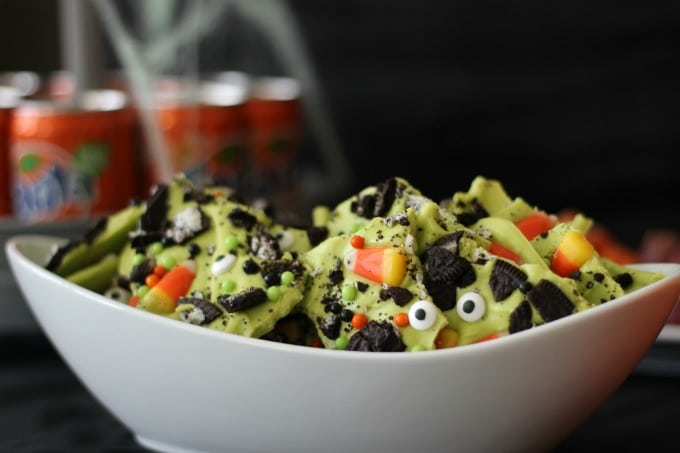 Good ol' fashioned Halloween bark. So easy to customize with whatever sprinkles you have on hand. Add candy corn and eyes to make it extra festive!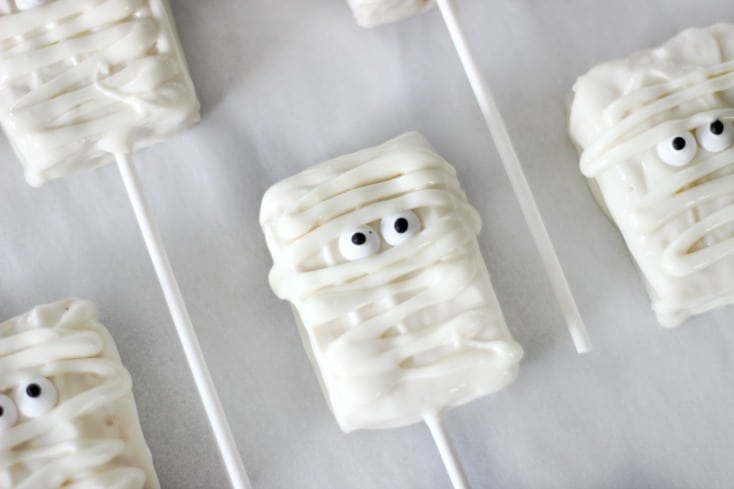 f cake pops intimidate you, don't fret! Rice Krispies pops are SO much quicker and easier and you can customize them a million ways. These mummy pops take about 10 minutes to make start to finish and are perfect for packaging up in Halloween treat bags!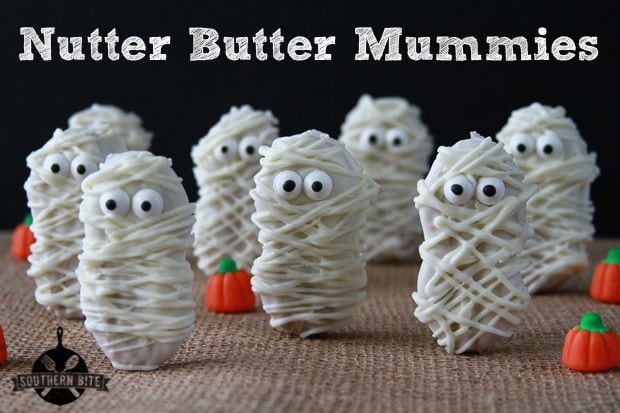 Nutter Butter Mummies from Southern Bites
Another simple chocolate dipped classroom treat. Dipped Nutter Butters!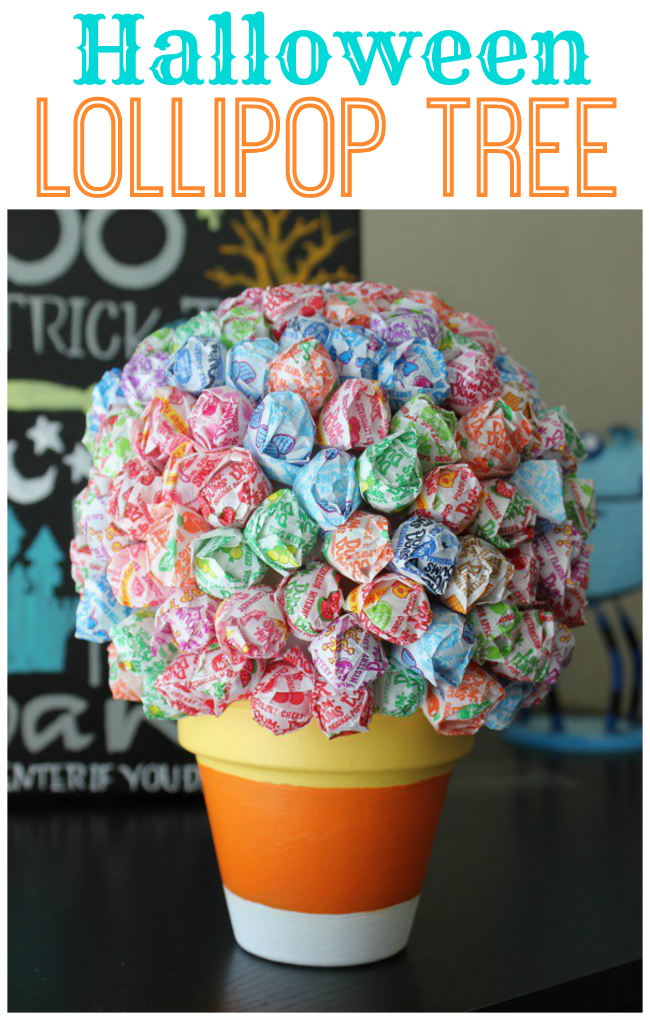 Set a lollipop tree on the table at the next Halloween classroom party for an instant centerpiece AND treat!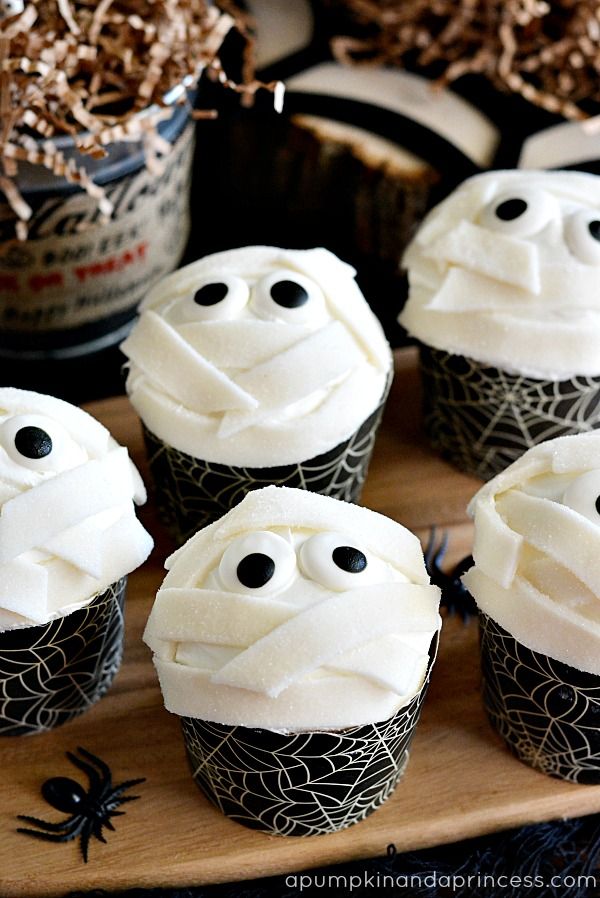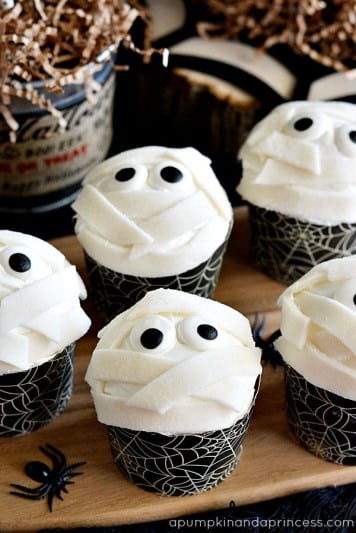 Mummy Cupcakes from A Pumpkin and a Princess
Aren't these mummy cupcakes cute? Check out A Pumpkin and a Princess for the directions and tips for buying the right frosting tip to recreate them!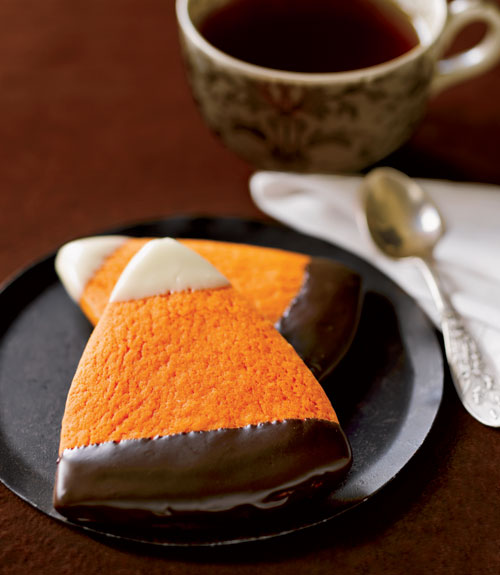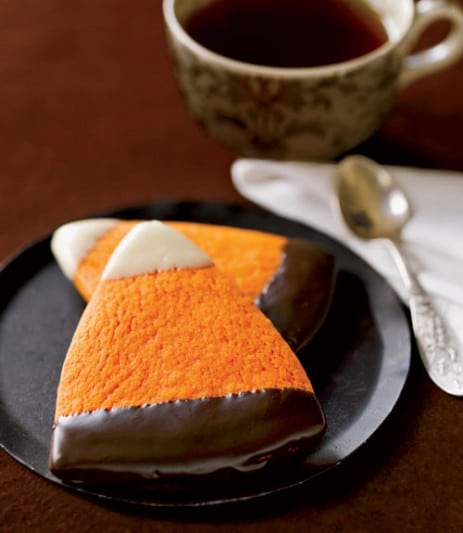 Chocolate Dipped Candy Corn Cookies from Country Living
Chocolate dipped sugar cookies? Yes, please! Make a batch of orange triangles, then dip one end in white chocolate and the other end in dark chocolate.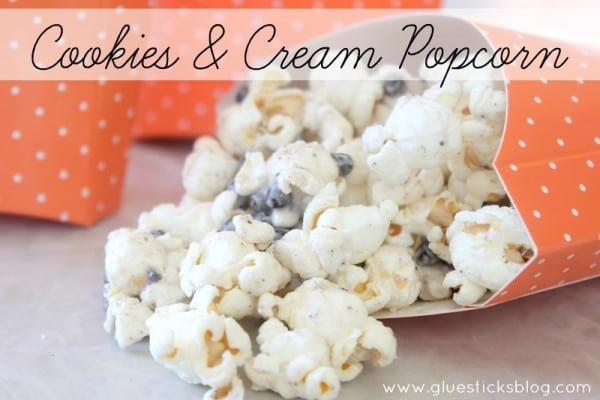 One of our family favorites, and so easy to make for a crowd. Melt Hershey's cookies and cream bars, pour over a batch of popcorn and stir to coat evenly.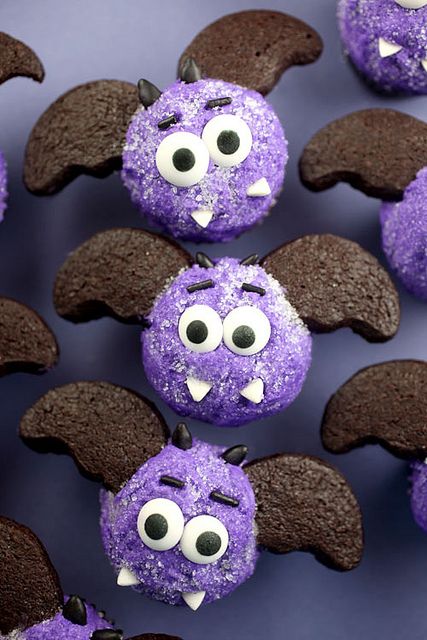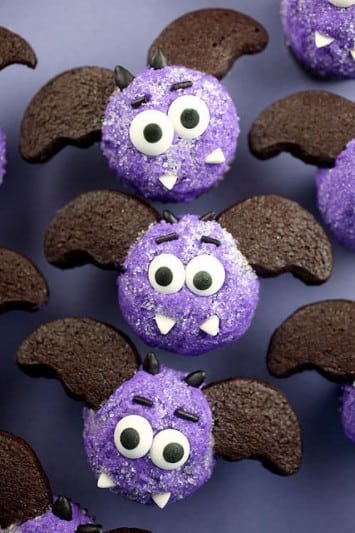 Bakerella comes through again with another darling Halloween treat! Itty Bitty Bat Cupcakes. Perfect to pair with spooky fruit or vegetables. Maybe ghost bananas?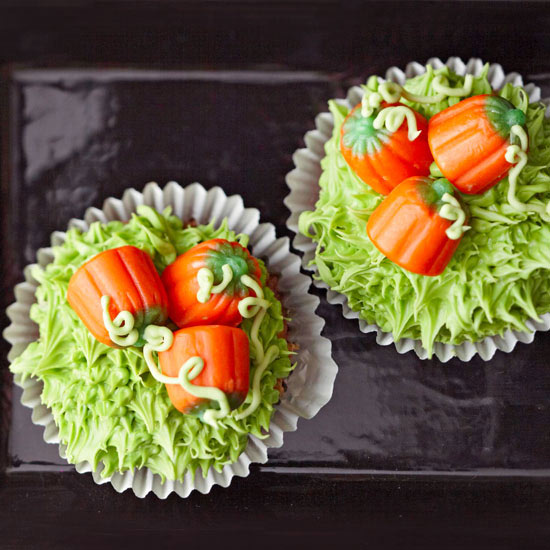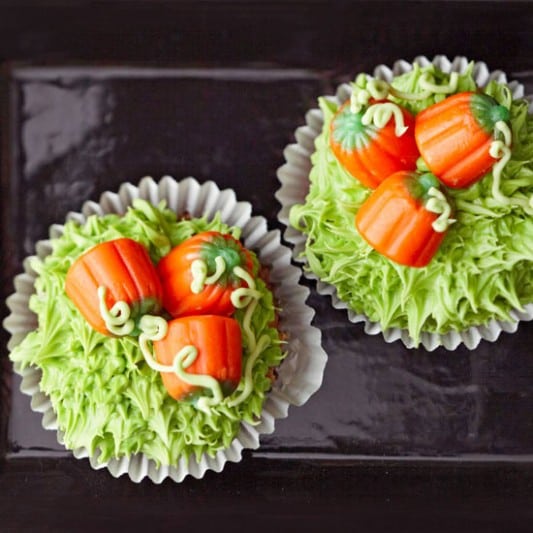 Pumpkin Patch Cupcakes from Better Homes and Gardens
You can't go wrong with Halloween cupcakes! Mellowcreme pumpkins are a staple this time of year. Use a grass frosting tip to create a pumpkin patch on top of cupcakes!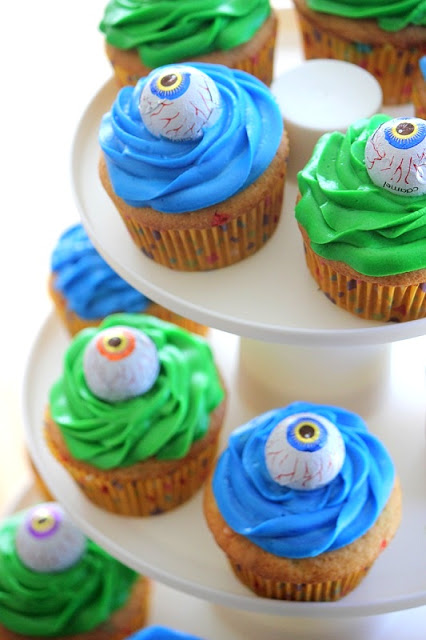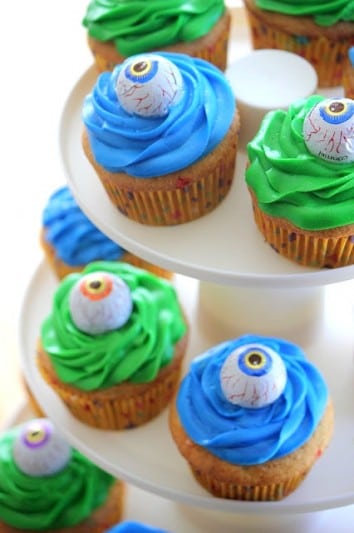 Simple piped cupcakes with a chocolate candy eye. Perfect for classroom parties this Halloween.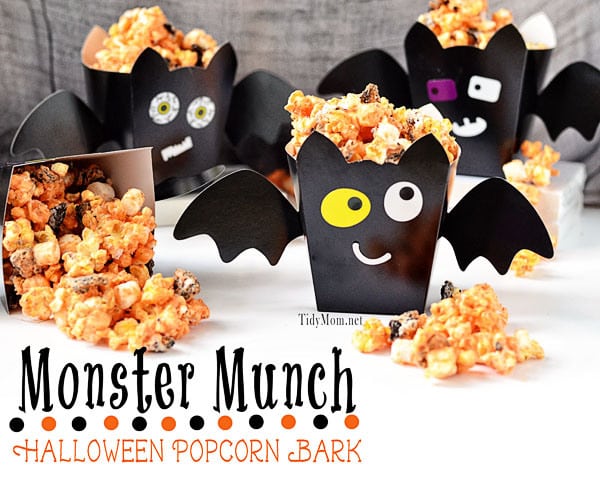 Another cute popcorn ideas. Oriental Trading has so many cute Halloween popcorn/treat boxes. Walmart, Target and Michael's do too!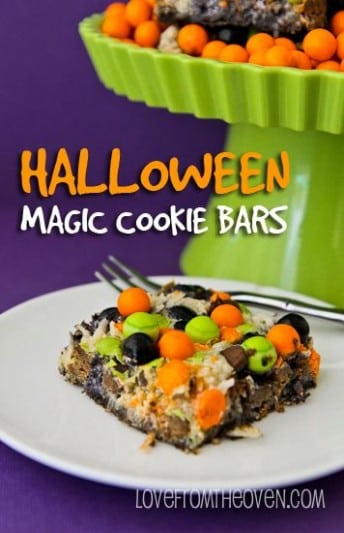 Magic cookies, Halloween style. One batch will make enough to serve the entire class!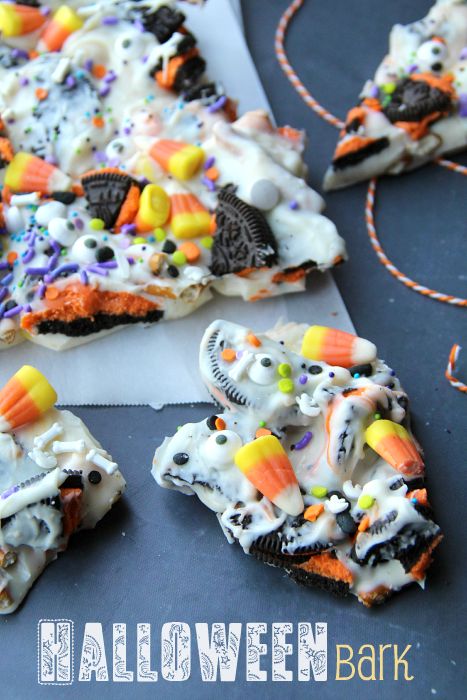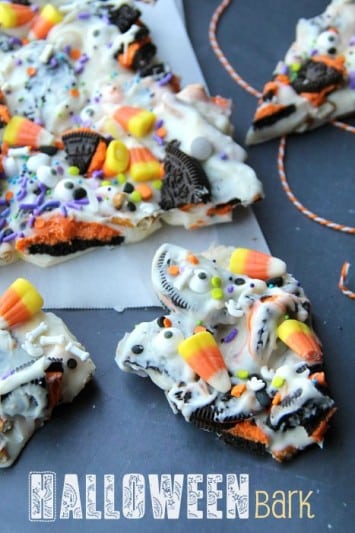 Another yummy Halloween bark recipe from Family Fresh Meals. This one uses white chocolate and lots of festive sprinkles.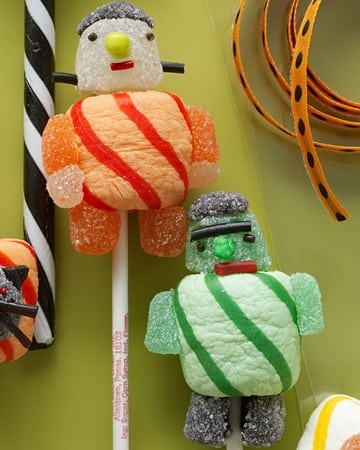 Monster Lollipops from Martha Stewart
How fun would it be to have kids assemble these themselves at a Halloween classroom party?
Easy Halloween Classroom Treats: Healthy Halloween Treats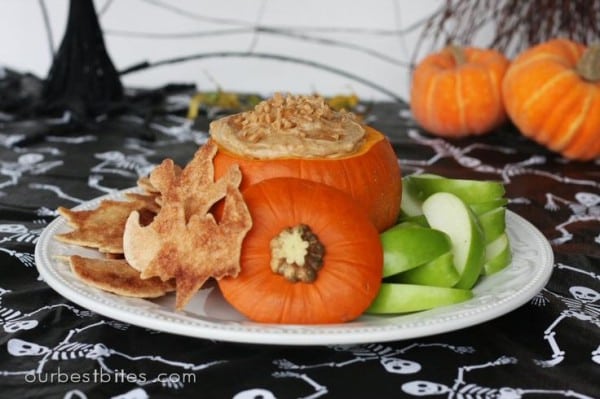 Halloween Caramel Toffee Fruit Dip from Tasty Kitchen
Cinnamon tortilla bats are so easy to make! We love having them this time of year and this caramel toffee fruit dip looks divine! Here is another fruit dip idea using yogurt.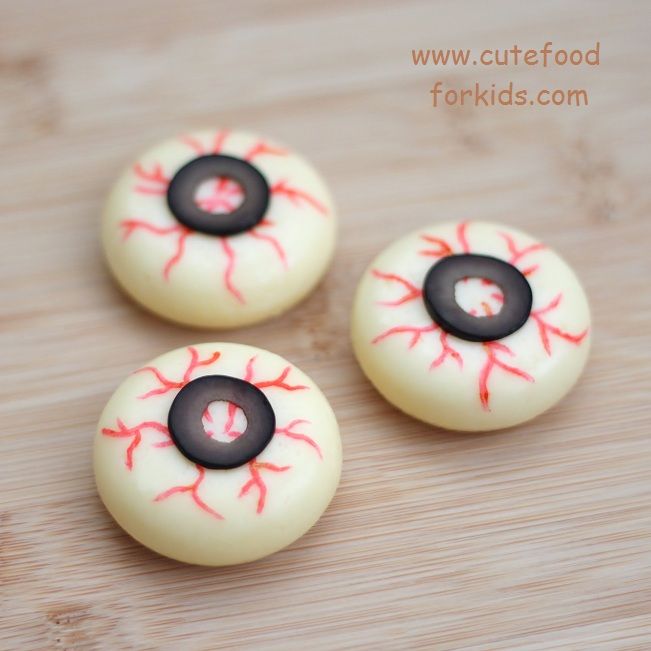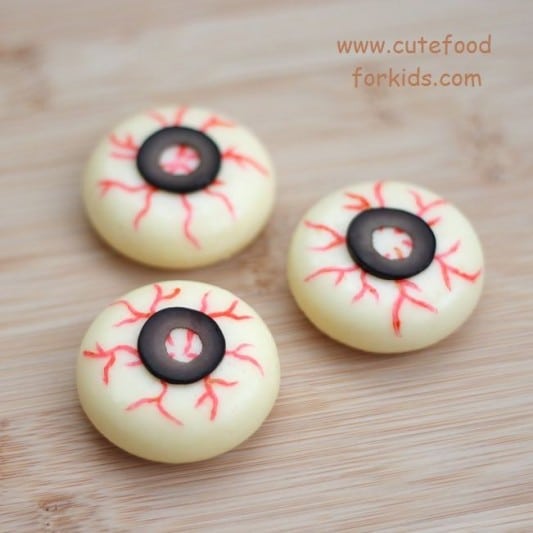 Another healthy, savory Halloween treat for a classroom party! My kids love Baybell Cheese! This darling idea is from Cute Food for Kids.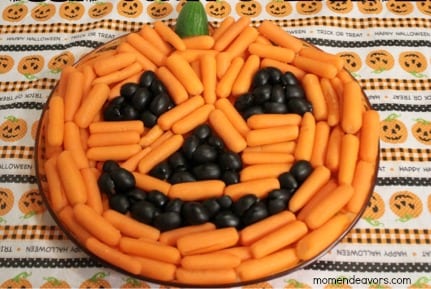 Veggie Jack O Lantern from Mom Endeavors
LOVE this veggie Jack O Lantern idea using carrots and olives. Perfect to serve with ghost bananas and pumpkin clementines.
Banana and Clementine Halloween Snacks
I love these oranges from One Little Project! Kids love clementines.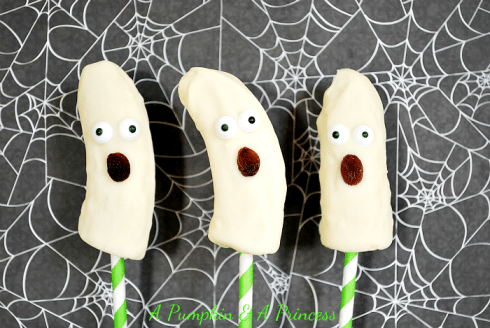 Halloween Banana Ghosts from a Pumpkin and a Princess
Easy, healthy, and super cute. These ones are dipped in white chocolate for even more sweetness.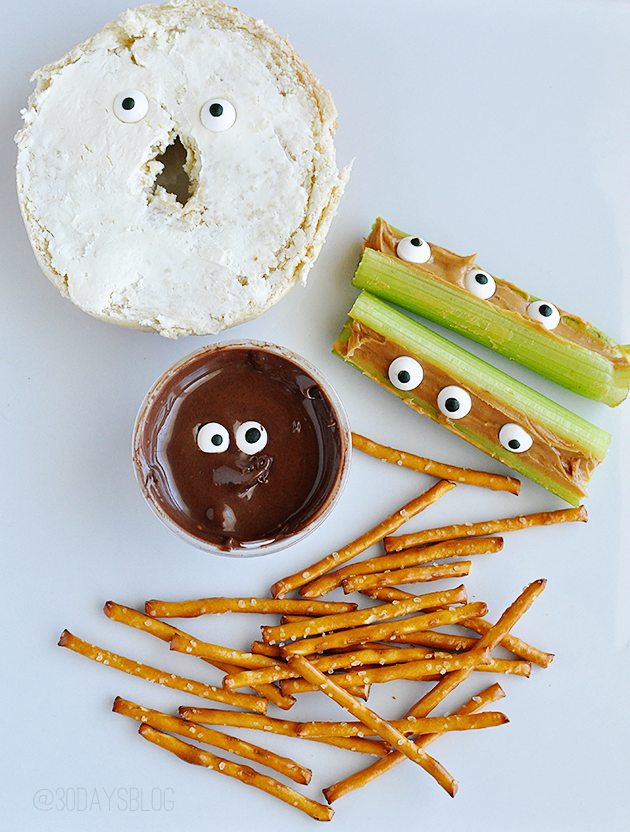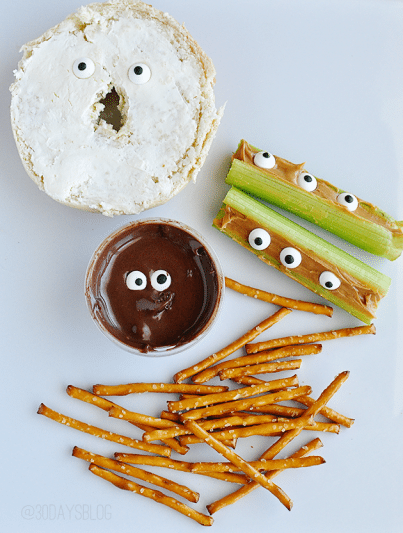 Eyeball Halloween Snacks from Thirty Handmade Days
A healthy option! Candy eyes make anything instantly spooky. Love these peanut butter and celery sticks!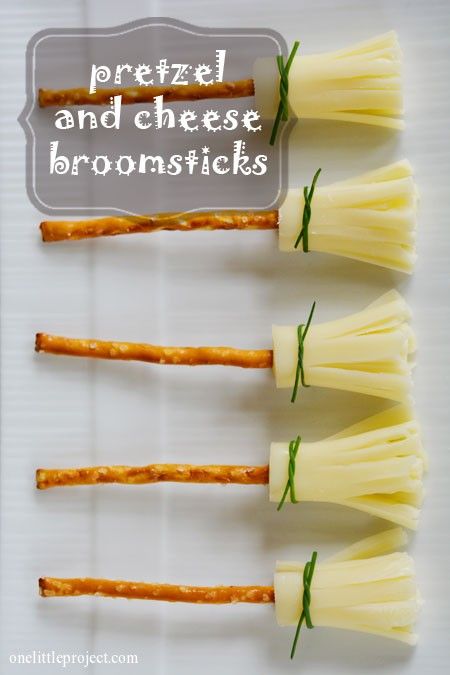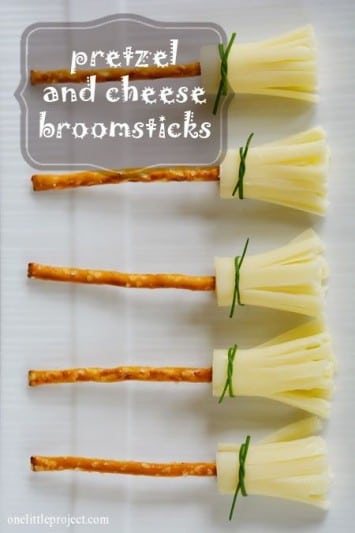 Cheese and Pretzel Brooms from One Little Project
A healthy snack for class parties. These cheese sticks brooms are great!
Easy Halloween Classroom Treats: Drinks and Punch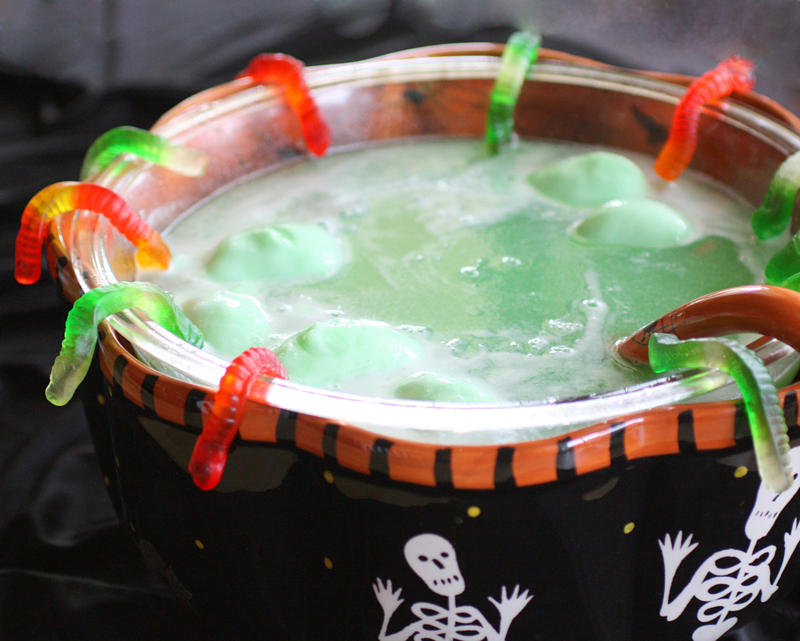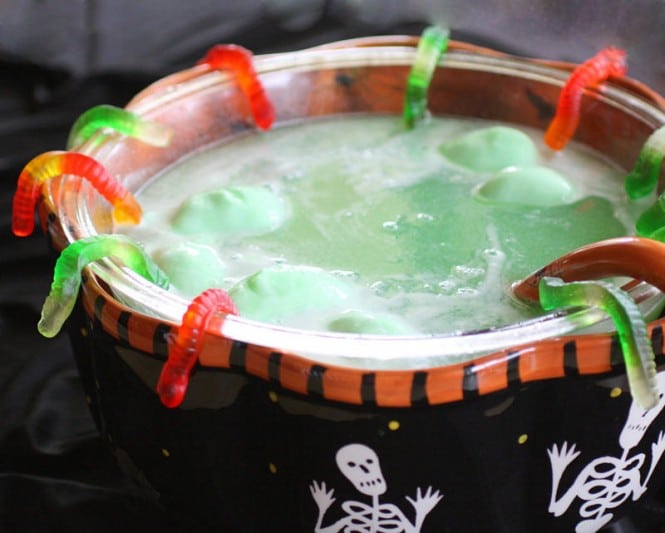 Dry ice always draws a crowd. Add some to green punch and add lime sherbet for a spooky drink!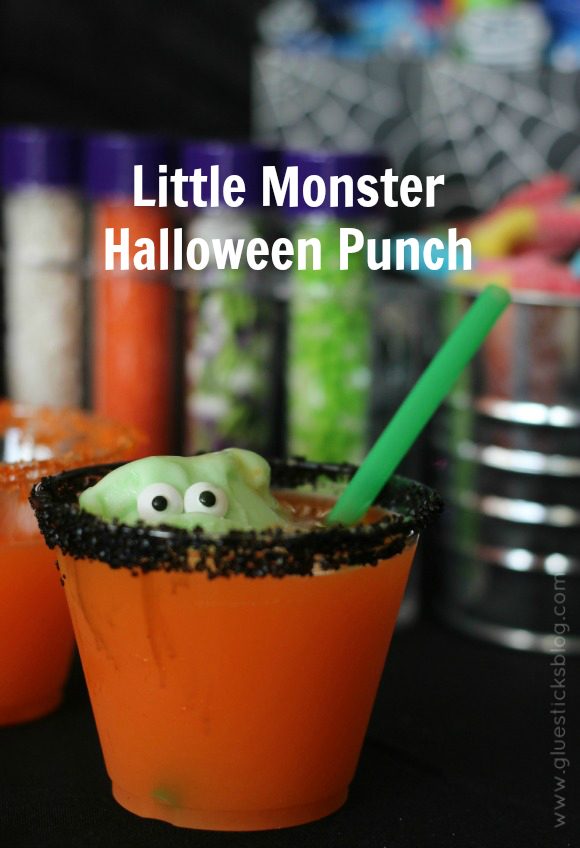 Little Green Monster Punch Cups! 
This little green monster Halloween punch is a show stopper! Sugar rimmed cups, a sherbet monster coming out of the punch cup, what more could you ask for?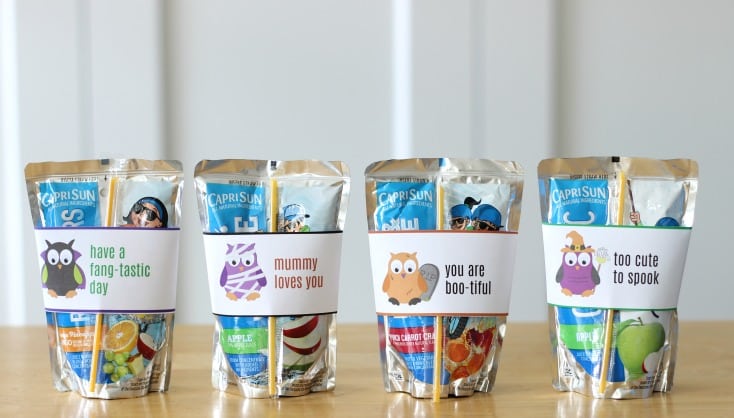 These Capri Sun Wraps are an easy way to dress up drinks for Halloween class parties! Inexpensive, too!
Welcome! I'm Brandy, mother to 5 darling kiddos and a cute black lab named Toby. My husband is in the Coast Guard so we've lived all over the place, turning each house into a home. I love baking, sewing, making cute things with my kids, and sharing what I've learned with all of you!